After learning how you can insert Action Buttons and what the default behavior for each Action Button is, let us now move on to more detailed techniques on working with Action Buttons. Each Action Button has a default action associated, this typically is a hyperlink to some other slide in your presentation. You can change this link, or even add another link such as a link to your web site, another document, and more. In this tutorial, you will learn how to add or change the hyperlinks for Action Buttons in PowerPoint 2010 for Windows:
When you insert an Action Button, the Action Settings dialog box pops up with the default Mouse Click tab selected as you can see in Figure 1. Actions in the Mouse Over tab work similarly, the only difference between the two tabs is:
Actions chosen in the Mouse Click tab need a click on the Action Button to happen.
Actions chosen in the Mouse Over tab merely need your cursor to be placed over the Action Button to occur.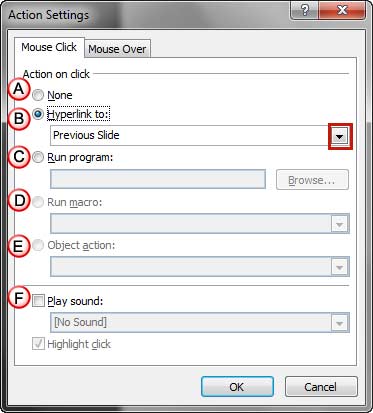 Figure 1: Action Settings dialog box
Note: The Action Settings dialog box shown in Figure 1 may not match the settings for your Action Button, however you can change any of these settings as per the information detailed below.
If you want to bring up the same dialog box again for an Action Button which is already inserted, just right-click your Action Button, and choose the Edit Hyperlink option in the resultant contextual menu, as shown in Figure 2.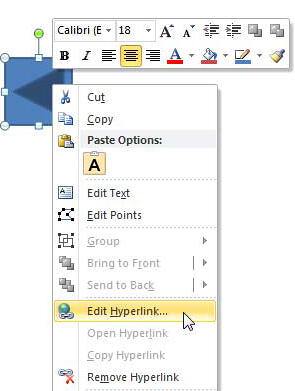 Figure 2: Edit Hyperlink option selected
Alternatively, you can select the Action Button, then access the Insert tab of the Ribbon, and click the Action button (highlighted in red within Figure 3).


Figure 3: Action button selected within the Insert Tab of the Ribbon
Either way you will bring up the same Action Settings dialog box as shown in Figure 1, above. Here are the details about the options available within the Mouse Click tab of the Action Settings dialog box, as marked in Figure 1:
A. None
This radio button indicates no hyperlink has been set up for the selected Action Button. Also, if your Action Button already has some other hyperlink option selected, then choosing this option removes that link.
B. Hyperlink to
Used to select a hyperlink. It causes a different slide in the active presentation, a different presentation, a non-PowerPoint document, or a web page to come up. To make the selection, click the downward arrow towards the right of the selection box (highlighted in red within Figure 1, above) to open a drop-down menu as shown in Figure 4 (highlighted in red). In this drop-down menu, make the selection based on your requirement.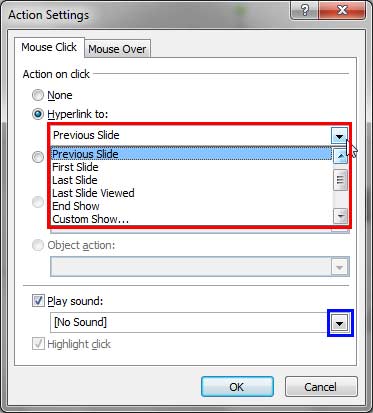 Figure 4: Drop-down menu options for Hyperlink to within the Action Settings dialog box
C. Run program
Using this option you can set up an Action Button to run a program, for example Microsoft Word or Excel.
D. Run macro
This option will be available only if macros are enabled—to use macros, your file should be a PPTM or PPSM file, look at our Files Types in PowerPoint 2010 tutorial to learn more about these file types.
E. Object action
This option is grayed out when you select an Action Button, and then bring up the Action Settings dialog box. When you select an object (such as a Word object, Excel object, etc.), then this option is available within the Action Settings dialog box.
F. Play sound
Select this check-box to make a sound clip play when the selected Action Button is clicked during the Slide Show. Once you select the Play sound check-box, you can click the drop-down list available (highlighted in blue within Figure 4) to bring up a list of available sound clips.
Note that the options from A to E are radio buttons, this means you can apply any one of these actions for your selected Action Button. The moment you choose any of these radio buttons, then any existing options are replaced.
After selecting the hyperlink and making the settings as required, make sure to click the OK button to apply them to the Action Button.