While we have already established that there's no cost involved in downloading and installing Office Mobile for iPhone, you will need to sign in using your Office 365 credentials to use any of the Office Mobile apps: Word, Excel, and PowerPoint.
The most common Office 365 subscription is Office 365 Home Premium. This supports up to 5 iPhones (or other compatible iOS devices) with Office Mobile installed. Do note that these 5 installs of Office Mobile for iOS are in addition to the 5 installs of Office desktop versions for Windows or Mac. Additionally, you can use Office Mobile versions on Windows Phones for free. Your 5 Office Mobile licenses are only counted for if you use the iPhone versions.
At the time of writing, Office 365 Home Premium was available for $99.99 per year. Prices may vary depending upon where in the world you live. Do note that this is an annual plan and will have to be renewed every year.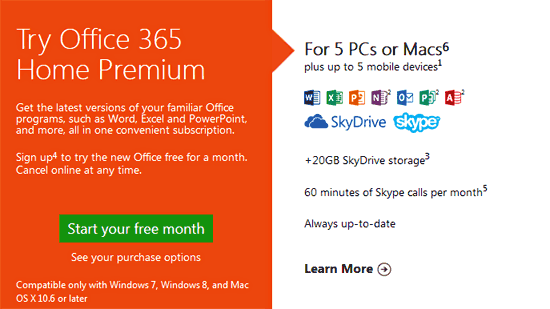 If you are not sure whether Office 365 Home Premium or any other Office 365 subscription is suitable for you, then you can opt for a free month-long trial subscription. The trial subscription also supports Office Mobile on iPhone and other compatible iOS devices.
Of course, there are other Office 365 subscription plans available too. Explore our Will My Subscription Support Office Mobile? and Office 365 or Office 2013 (or Office 2011)? pages.
---
This is the original page. An AMP (Accelerated Mobile Page) version of this page is also available for those on mobile platforms, at Office Mobile – Cost, Renewal, and Benefits.