Adding animation to your slide objects is easy, but needs prior thought. It's best to first decide what type of animation works best for a particular slide object. The type of animation used for any object is paramount because it can make the animated end-results viable, or relegate it to a distraction.
In this tutorial, we will explore the many types of animations available within PowerPoint 2016 for Windows.
When we say, "many types," we do not mean the animation effects themselves, but the categories within which these animation effects are divided. Figure 1 shows the different types of animations effects within the Add Animation gallery in PowerPoint 2016.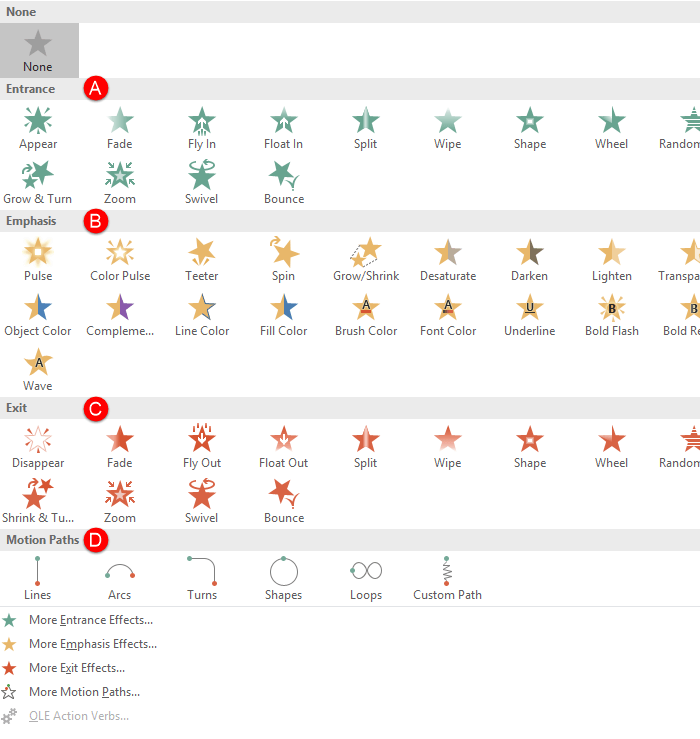 Figure 1: Animation types in PowerPoint 2016
Animations in PowerPoint are divided into four categories. These are explained below, as marked in Figure 1, above:
A. Entrance
Entrance animations are used to introduce a slide object within a slide.
If a slide was a room, and you were a slide object, then an entrance animation will be akin to you entering the room. Learn more about Entrance Effects in our Entrance Animations in PowerPoint 2016 for Windows tutorial.
B. Emphasis
Emphasis animations are used to animate slide objects that are already present on a slide.
Using the same analogy as we used for Entrance animations, you would already be in the room, and would move from one area in the room to another—this would be akin to an Emphasis animation. To know more about Emphasis Effects, refer to our Emphasis Animations in PowerPoint 2016 for Windows tutorial.
C. Exit
Exit animations are used to animate slide objects off a slide.
So, if you were a slide object in a room (slide), then walking out of the room would be akin to an Exit animation. Explore more in our Exit Animations in PowerPoint 2016 for Windows tutorial.
D. Motion Paths
Motion Paths animations are similar to Emphasis animations since they are typically used to move slide objects already on a slide, but they can also act as Entrance and Exit animations. They are different from other animations though since Motion Path animations cause movement set on a path. This path could be a circle, a line, or anything else. We explain more in our Motion Paths Animation in PowerPoint 2016 for Windows tutorial
What's important to realize is that the same slide object can have all four animation types added to it and set to play one after the other (or even at the same time in some instances). This sort of sequencing is controlled by animation events such as On Click, With Previous, and After Previous. We explain these animation events in detail in our Animation Events tutorial. Another concept that you need to know is how to control the speed of an animation, and that's explained in our Animation Speed tutorial.
Delete Animations?
Do you want to remove all animations for a selected object? You can click on the None option shown right above Entrance animation effects in Figure 1, shown previously on this page. To learn more about removing animations, explore our Remove Animations in PowerPoint 2016 for Windows page.