Introduction
About Impatica ShowMate
Using the ShowMate Software
Using the ShowMate Device
Pricing and Support
Conclusion
Introduction
The number of PowerPoint presentations being delivered to audiences every day is truly phenomenal. Since most presentations are projected from a laptop, it is truly amazing that presenters continue to carry their laptops across continents just to present without being aware of alternatives.
A large number of business users these days use PDAs, SmartPhones, and other similar equipment. The BlackBerry is one of the most omnipresent phone PDA brands to be found these days. And to make the connection between the BlackBerry, PowerPoint, and a projector, a company called Impatica decided to create a small product called the ShowMate.
In this review, we'll look at how the ShowMate works.
---
About Impatica ShowMate
ShowMate is from Impatica, a company based in Ottawa, Canada. They also create several other products.
The ShowMate itself is a small, black plastic box that's considerably smaller than a pack of cards. But it's more than just hardware because the ShowMate includes several other components, as shown in Figure 1, below.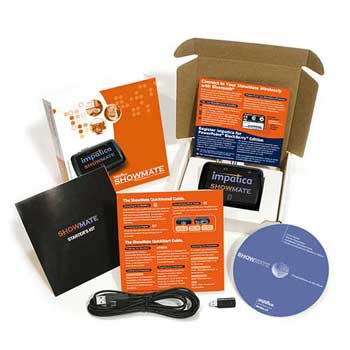 Figure 1: Inside the ShowMate box
The ShowMate itself
A CD containing software to convert PowerPoint presentations to BlackBerry format
Required cables to connect ShowMate to a projector.
Bluetooth device to wirelessly send your presentations from the BlackBerry to a ShowMate.
You can learn more about the ShowMate at the Impatica site.
My contact at ShowMate for this review was Jessica Morgan. Thank you, Jessica.
---
Using the ShowMate Software
Once you insert the CD that is included in your ShowMate box, a splash screen provides options to:
Install the Impatica for BlackBerry software
Get your Impatica for BlackBerry software code
Download ShowMate firmware updates
View QuickStart Guide and User Manual
View an online tutorial
Work with a sample PowerPoint presentation
Follow these steps to get started:
Access your Impatica for BlackBerry software code from the Impatica site. You'll need to input the serial number on your ShowMate to get this software code.
Next, install the Impatica Presentation Viewer on your BlackBerry. This needs you to connect your BlackBerry to the computer, and download the software from the Impatica site, and then install the Viewer, as shown in Figure 2, below.

Figure 2: Installing the Impatica Viewer on the BlackBerry
Alternatively, you can also access and install the software straight from your BlackBerry using its Internet service.
Now, install the Impatica conversion software. This software has already been reviewed earlier on this site. Essentially, the software creates a BlackBerry file format version of your PowerPoint presentation, as shown in Figure 3, below.

Figure 3: Converting PowerPoints to BlackBerry format
Once you convert your PowerPoint presentation to a BlackBerry compatible format, you need to transfer the converted presentation to your BlackBerry. To do so, attach your BlackBerry to your computer and then use the steps outlined in the BlackBerry Transfer tab of the Impatica interface, as shown in Figure 4, below.

Figure 4: Put the presentations on the BlackBerry
---
Using the ShowMate Device
Once you have the converted PowerPoint presentation loaded on your BlackBerry, all you need to do is connect the ShowMate device to both your BlackBerry and a projector. And make sure you also connect your BlackBerry power supply to the ShowMate.
Thereafter, launch the Impatica Presentation Viewer on your BlackBerry, open your presentation, and choose the Project Presentation option, as shown in Figure 5, below. Soon enough, a high resolution slide that looks almost like your PowerPoint presentation can be seen projected, and there's no laptop involved!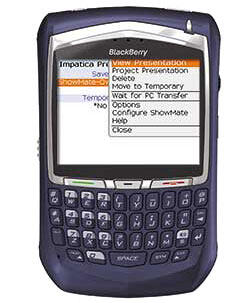 Figure 5: Project from your BlackBerry
If you don't want your BlackBerry to be connected with wires to the ShowMate, you can also use the included Bluetooth adapter, as shown in Figure 6, below.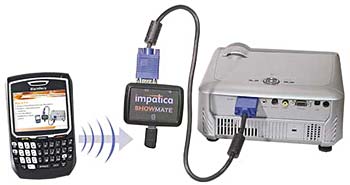 Figure 6: The ShowMate can connect to your BlackBerry using a Bluetooth adapter
---
Pricing and Support
ShowMate costs $249.99, and works with BlackBerry phones that include version 3.8 or higher of the BlackBerry device software.
Support options include e-mail and phone support. There is also an online FAQ, and fax support.
---
Conclusion
Impatica ShowMate is a compact, lightweight product that's a perfect match for BlackBerry owners who present often. In fact, it's so good that you might be tempted to dump your existing phone PDA and get a BlackBerry just because you want to use a ShowMate. With the ShowMate, the BlackBerry can now take care of both email and presentations. Thus,making the laptop obsolete for a short business trip!
---
This is the original page. An AMP (Accelerated Mobile Page) version of this page is also available for those on mobile platforms, at Impatica ShowMate.