PowerPoint Comes to the BlackBerry
Using the new Impatica
Testing the Conversion
More Information
---
PowerPoint Comes to the BlackBerry
Impatica's new 3.32 update adds new features - the most amazing of these is the new BlackBerry support option.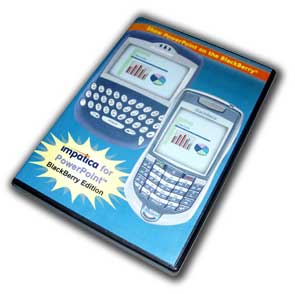 I first saw Impaticized PowerPoint presentations on the BlackBerry this October at San Diego, where PowerPoint Live was held. Michael Doyle and Catherine Cormier from Impatica Inc. first showed me how it worked.
My first reaction was "wow", because the Impatica people are getting PowerPoint presentations, complete with animations and transitions, ported on all sorts of platforms and devices. They already are the first online rich media creators to create a Mac version of their main product "Impatica", thus offering a cross-platform PowerPoint repurposing solution.
Now this foray into the BlackBerry arena gives them so much of a lead over their competitors.
Back
---
Using the new Impatica
Before you think that Impatica for BlackBerry is a separate, new product, think again. Impatica has bundled the entire BlackBerry export functionality inside the latest release of Impatica for PowerPoint(Windows version) - in fact all version 3 users of Impatica get a free upgrade.
If you are an existing Impatica v3 user, download the new update now.
Converting PowerPoint presentations to the BlackBerry format is easy - just drag your Powerpoint presentation from Windows Explorer (or My Computer) to the Impatica icon on your desktop and choose the BlackBerry export option.
Back
---
Testing the Conversion
You can test the converted BlackBerry presentation on your BlackBerry or download a BlackBerry JDE from the Research in Motion site (link no longer exists).
The BlackBerry JDE ships with the simulator, but it is only capable of simulating 2 models of the Blackberry. So, optionally, if the need is there to simulate more than the two models supplied with the JDE, the "BlackBerry Handheld Simulator" can be downloaded. This can be downloaded from the same site as above. It is packaged as a zip file, so just unzip it to a local folder.
Back
---
More Information
You can download a Quick Start Guide (PDF) from the Impatica site.
Back
---
This is the original page. An AMP (Accelerated Mobile Page) version of this page is also available for those on mobile platforms, at Impatica for BlackBerry.