One of the many ways to use the PowerPoint Designer feature is with pictures on your slides, where you will save immeasurable time arranging, resizing, and adding specific picture layouts. Microsoft's Office intelligent services which provide artificial intelligence to make this happen, shows readymade options for you to choose from some amazing options. Even better, did you know that these suggestions also show if you insert pictures via the cool Photo Album feature—you can thus literally create a photo book from hundreds of pictures in mere minutes! Look at these slides, as shown in Figure 1, below.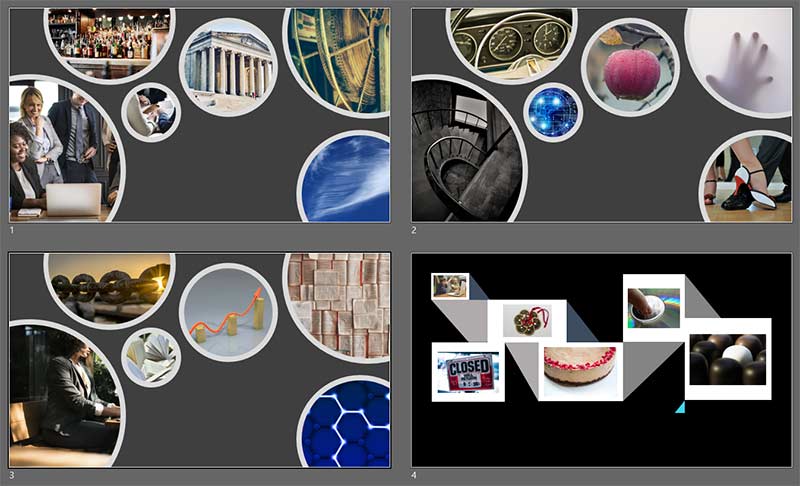 Figure 1: Slides with pictures created using PowerPoint Designer
Follow these steps to play using pictures in PowerPoint Designer within PowerPoint 365 for Windows:
Launch PowerPoint 365 for Windows. You will see Backstage view, and you can choose the Blank Presentation option, highlighted in

red

within Figure 2, below.

Figure 2: Blank Presentation
As soon as you see the new blank presentation, you will also see the Design Ideas Task Pane on the right. Ignore this pane for now.
Next, insert pictures as needed on a slide. You may have to limit yourself to no more than six pictures per slide (see the How Many Pictures on a Slide? box later on this page for more info). It does not matter if you arrange all pictures on the slide or if you just overlap them one over the other (see Figure 3). For PowerPoint Designer, they are the same!

Figure 3: Arranged or overlapping, it does not matter
You will see the Design Ideas Task Pane on the right showing you some thumbnails with picture slide layouts you can choose from, as shown in Figure 4, below.

Figure 4: Design Ideas Task Pane with picture slide layouts

How Many Pictures on a Slide?

PowerPoint Designer can only work as long as you have no more than six (or up to ten) pictures per slide, as you can see in Figure 4, shown previously on this page. Add the seventh (or the eleventh) picture, and you will see no options in the Design Ideas Task Pane. As you can see inside the area highlighted in

red

within Figure 5, below, no design ideas are available. Delete any one picture and you will see Design ideas again!

Figure 5: Design Ideas needs six pictures or less to show you ideas
Some users have observed that they can add ten pictures and still see picture slide layouts in the Design Ideas Task Pane. Since this feature is continuously evolving, you may see limits of fewer or more pictures.

Choose the picture slide layout you like in the Design Ideas Task Pane. Do note that you can continuously play with all options available. Figure 6, below shows the layout we applied (compare with Figure 4, previously shown on this page).

Figure 6: Chosen picture slide layout
If you are applying layouts from the Design Ideas Task Pane for successive slides, you will find that the slide layout you chose last shows up above all other layouts for successive slides, as can be seen highlighted in

red

within Figure 7, below.

Figure 7: The last-used picture slide layout shows on top
While PowerPoint Designer is quite intelligent about cropping so that you do not lose the focal point of the picture, there may be times when you may have cropped to the focal point better. If that's the case, just select the picture and then, right-click carefully. In the resultant menu, shown in Figure 8, select the Format Picture option.

Figure 8: Format Picture option
In the resultant Format Picture Task Pane, select the Picture tab, highlighted in

red

within Figure 9, below. Then, locate the Crop area, and within the Picture position settings, use the Up and Down arrow buttons for Offset X and Offset Y boxes, highlighted in

green

within Figure 9. Doing so will increase the offsets by 0.1 inches or similar values in centimeters. However, if you want more minute offsets, you can type in your own values within the same boxes.

Figure 9: Offset values can be changed
Figure 10 below shows the same picture on the top and the bottom before and after the offset values were changed.

Figure 10: Before and after offset values were changed
Do you see a picture slide layout that you love? Apply it to a slide and save it somewhere. Why? Slide picture layouts keep changing and evolving. The layout you saw last month may no longer show up in the picture slide layouts now.