This exclusive Indezine excerpt is from PowerPoint for Court, a book that has been the definitive manual for preparing and presenting digital material in a court of law since 2002. Used by universities, attorneys and government agencies throughout the world, PowerPoint for Court has now been updated in 2009 for use with the latest version of PowerPoint.
Here are couple of excerpts, reproduced here with permission from Herbert Rubinstein, author of the book.
---
Introduction to Courtroom Technology
Starting the Timeline Machine
---
Introduction to Courtroom Technology
Just a few years ago there wouldn't be much to write about. Sure we had the Elmos and slide projectors and of course the tape recorder and the VHS player. Unfortunately, none of these allowed for non-linear presentations.
If we wanted to play a section of an audio tape we had to cue it up in advance and if we wanted another section, well, we just had to fast forward or rewind until we found it. Same thing with the VHS tape.
With the advent of the computer, we can now have any type of document, image, sound clip, video image, animation etc. at our fingertips. With the LCD Projectors, we can now display our computer screen and anything on it in incredible detail for all to see. Editing video clips and sound bites have become an easy chore. How we get these images out of the computer and into a Killer Presentation is another new area of expertise.
In this book, I have endeavored to demonstrate ways of bringing together these elements and presenting them in a way that is graphically attractive as well as non-linear.
What this book will teach you is how to specifically build a courtroom presentation rich with hi-impact video and graphics. The reasons to use the different graphic fi le formats. Tips and tricks for using Flash. Best resolutions for clear courtroom display. Setting up the navigation of a presentation, in short, everything that you already figured you needed to know but when you looked it up in your big fat manual, you couldn't find it.
PowerPoint is the tool that can produce Killer Summations, Hi Impact Impeachment, Time Lines that come alive, Links to Photos, documents and drawings, use it to make rebuttal presentations on the fly. Once you get the feel for it, it will do just about anything you can imagine.
Used by itself or in concert with a Courtroom Presentation Software program (like Sanction II) you will be able to create rebuttal presentations while testimony is being given and come back after a quick break with a rebuttal argument that includes video and hi impact graphics. There is much information on the PowerPoint for Court website.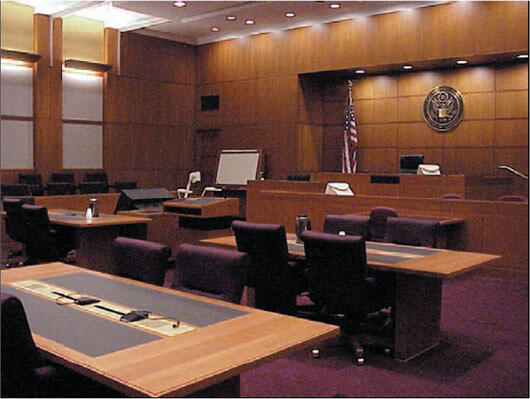 ---
Starting the Timeline Machine
Sometimes a timeline is the best way to present chronological information.
In PowerPoint, now that we know how to add Hyperlinks to shapes, we can make a timeline that links to the relevant documents. You can get really elaborate with this method.
In our example we have a timeline of a real estate transaction.
Each label is actually a Shape from the Shape palette.
Tip: When adding text to a Shape just click in it and start typing. Do not drag a text box onto it. Just select it and start typing.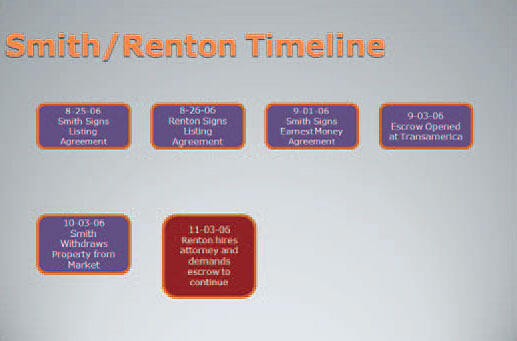 When you click on the first entry "8-25-01 Smith Signs Listing Agreement" it takes you to a slide that has the relative document for this entry. That slide could also have links to other documents, images, video clips etc. expanding on that subject matter.
Perhaps in another slide show we already have a formatted slide that we want to include in this timeline presentation. Just link a button to that show and PowerPoint will ask you which slide you want, choose the slide you want and click ok.
Additionally, we could substitute a photo for the text button and make that the link. Obviously, there are many styles of timelines… use your imagination.
Super Tip!
You have typed a block of text into the Shape, but all the letters are too large. Here is the Keyboard Shortcut that will save you the cost of this program in 1 year!
Hold the Shift and Ctrl Key and then click the Less Than symbol < to reduce the size of the text or the Greater Than symbol > to make the text larger. This works in most programs including Word, InDesign, Fireworks, etc. Each time you click the > or < symbol it increases or decreases the font size in incremental levels. This will save you hours!
If we click on the button "9-01-01 Smith Signs Earnest Money Agreement" that will take us to a slide that has the EM agreement as well as a link to a slide that has a clip from the video deposition explaining Mr. Smith's understanding of the document.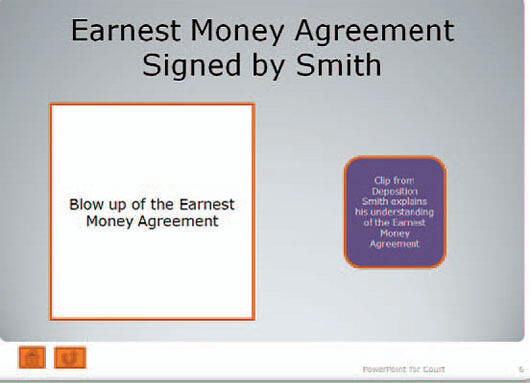 When the box to the right is clicked, it takes you to the correct Video Clip.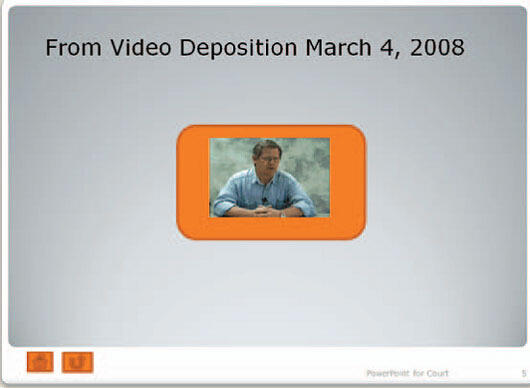 Tip: When you set up your links, always use the document title for the link instead of the slide number. This way, if you re-order your slides the links will still be correct. Just remember that if you change the title of a slide you will need to re-assign links with the new name.
---
This is the original page. An AMP (Accelerated Mobile Page) version of this page is also available for those on mobile platforms, at PowerPoint for Court (2009 Edition) - 1 of 2.