This book extract is from Cutting Edge PowerPoint 2007 for Dummies, a book that will teach you how you can make your PowerPoint dance and sing.
Get ready to add punch and pizzazz to your presentations and wow your audience using the latest PowerPoint techniques. This friendly book/CD-ROM combo covers all of the new features of Microsoft PowerPoint 2007, including interface changes, presentation themes, multimedia, the Slide Library, and more. The guide introduces you to the elements of PowerPoint: text; background, images, and info-graphics; shapes; fills, lines, and effects; sound and video; animations and transitions; and interactivity, flow, and navigation. Packed with numerous tips, shortcuts, workarounds, and timesaving techniques.
The book is part of the Dummies series, published by Wiley.
I wish to thank Greg Croy and Eric Holmgren for facilitating the permission to extract.
---
Introduction
Taking a Look at PowerPoint 2007
---
Introduction
Unlike many other applications, PowerPoint is easy to figure out and to use. And although PowerPoint 2007 is even more amazingly simple to use than previous versions, this also means that creating terrible presentations is even easier! Although anyone can create a PowerPoint presentation with a few words and visuals, you can use PowerPoint to its complete potential only if you understand the composition of its elements.
All these elements come together to form the structure of a presentation — but there's more to a PowerPoint presentation than just structure and the elements. One of the most important ingredients is the workflow that makes up the order in which you create and add elements to your presentation.
This chapter first looks at the new PowerPoint 2007 interface. Then it discusses PowerPoint's elements, a presentation's structure, your workflow for creating a presentation, and more. Although these topics cover theory more than practical application, spending a little time internalizing these concepts will take you a long way toward making your finished presentations more effective and cutting edge.
And that brings me to what I mean by the term cutting edge. After all, that term is part of the title of this book. By cutting edge, I mean using simple concepts to create presentations that will work in all situations. The cutting-edge part here is the results — not that I expect you to create presentations in a space satellite somewhere outside the earth's atmosphere! And those types of results mean that you have to be element-savvy. Later in this chapter, I discuss these elements — and each of these elements is also discussed in separate chapters within this book.
---
Taking a Look at PowerPoint 2007
Maybe you've worked with PowerPoint for the last several versions of the program, or you might have just started with the program. Either way, you'll find that PowerPoint 2007 has a new interface. Gone are the menus and the toolbars. In their place, you see the Ribbon with all its tabs and galleries. And yes, you have the Mini Toolbar, as well.
Cut the Ribbon and get started
Figure 1-1 shows you the new PowerPoint interface. It's actually the embodiment of simplicity, but I still explain its components because I refer to the interface all through this book!
Office Button: The Office Button (see Figure 1-1) is a round button placed on the top left of the interface that works almost the same way as the File menu in earlier versions of PowerPoint.
Quick Access toolbar: The Quick Access toolbar is a customizable toolbar that can store your often-used commands.
Ribbon: The Ribbon comprises the area above the actual slide. It replaces the menus and toolbars in earlier versions of PowerPoint.
Tabs: The Ribbon is tabbed. You can access each tab by clicking the tab header or selecting a particular slide element, which automatically activates one of the tabs. In addition to the tabs normally visible on the Ribbon, contextual tabs appear when a particular slide object is selected. In Figure 1-1, you can see the Drawing Tools Format tab of the Ribbon — that's a contextual tab.
Buttons: Each of the tabs has several buttons that do something when clicked — they launch a dialog box, reveal a gallery, change the tab itself, or just do something on the slide.
Groups: Buttons are arranged logically into groups.For example, all the paragraph formatting options are located within the Paragraph group of the Home tab of the Ribbon.
Galleries: Galleries are collections of preset choices. Most of these choices are in the form of small thumbnail previews that show you how the final effects will look. Many galleries can also be seen as drop-down galleries so that you can see even more thumbnail previews.
Dialog box launcher: Dialog box launchers are small arrows below some groups that launch a related dialog box.
Status bar: The status bar provides information and viewing options.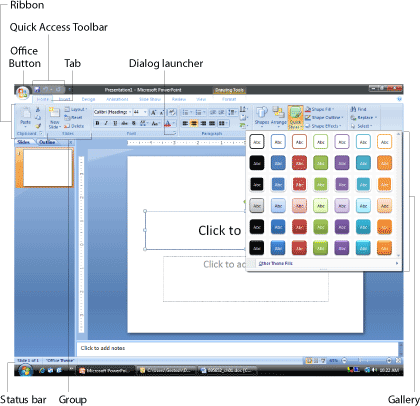 Figure 1-1: The new interface works the same way in PowerPoint as it does in the Office 2007 versions of Word and Excel.
The Mini Toolbar
So what is a Mini Toolbar? As much as you might like that mini bar in your hotel room, I promise you this one is more helpful! If you select some text in PowerPoint, you'll see a semitransparent floating toolbar that provides all the text formatting options you need without having to make a trip to the Home tab of the Ribbon. That's the Mini Toolbar.
Figure 1-2 shows you the Mini Toolbar in all its resplendent glory. Just move the cursor away or deselect the text, and the Mini Toolbar gets sad and goes away. If you want to get it back again and it's in no mood to come back, you can always right-click the selected text to order it back into your esteemed presence.


Figure 1-2: Here comes the Mini Toolbar.
This is the original page. An AMP (Accelerated Mobile Page) version of this page is also available for those on mobile platforms, at PowerPointing with the Best of Them - 1 of 3.