Introduction
Above & Beyond
Ten Ways
Using Ten Ways
The Concept
The Good
and the Bad
Pricing
Conclusion
---
Introduction
Can you hear the cries of 'Death by PowerPoint' all around you? If only these proclamations were accompanied by thoughtful explanations of what's wrong and how you could correct those wrongs! Alas, that's something that's not been done too often in the past. So, when I was invited to look at a product that goes by the rather long name of 'Ten Ways To Avoid Death By PowerPoint', I knew I was interested. On their site, I saw screenshots of sleeping and yawning audiences - well, this is going to be fun!
And yes, for the rest of the review, the product is just called 'Ten Ways'.
Back
---
Above & Beyond
Ten Ways is from Above & Beyond, a UK based provider of e-learning products including books, learning triggers and off-the-shelf courses along with workshops and online seminars.
My contact at Above and Beyond for this review is Joanna Biggs, Director - she has worked as a professional video editor, lead designer, project manager and producer of CD-ROM, training and e-learning resources for the last 10 years. Thank you, Joanna.
You'll find more info about Above and Beyond on their site (link no longer exists).
Back
---
Ten Ways
Ten Ways was created by Clive Shepherd and David Kori. Clive is one of the UK's leading experts on the use of technology for learning and communications and David is an expert on art and design as well as an award-winning multimedia developer.
Ten Ways normally comes as a CD with a 12 page booklet describing the product and the concept. Ten Ways works straight from the CD - and you can also copy the entire thing to your hard disk as I did. With around 56 mb of content in a single folder, all I needed to do was click the Start.exe file.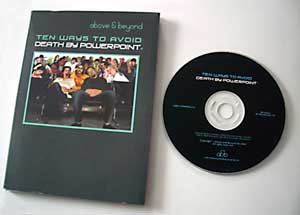 The CD also includes a text version without audio apart from a fully accessible HTML version.
Back
---
Using Ten Ways
Using the CD is fairly easy - you are first introduced to the entire concept with the aid of a story inspired by the classic tale of "The Emperor's New Clothes". The interface is clean and easy to navigate with a well defined menu screen that allows you to proceed to each chapter in sequence or otherwise.
Individual chapters cover presentation elements and the mistakes associated with them - for example, there is a chapter called "Make text work for you" that teaches you how to use the proper typestyle, size and justification with the help of illustrations and samples.
All problem areas are tackled in a similar way and I'm sure many PowerPoint users will benefit immensely from using this CD.
Back
---
The Concept
I asked Joanna about how this concept was born, what motivated them and what was their objective in creating this product. She got me in touch with the authors, who had nice thoughts to share.
As David says, he "had never really used PowerPoint as I generally made presentations with Macromedia Director. I had always been unimpressed with almost all PowerPoint presentations I had seen, and had assumed (incorrectly!) that the software had very limited capabilities. It wasn't until I was compelled to use PowerPoint for a particular job that I realized its vast potential - firstly as a vehicle for displaying a variety of mediums, and secondly, as a design tool which is very simple to use."
About the motivation to create Ten Ways, David adds that "Clive and I had discussions on how best to present some of our ideas for lecturing use, and I began assembling slide displays. I realized immediately that PowerPoint templates failed to meet my needs - which is fair enough, but at the same time it equally made me aware of how so many presentations were chronically dependent upon the conformity of the PowerPoint template guides. I also felt that there was a complete misunderstanding of a PowerPoint presentation, as somehow deriving from a printed document, whereas I see it more as something that relates to film with sequences, mood and time playing an important part in the process of communication."
Clive adds "The reality is that most presentations are mind-numbingly dull and that PowerPoint is wrongly accused of being the culprit. PowerPoint provides all the functionality anyone could ever need to create great visual aids. The trouble is that it is mis-used. Speakers use bullet slides because they're easy to produce, they provide them with prompts and can be used as handouts. Trouble is they don't work - they don't communicate and reflect badly on the speaker. Everybody does it and we have to do something to stop it, otherwise millions of people will spend great portions of their life confused or half asleep when they could be having fun being productive."
Back
---
The Good
There are no two opinions about the fact that there is a lot to like about Ten Ways. In fact, every PowerPoint user should be asked to see a product like this before they start creating presentations - that alone would increase the quality of presentation content everywhere.
Most topics have been carefully chosen and assembled in a logical sequence - each chapter has quizzes and samples that increase the involvement of the user.
In all, there is almost three hours of first rate content that you can view whenever you want. Of course, you can also go back and view a particular chapter again to refresh your concept and visualization flow.
If you use the ideas within Ten Ways, you can be assured that you will not hear your audience snoring. The best thing about Ten Ways is that it uses a novel, entertaining story metaphor to hold your interest.
Back
---
and the Bad
If there's one thing I dislike, why is there no option to play the active slide again - why should I have to go back to the earlier slide and get back to hear the narration again. Also, Ten Ways has many quizzes which require one word answers - and if you cannot provide the right answer, Ten Words has no option where you give up and get the answer.
Also, the menu screen which you get back to often is accompanied by a snoring sound - it seems funny and entertaining enough for the first time but can get irritating after a while. I do wish they had an option to stop that sound - in fact, I'm hearing the snoring sound as I write this review!!!
Finally, by making the product PC centric, Above & Beyond is missing the entire market segment that uses PowerPoint for the Macintosh - that's a pity because Ten Ways is essentially a Flash based product that can run on the Mac! True, they do provide a Mac version of the product on request, but why not make the existing CD cross-platform?
Having put across the cons, I have to agree that I still don't find any problem area that would stop me from recommending this product.
Back
---
Pricing
Ten Ways is available as CD that is shipped internationally - typically, you'll pay around UK£66 (approximately US$120 at the time of this review) for the product and shipping to North America.
That's not a very economical price - but if you can use the product and improve your presentations, it will certainly be money well spent. Having said that, Above & Beyond should consider a download version of the product - at 56 mb, it certainly is a possibility in today's age of broadband. A download version will have other advantages - lower cost and no waiting time.
Back
---
Conclusion
Ten Ways is a fine product - all factors taken into consideration, I have no qualms in recommending it to anyone.
Back
---