Introduction
About PPTmovie
Download and Installation
Using PPTmovie
Pricing and Support
Conclusion
---
Introduction
It's very often that users ask for an option to save their PowerPoint presentations to a movie format. And with media distribution options multiplying each day, this is one area that's a sore point with PowerPoint users since PowerPoint for Windows does not provide this ability unlike its versions on the Mac.
PPTmovie, a new product that I am reviewing today allows you to convert any PowerPoint presentation to one of the several video formats it supports -- these output formats allow you to:
Burn your presentation to a CD or DVD and and play it back on a DVD player.
Make your presentation-movie available on YouTube or another video sharing site
Transfer your presentation to a portable device such as iPod, or mobile phone.
Copy your presentation to a game console like the PSP.
Back
---
About PPTmovie
PPTmovie is from PPTexpert, a company based in London, UK. You can learn more about their products, and download a trial version of PPTmovie here (link no longer exists).
PPTmovie is user friendly application which converts a PPT file to AVI, MPEG-1, MPEG-2, MP4 and even allows to add your narration or record the background music.
My contact at PPTmovie for this review was Natalia Lukicheva - thank you, Natalia.
Back
---
Download and Installation
Download the installer, run the setup routine and follow the instructions. You'll end up with a PPTmovie program group in your Windows Start menu (see Figure 1 below).

Figure 1: PPTmovie Start menu Group
Note: The trial version of the application adds a watermark on the output file.
Back
---
Using PPTmovie
Follow these steps to get started with PPTmovie:
Go to your Windows Start menu and choose All Programs | PPTmovie | PPTmovie (see Figure 1 above).
This opens PPTmovie interface, as shown in Figure 2.

Figure 2: PPTmovie interface
Choose the presentation which need to converted, and choose a destination folder to save the output file.
This is a wizard based interface -- press the Next button to move to the next step.
This opens the Video Settings window of the interface as shown in Figure 3. Here you can select the output video format, codec, and frame rate.

Figure 3: Video Setting
When done, click the Next button.
This opens the Audio Settings screen of the application (see Figure 4). Check Record Sound checkbox to enable sound recording if your presentation contains sound. Alternatively, you can also use a microphone as a sound input source.

Figure 4: Audio Settings
Click on Next button.
This brings up the Converter Settings window, as shown in Figure 5.

Figure 5: Converter Settings
Here, there are essentially two options:
Video file resolution allows you can set output file dimensions in pixels:
Standard video resolution: Choose from the PPTmovie's built-in list of common video resolutions.
Custom video resolution: Here you can set the custom resolution for your video file.
Advance Slides lets you set the default behavior for progressing slides:
Manually: You'll have to press the Next button every time you want to go to the next slide during the conversion. Useful when you record narrations, or if you want precise control -- or even if your presentation doesn't have automatic slide timings.
Automatically: Select the number of seconds you want the slide to appear on the screen.
In the subsequent window, the presentation loads. It may take a while depending upon the size of presentation (see Figure 6).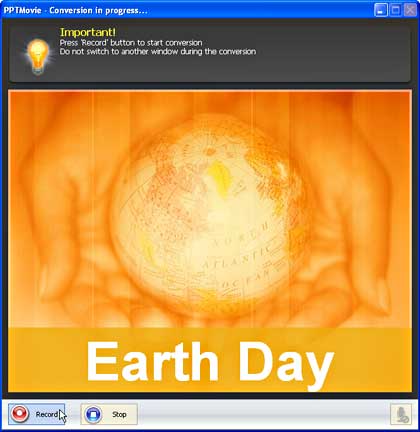 Figure 6: Conversion in progress
Press the Record button to convert the presentation into the selected file format.
While recording do not switch to another window. Figure 7 shows the recording in progress -- notice the Pause and Stop buttons are available since I chose Automatic timings. If I had chosen Manual timings, I would see a Next button.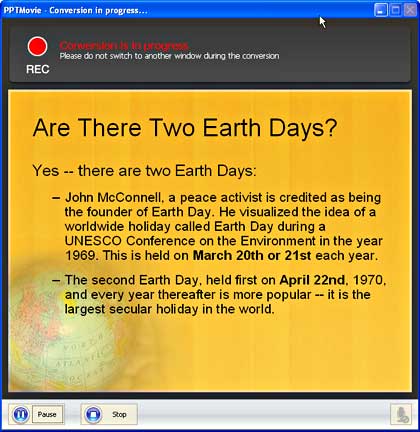 Figure 7: Recording
Once the recording is over, PPTmovie will compress the resulting file -- depending on the output size, this may take a while. When the conversion is done, you'll see a window, as shown in Figure 8.

Figure 8: Conversion finished
Thereafter, click the Open folder button to open the output folder, and play the output movie.
Back
---
Pricing and Support
PPTmovie is available in two versions: the Personal version costs $49.95 and the Business version costs $79.95. Both the versions are identical -- the Personal version is for home use while the Business version is required for commercial use.
Support is through email and an online FAQ.
Back
---
Conclusion
You do need a computer with a higher end graphic card to attain good results with PPTmovie. Beyond that limitation, the product does make the process of converting PowerPoint presentations to movies as painless as possible.
Back
---
This is the original page. An AMP (Accelerated Mobile Page) version of this page is also available for those on mobile platforms, at PPTmovie.