Stacks Of Presentations
A Needle In The Haystack
Who Makes PowerSearch?
Download & Installation
A Search In Action
Pricing & Support
In Conclusion
---
Stacks Of Presentations
Your job, designation or title may entail your involvement with presentations of all sorts - and you either personally or professionally may have accumulated a bank of presentations - someone created those presentations in the first place and you could be sure that somewhere on your hard disk is just that slide you need for tomorrow's vital event. This particular slide in question has all the figures you need - it's presented with just the right timings and animation. Now, if only you could unravel it from the scores of mysteriously named presentations that inhabit corners of your hard disk! Needless to add, all these presentations were created using PowerPoint - and PowerPoint's lack of an exhaustive search facility never prickled your brains as sharply as now. Such an enormous complication - and yet such an easy solution! Did you ever hear about PowerSearch? Let's proceed.
Back
---
A Needle In The Haystack
You load PowerPoint - and click the 'new' PowerSearch button. You are now presented with a search box - you opt to search all your drives for keywords like 'third quarter figures'. Lo and behold, PowerSearch creates a new presentation for you from around 5 slides it found in over 800 presentations. And these slides are pure gold - not only do you lay your hands on the actual slide you required, but you also have at your fingertips figures for the previous 5 years. Now, what was that metaphor called - a needle in a haystack?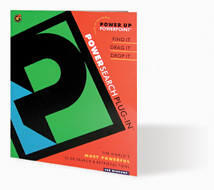 Now that we have a brief idea about PowerSearch's scope and abilities, let's proceed to analyze the product.
Back
---
Who Makes PowerSearch?
Accent Technologiess, creators of the popular 'Presentation Librarian' product make PowerSearch as well. Founded in 1990 and focused to provide multimedia and presentation solutions, Accent Technologies diversified in 1995 to encompass software development to create products like PowerSearch. Their client list includes the likes of Adobe Systems, Avaya, Aetna US Healthcare, Intersil, and Putnam Investments. Accent Technologies has also been the recipient of several distinguished awards - for more details visit their site:
Back
---
Download & Installation
You can download a trial version of PowerSearch from the following site:
The trial version is the same as the full version in all respects - although the trial version is limited to 15 actual searches - thereafter or even before that, you can opt to buy the product. You will be sent a unique registration code which converts your trial version into the actual full commercial version.
Installation is a simple affair - the actual buttons to access PowerSearch are automatically created within your PowerPoint interface. On my test system with PowerPoint 97, 2000 and 2002 installed, PowerSearch managed to surface as a button to click in all three versions.
Interesting to note here is the fact that while PowerSearch is supposed to work across the last three PowerPoint versions, it is actually optimized for PowerPoint XP (aka PowerPoint 2002).
Update: PowerSearch works with PowerPoint 2003 as well.
Back
---
A Search In Action
I loaded PowerPoint 2000 - and sure enough the PowerSearch button was existent. Click it to open an unobtrusive find box (see screenshot).
You can enter either case sensitive or insensitive keywords in the search box - these keywords are searched from actual text content within the PowerPoint presentations available in a particular location (including subfolders). Such locations could be a particular drive or a particular folder. Surprisingly, PowerSearch did not allow me to choose 'My Computer' as a search location. Even drive names have to be actually typed into the 'Look in' box - you can choose any folder using the browse dialog box though.
If you need to fine-tune your searches, further options are a mouse-click away - just check the box next to the 'More options' caption. This causes the PowerSearch interface to extend in size to include many more parameters (see screenshot).
Search speeds are dependent on a variety of factors, including computer speed, RAM, the quantity of PowerPoint presentations at a particular location, the folder location itself and many more aspects. However, it does not take too long considering the fact that searches are carried out with no indexing - and that each slide in a presentation has to be ascertained for search worthiness.
Search results take the form of a basic presentation itself - all slides accumulated from various presentations are compiled into a single presentation - as the user, it is up to you to find which slides meet your need. Naturally, you might opt to create a new presentation from the searched slides or copy individual slides to existing presentations.
Back
---
Pricing & Support
PowerSearch costs US$99 as an ESD (electronic software distribution) option - and also available conventionally on CD-ROM. The CD-ROM edition costs US$15 more and also incurs extra shipping charges. Volume pricing discounts are available if you would like to procure more than 5 copies. Payments are processed electronically by credit cards through a secure server.
Support options for PowerSearch is limited to email. This is what I heard from Andrea Rogers of Accent Technologies:
As far as support is concerned we provide only email support for the PowerSearch Plug-In and promise to respond to technical support questions within 24 hours of the time we receive them. Our tech guys are phenomenal when it comes to technical support and customer service as they know the importance of happy customers.
Back
---
In Conclusion
All in all, PowerSearch is a one-trick pony, which does what it set out to perform very well indeed. If your system is loaded with PowerPoint files, and you need to find information quick - then PowerSearch is indispensable. Ironically, PowerSearch's closest competitor is its own next-of-kin - 'Presentation Librarian'. Presentation Librarian may be overkill for basic searches - on the other hand, if you need to catalog and index your presentations, it might be just what the doctor prescribed. Now, that's a thought for some other day.
As of now, one magical PowerSearch activity on your system could make your day - and your presentation as well!
Back
---
This is the original page. An AMP (Accelerated Mobile Page) version of this page is also available for those on mobile platforms, at PowerSearch 2.x.