Still Effects
Animated Effects
Pricing
Conclusion
---
Still Effects
Follow these steps to apply a sample effect:
Insert and select a picture in PowerPoint. Click the 'Still Photo Effects' icon on the PhotoActive FX toolbar.
This opens the Still PhotoActive FX interface (see screenshot below) - on the left you will find various categories of effects. The middle pane previews these effects and the right pane allows you to preview a chosen effect on the selected image. Most such previews work only on square images - to make them work on rectangular images, you might want to click the 'F' button.
Try and experiment with various effects - once you are happy with a certain result, click the 'OK' button.
While working with any effect, you can click the 'Advanced' button to launch a specialized image editor that offers more possibilities. All custom settings can be saved to be used again. All settings are saved as individual file presets in folders and can be shared with others. Amazingly, this aspect of PhotoActive FX is not particularly well publicized.
Back
---
Animated Effects
Animated effects work exactly like still effects - the only difference between them is that unlike still effects, animated effects are saved as AVI files linked to the active presentation. This screenshot shows the animated effects interface: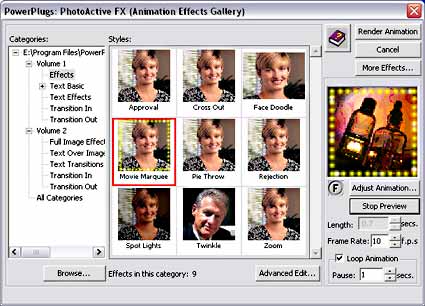 All animated effects can be further fine-tuned using the 'Advanced Edit' controls (see screenshot).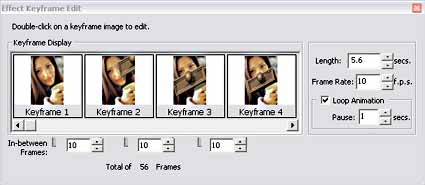 I wish CrystalGraphics allowed rendering of these videos to MPG and WMV video formats other than plain AVI. Many of these videos can be created within PowerPoint and exported for use in other programs as well. A word of caution though - experimenting with all video effects can become very addictive and you might not realize the amount of time you spent trying it out!
Back
---
Pricing
For what it does, PhotoActive FX is surprisingly very competitively priced. Each volume costs US$49 and both volumes together cost US$98. The product includes full image and video editing engines and is entirely customizable. What's more - presets can be saved to be used again or shared. I have no hesitation in recommending this product at this price point.
Back
---
Conclusion
Barring a few glitches like no availability of MPG and WMV export in the animated effects, PhotoActive FX is a winner. Also, you get a 'More Effects' option in both the Start menu group and the PhotoActive FX interface - clicking this takes you to the PhotoActive FX homepage. I could find no extra effects available there.
Having said that, PhotoActive FX is still one add-in I would never like to be without. It saves you from running back and forth between PowerPoint and an image or video editor. The amount of saved time alone would be worth investing in this product.
Other than that, almost anyone can be creative using PhotoActive FX.
Back
---
This is the original page. An AMP (Accelerated Mobile Page) version of this page is also available for those on mobile platforms, at PowerPlugs PhotoActive FX - Page 2.