What Is MathType?
MathType is an application that enables you to create mathematical equations for use in a variety of media - documents, presentations, web pages, print media and more. If you've ever used Equation Editor, the OLE app bundled with Microsoft Office, you'll understand the concept behind MathType - after all both programs come from Design Science, a commercial entity based in Long Beach, CA, United States. Having said that, MathType is a much more intelligent and capable program than Equation Editor - so much so that Design Science encourages users to upgrade to MathType if Equation Editor begins to look restrictive in aptitude. MathType is available on both the Windows and Mac platforms - we'll examine the Windows version on this page. For all practical purposes, the Mac version works identically.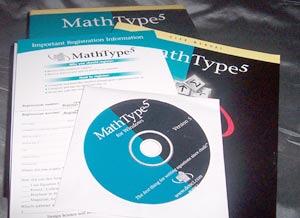 You can find more info about Design Science at their website:
Back
---
First Things First
This page discusses MathType - if you want a listing on resources on Equation Editor, you'll find a similar page elsewhere on this site:
Incidentally, this page was conceptualized while researching on the Equation Editor page - my first thoughts were to incorporate some MathType content within that page - however, as I was exposed to the scope of this fine product, a separate page seemed more logical.
My contact at Design Science throughout this period has been Bob Mathews. Bob is a storehouse of information on both products and he is sure to come up with an answer to any impossible question. I wish to thank him for all his assistance.
Back
---
Download and Installation
MathType is available as an electronic software download product you can buy online through a secure server. You can also order a boxed version of the product.
In addition, Design Science also provides a full featured 30-day trial version of the product which, in essence is the same as the download product. The only difference is that the ESD version includes a registration key that is capable of converting your 30 day trial version into a full registered copy.
Having said that, the download URL is:
Installation is a quick affair - you are first presented with a choice to unlock the software or evaluate it for 30 days.
Thereafter, the setup routine also takes care of including direct toolbar icons within Microsoft Word and PowerPoint to invoke MathType. On my test system with PowerPoint 97, 2000 and 2002 installed, the icon showed successfully on all the three versions. Within Microsoft Word, you get more than an icon - in fact there's a whole new MathType toolbar.
Back
---
Getting Started
MathType comes with an excellent manual - if you have a boxed version, you'll find a 140 page book within the contents. For those of you using the trial or ESD version, Design Science provides a PDF version of the same manual as part of the download.
A collection of 18 exhaustive tutorials is included within the manual - the tutorials could prove very helpful if equations are important within your sphere of work. On the other hand, if you are of the 'I-don't-read-manuals' type, think of MathType as an equation alternative of a word processing program.
The basic MathType interface is split into two areas - the palettes and the work area. The palettes are a collection of symbols and templates - click any of them and the characters themselves are immediately copied to the insertion point within the workspace. Think of the workspace as a piece of paper - and the palettes as a virtual typewriter (or rather a keyboard!).
Back
---
Comparisons And More
Sometime ago, I did a page on using Equation Editor with PowerPoint - my initial assessment was that the program was quite capable for general use. I still hold that opinion - but Equation Editor is showing its age. This is all the more apparent when you start using MathType.
MathType is a different experience - it is almost a pleasure to be able to use various colours in a single equation. Although you can use MathType as an OLE component from within PowerPoint (or any other application), you'll find that the ability to export to various graphic formats from within MathType itself is a very welcome feature.
You might be surprised to find that there is no standard MathType format, thus assuming that one cannot save an equation and retrieve it to edit it again in MathType. As it turns out, this assumption is wrong since MathType uses WMF (Windows Metafile) as its standard format for saving and opening equations. In practice, this works well - as long as you do not edit the WMF file in any other graphic application, all equations can be edited after any period of time. Using WMF as a standard format provides some advantages - you can import WMFs into almost any Windows application. MathType also supports the EPS format, essential for any usage in a professional print environment, or to transport your equations to the Mac platform.
Back
---
User Experiences
User experiences are a great way to find out ways in which a product is being used - often you can find people using a product to solve a problem in an unconventional way. I asked Bob for some testimonials - these are being reproduced here with permission.
"I love my Mathtype! It's a great system. Fun to use too. And you have people who know how to write a complete and logical manual, a rare thing these days."
- Fred Andrews
"I am already a MathType 5 customer and user. In fact, we are thrilled at its performance and utility in our textbook publishing application. We will be able cut the development cost and time of all our math and science books because of Math Type 5. Your technology and product will make a continuing contribution to Philippine education through our best-selling textbooks which will have the most beautifully typeset mathematics possible today!"
- Dean J. Bocobo
Back
---
MathType Links
Here's a list of links I've compiled for those of you who would like to get started or improve their MathType Editor skills:
Design Science provides extensive tutorials for MathType including one on using MathType with PowerPoint (link no longer exists).
The University of Waterloo has the most comprehensive description of Equation Editor (most techniques work with MathType as well) to be found anywhere - including video clips you can download and view.
Back
---
Pricing And Support
MathType costs US$97 for either the Windows or Mac versions. Current Windows and Mac versions are 5.2 and 5.1 respectively. Upgrades cost under US$49. Academic pricing is considerably lower at US$57.
Support options include tutorials and TechNotes online - as well as email and phone support for registered users.
Back
---
In Conclusion
Do you need to input equations electronically into any media - presentations, PDFs, web sites, documents, spreadsheets, page layout programs - event charting and diagram programs? You might not find a better solution than MathType -the program is almost a standard in the equation arena.
You might want to try out Equation Editor - but for any comparitively serious or professional work, MathType is 'the' solution. I found the pricing to be acceptable; also the academic discounts are generous.
Back
---