Introduction
Using iSpring Suite 8
Pricing and Support
Conclusion
---
Introduction
The newest iSpring Suite 8.1 is a unified bundle of PowerPoint add-ins that enables you to quickly develop courses, video lectures, and assessments that will work on any desktop, laptop, and mobile device. As such, iSpring Suite 8 includes the capabilities available in iSpring Cam, TalkMaster, Converter Pro, Presenter, QuizMaker, and Visuals.
Here are some of the key features of iSpring Suite 8:
Converts your PowerPoint slides into E-Learning Courses, self-running presentations, and online videos
Creates Video Lectures, builds Interactive Assessments and E-Learning Interactions
Records Screencasts that allow you to teach through video
Includes a library of available Characters that you can use in your Courses
Extensive LMS Compatibility
Adaptive Player that works everywhere
iSpring Suite 8 is the flagship product of iSpring Solutions, an Alexandria, VA, USA based entity. You can learn more about the iSpring Suite 8 and download a trial version from their site. My contact at iSpring Solutions for this review was Polina Khizhnyak - thank you, Polina.
Back
---
Using iSpring Suite 8
Download the installer from the link given above. The trial version works the same way as the full version of the add-in, but is time-limited to 30 days and has a watermark on the published content. Once installed, the iSpring Suite 8 tab will appear on the Ribbon within PowerPoint. iSpring Suite 8 is compatible with the new PowerPoint 2016, which we used. You can see the tab highlighted in red within Figure 1, below. iSpring Suite 8 also works within PowerPoint 2013 and 2010 for Windows.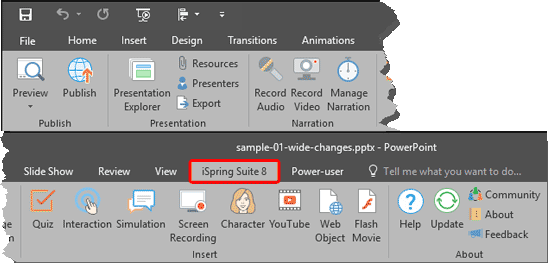 Figure 1: iSpring Suite 8 tab of the Ribbon
The options within the Ribbon tab are placed in separate groups, as explained below:
1. Publish
In this group, you will find two options, Preview and Publish.
The Preview button lets you preview your slides to test their look and functionality. Choose between Preview All Slides, Preview Selected Slides, and Preview from Current Slide options.
The Publish button, when clicked opens the Publish Presentation dialog box, as shown in Figure 2, below. Within this dialog box, you can tweak options to fine-tune appearance settings, compression and playback options, etc. for the presentation output.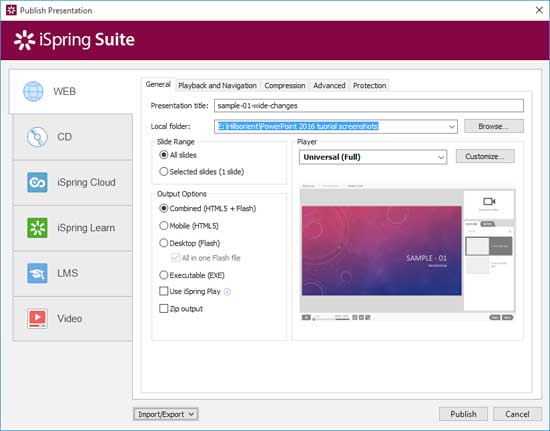 Figure 2: Publish Presentation dialog box
2. Presentation
This second group contains four buttons.
The Presentation Explorer button brings up a window of the same name, as shown in Figure 3, below. Within this window, you can see an overview of your presentation and also edit slide titles, hide slides, adjust slide durations, add quizzes, etc.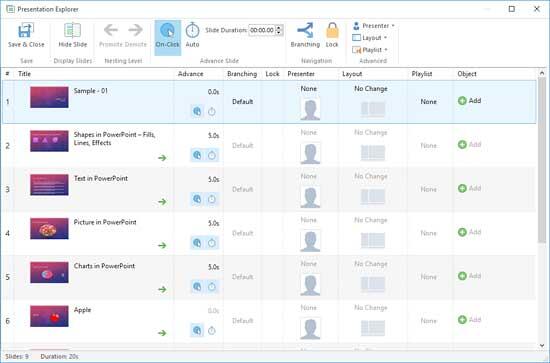 Figure 3: Presentation Explorer window
The Resources button brings up the Presentation Resources window where you can add, edit and delete references, file attachments, and web links.
The Presenters button brings up the Presenters window, where you can add, edit, and delete presenters and specify company info. You can even add a custom company logo for each presenter.
Finally, the Export button lets you save a copy of iSpring's project files to any location and share it with other users.
3. Narration
This third group contains three buttons.
The Record Audio button enables you to record your voiceover with an attached microphone.
You can also record video narrations by clicking the Record Video button.
To synchronize your presentation slides with imported or recorded audio and video, use the Manage Narration button. Doing so opens the Narration Editor window, as shown in Figure 4, below. It is also possible to sync audio/video and narration with animations and transitions.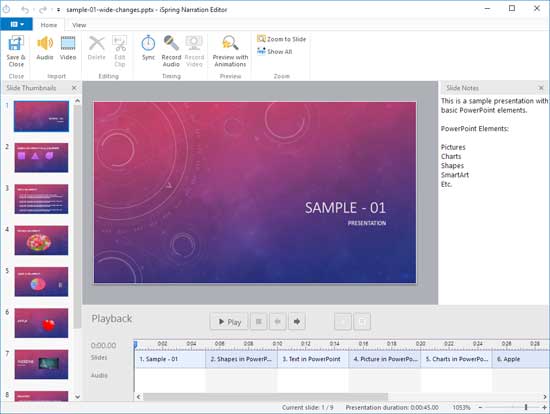 Figure 4: Narration Editor window
Microphones for PowerPoint
Looking for a good microphone suitable for recording narrations within iSpring tools and PowerPoint? Explore our PowerPoint Microphones page.
4. Insert
This fourth group contains eight buttons.
The Quiz button opens a window to create a quiz or survey.
The Interaction button enables you to add four interactions: Timeline, Directory, FAQ, and Book.
The Simulation button allows you to practice communication skills by creating common scenarios.
The Screen Recording button starts the screen recording mode, in which you can choose to record the entire screen or part of it.
The Character button provides characters that you can easily add to your slides, as shown in Figure 5, below.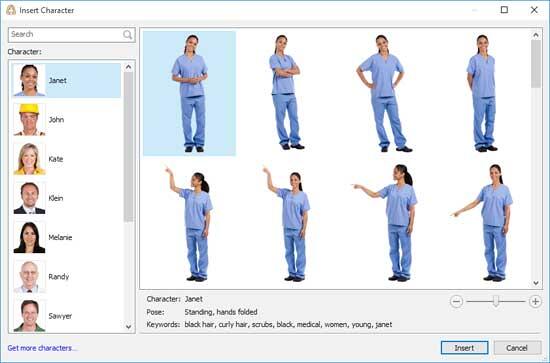 Figure 5: Insert Character window
The YouTube button allows you to insert YouTube videos into your presentation. Note that an online connection is essential to view YouTube videos into your presentation.
With the Web Object button you can insert web pages or online documents using their web addresses.
Finally, the Flash Movie button allows you to insert Flash movies stored on your computer into your slides.
5. About
This group contains five buttons.
The Help button opens the iSpring Suite Support online page.
The Update button opens the Checking for Updates dialog box, as shown in Figure 6, below. You will be able to download any available updates right within this window.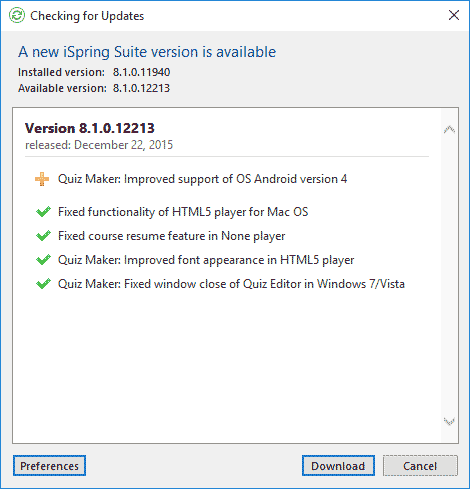 Figure 6: Checking for Updates dialog box
The Community button will open the iSpring community online page. To participate in discussions, you will need to join the community.
The About button brings up the About dialog box with the registration information of the software.
Finally, the Feedback button opens the feedback page on the iSpring site.
Back
---
Pricing and Support
iSpring Suite 8's lifetime license costs US$697. Also, a multiseat license is available. Additionally, there are academic, government, and non-profit discounts available.
Support is provided through e-mail, phone, and an online Knowledge Base.
Back
---
Conclusion
iSpring Suite 8 is a PowerPoint add-in, which makes it extremely easy to use. It supports all PowerPoint effects after conversion to Flash and HTML5 formats. iSpring Suite 8 is a dream combo of almost everything you will need to create e-Learning content and shareable presentations. All components work great together as a team to provide you with a seamless, unified experience.
Back
---
This is the original page. An AMP (Accelerated Mobile Page) version of this page is also available for those on mobile platforms, at iSpring Suite 8: The Indezine Review.