Introduction
Using iSpring Presenter 7
Pricing and Support
Conclusion
---
Introduction
iSpring Presenter 7 is a PowerPoint add-in which enables you to create media-rich courses and presentations with quizzes in HTML5 andFlash. This add-in helps you create course content within PowerPoint, enhance it with video narrations, create branching scenarios and quizzes, thereafter publish it to mobile-ready formats, e-learning platforms, and as distributable standalones.
iSpring Presenter 7 is from iSpring Solutions, an Alexandria, VA, USA based entity. You can learn more about the iSpring Presenter and download it as a trial version from their site. My contact at iSpring Solutions for this review was Polina Khizhnyak - thank you, Polina.
Back
---
Using iSpring Presenter 7
Download the installer from the link given above. You can also download their trial version -- this works the same way as the full version of the add-in, but is limited to 30 days. Once installed, you will see a new  iSpring Presenter 7 tab on the  Ribbon within PowerPoint 2013, as shown highlighted in red within Figure 1. Although this tutorial is done in PowerPoint 2013, iSpring Presenter 7 works within PowerPoint 2010 and 2007 too.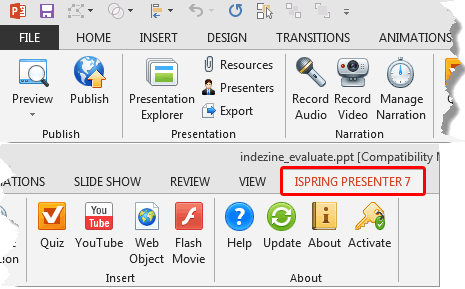 Figure 1: iSpring Presenter 7 tab of the Ribbon
All the options within the iSpring Presenter 7 tab are explained below:
1. Preview

Before publishing the presentation to Flash or HTML5, you can preview your entire presentation or several particular slides to test their look and functionality. Click the down-arrow on the Preview button to bring up the menu you can see in Figure 2, below. Then choose one of the available options: Preview All Slides, Preview Selected Slides, and Preview from Current Slide.

Figure 2: The Preview menu

2. Publish

Click the Publish button to open the Publish Presentation dialog box, as shown in Figure 3, below. Here you can publish presentations to Flash and HTML5 format in just a couple of clicks. Publishing to SCORM, AICC, and xAPI is also supported. There are options available to fine-tune appearance settings, compression and playback options for the output presentation.

Figure 3: The Publish Presentation dialog box

Tip:

Learn more about the publish options in our previous

iSpring Converter

(product now discontinued) review page. This new iSpring Presenter 7 product though has many more options, including exporting to a folder (or a CD, an EXE file, etc.). Additionally, it also supports

iSpring Learn

, a one-stop deployment option that's integrated with all iSpring authoring tools.

3. Presentation Explorer

Brings up the Presentation Explorer window, as shown in Figure 4, below. The Presentation Explorer window shows an overview of your presentation and gives access to features such as editing slide titles, hiding slides, adjusting slide durations, adding quizzes, etc. All options except adding quizzes influence the original PowerPoint presentations as well.

Figure 4: Presentation Explorer window

4. Resources

This brings up the Presentation Resources window (see Figure 5), which allows you to add, edit and delete references, file attachments and web links.

Figure 5: Presentation Resources window

5. Presenters

Opens the Presenters window, as shown in Figure 6. Here you can add, edit, and delete presenters and specify company info. Information about presenters can be displayed as a block over the outline or in the top bar as a drop-down menu. iSpring Presenter allows you to add a custom company logo for each presenter. You can also set a common logo that is applied to all presenters.

Figure 6: Presenters window
Once you export your presentation, you will see this Presenter info within the output, as shown in Figure 7, below.

Figure 7: Presenter info within the output from iSpring Presenter

6. Export

All the resources that you add to your presentation are normally placed into a folder in the directory where your presentation is saved. The project's files will be grouped into specific subfolders according to the file type. You can save a copy of the iSpring's project files to any location and share it with other users.

7. Record Audio

Click the Record Audio button to launch the Record Audio Narration window, as shown in Figure 8. Here you can record audio narrations by reading aloud your text notices or any other verbal announcements and synchronizing them with your Slide Show. You will need an attached microphone for this option to work.

Figure 8: Record Audio Narration window

Tip:

Looking for a good microphone suitable for recording narrations within iSpring tools and PowerPoint? Explore our

PowerPoint Microphones

page.

8. Record Video

This will bring up the Record Video Narration window, as shown in Figure 9. To use this feature, you must have an attached webcam.

Figure 9: Record Video Narration window

9. Manage Narration

Opens the Narration Editor window (see Figure 10). With this option you can conveniently synchronize your presentation with imported or recorded video and audio. It's also possible to sync audio/video and narration with animations and transitions.

Figure 10: Narration editor window

10. Quiz

Use the Quiz button to create a quiz or survey in the integrated iSpring QuizMaker tool (see Figure 11, below).

Figure 11: iSpring QuizMaker

11. YouTube

Allows to insert YouTube videos into your presentation, as shown in Figure 12. Note that an online connection is essential to insert YouTube videos into your presentation. Embedded YouTube videos must be available for public access.

Figure 12: Insert YouTube Video

12. Web Object

With this option you can insert web pages or online documents using their web addresses (e.g. PDF document), local files stored on your computer, and web pages or online video using embed code. In Figure 13, below you can see the Insert Web Object window with a web page.

Figure 13: Insert Web Object window

13. Flash Movie

This option allows you to insert local flash movie stored on your computer into your PowerPoint slides.
HTML5 output from iSpring Presenter can also be viewed on the free iSpring Viewer for mobile devices (iOS and Android).
Back
---
Pricing and Support
iSpring Presenter 7 costs US$697, and multiple user license are available.
Support is through e-mail, telephone, and online FAQ.
Back
---
Conclusion
iSpring Presenter 7 is probably the best product in its class that allows you to use your new or existing PowerPoint content to create learning content suitable for deploying across a wide spectrum of options. Earlier versions of this product were extensively featured -- and this new version is in a class by itself.
This is the original page. An AMP (Accelerated Mobile Page) version of this page is also available for those on mobile platforms, at iSpring Presenter 7: The Indezine Review.