Introduction
As Flash SWFs get more ubiquitous, there's a need for a tool that helps you organize and reuse your content. InstantFX SE Flash Browser / Transformer is one such product - apart from being a Flash SWF browser, it also includes an internal Flash SWF library. In addition, it plugs into Microsoft Office applications like FrontPage and PowerPoint so that all these SWFs can be inserted in web pages or slides with one click.
In this review, I'll explore the PowerPoint add-in option that allows you to browse and edit Flash clip art, SWFs saved on your system, and even SWFs that can be found in your browser cache!
---
About InstantFX
Flash Browser / Transformer is from XZAKT Media, a company based in Australia. InstantFX offers several other products from their site.
My contact at InstantFX for this review was Andrew Brisbane - thank you, Andrew.
You can download a free trial version of InstantFX Flash Browser from their site (link no longer exists).
---
Download and Installation
Installation is quick - and the add-in automatically shows up in PowerPoint as a new toolbar (see screenshot).
After you buy the product, you are provided with a registration name and code that converts the trial version to a full version.
---
Using FlashBrowser
InstantFX SE Flash Browser / Transformer adds a new toolbar within PowerPoint. Create a new slide in your presentation and click the Insert Flash Clip Art to bring up the interface that you can see in the screenshot below.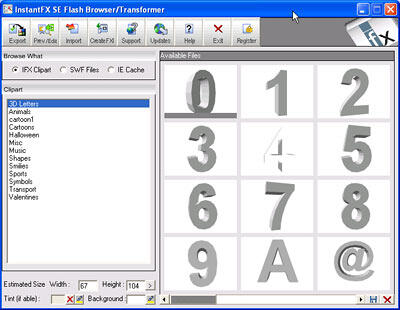 Now you can insert three types of Flash SWFs in PowerPoint depending upon where it is sourced from:
IFX Clipart: These are any of the readymade IFX clips that can be exported as SWFs into a PowerPoint slide.
SWF Files: This option allows you to browse from and choose any SWFs found in your hard disk.
IE Cache: This option finds any SWFs in your browser cache.
Once you have choosen the source SWF, all you need to do is click the Export option to export the file to the active PowerPoint slide. Run the slide show to see the SWFs.
There are no settings for PowerPoint within the export screen as Flash Browser/Transfomer SWFs are embedded into the PowerPoint presentation. This means there are no external SWF files involved.
In addition, the second button on the InstantFX toolbar in PowerPoint allows you to add some VBA code to your inserted Flash SWFs to provide better navigation.
---
Pricing and Support
InstantFX SE Flash Browser / Transformer costs just $17.95 for a single license - that price was a surprise because I expected it to be higher considering this product includes a Flash clip art library. However, this does mean that more people will be able to use the product - in fact, considerable savings are available for multiple licenses.
Email support is complemented by a small online FAQ that I wish was more detailed.
---
Conclusion
InstantFX SE Flash Browser / Transformer not only allows to add SWF files to your PowerPoint slides, but also lets you convert them to EXEs and screen savers. In addition, you can manipulate SWFs to change the size and color tint. Text, images and sounds within SWFs can also be edited.
It's a nice product and I have no issues giving it a positive recommendation.
---