Introduction
ChristmasPowerPoints.com is a specialized PowerPoint backgrounds site that provides 865 ready to use backgrounds for themes like Christmas, Thanksgiving and other festivals. These backgrounds can be used as backgrounds or graphics in PowerPoint presentations and templates, or in posters, cards, etc.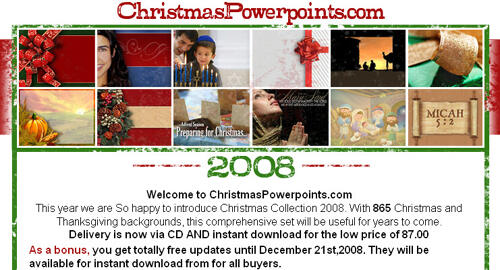 All the backgrounds are high resolution JPEG graphics with dimensions of 1204 x 768 pixels -- they are all 100 dpi, so that makes them more suitable for display and projection rather than printing. The entire collection can be purchased via CD or download.
You can learn more about the collection here.
My contact at ChristmasPowerPoints.com for this review was Linda Braine -- thank you, Linda.
---
The Backgrounds
Let me start by showing you some of the backgrounds.




Some of the designs have multiple variations which are ideal to use for PowerPoint presentations. The rest of the backgrounds are good for posters, e-cards and church presentations.

Below are some other backgrounds with variations which can be used in PowerPoint presentations for the title and text slides -- and for any other slide layouts.






And some of the backgrounds have variations in color that you can see below:






---
Pricing & Support
The entire collection costs $87.00 -- you can buy through credit card or PayPal.
Support is through email.
---
Conclusion
If you are responsible for presentations in church -- or need designs with Christmas and Thanksgiving themes, then this is a great collection.