Introduction
About Articulate
Download and Installation
Using the Plug-in
Pricing and Support
Conclusion
---
Introduction
It wasn't really predicted or unnoticed. Yet, it happened over a period of time. When did the 'presentation' start moving from the board room to a horizon that is beyond time and geography? When did Online Rich Media (ORM) become so much of a PowerPoint phenomenon? We're already witnessing the second generation on Online Rich Media - and that's heralded by a new generation of ORM tools. One such tool is Articulate.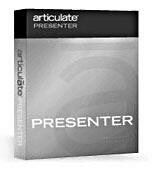 Back
---
About Articulate
Articulate Presenter is an ORM platform and tool that uses PowerPoint content as its source. After converting all nuances of a typical PowerPoint presentation to a faithful Flash output, it packages the rich media in a highly customized interface that is normally equipped with narration. You'll find more information about the product on the Articulate site.
My contact at Articulate was Adam Schwartz, President of Articulate. Adam, who has over a decade of personal experience in interactive multimedia and e-learning founded Articulate in the year 2000.
Besides Articulate Presenter, Articulate also creates Articulate Server, an integrated suite of four modules that provides tools to deliver, track, and manage rich online presentations or create a knowledge portal.
Articulate Presenter itself comes into two versions - Standard and Professional.
---
Download and Installation
You can download a free fully-working 15 day trial version of Articulate Presenter from the Articulate website. Presently, the trial download weighs under 11 mb.
Installation is a quick affair followed by an Update Service that checks if you have the most recent update of the product. Thereafter, you are prompted to view a Getting Started presentation, a 4 minute tutorial that's highly recommended.
On my system with PowerPoint 2000 and 2003 installed, Articulate showed up as a menu on both versions (see screenshot below). Articulate also works with PowerPoint 2002.
Back
---
Using the Plug-in
For a test presentation, I'm using something we created for a user session sometime ago - it is a presentation called 'Using Photographs in PowerPoint'.
We made no edits to the actual presentation - but we did record some voiceovers for the beginning slides outside of PowerPoint and Articulate. Then we used the Articulate | Import Audio option. This did not allow me to import my entire voiceover and then select portions of the sound file for individual slides. We opened the original voiceover in Sound Forge and exported individual slide narrations as separate WAV files and Articulate had no problems importing such narrations.
Thereafter, it was easy to use the Articulate | Publish option where a logical sequence of wizard screens allows you to publish your presentation to a Flash based online rich media output.
Adam adds here: "Over 95% of our customers record directly via the Articulate |Record Narration tool. It makes it very easy to record slide by slide and synchronize animations with narration."
Once your movie is published, you are prompted to view the online rich media.
I admit that I am impressed - I even viewed Articulate's output on a Mac and it worked just fine. Here are some Articulate features that deserve mention:
Articulate's new version 4 of Presenter supports all new animation styles introduced in PowerPoint 2002 and 2003. It also works with presentations created with the new PowerPoint:mac 2004 although Articulate has no Mac version.
Articulate also allows you to insert Flash movies and quizzes within your ORM output through the Insert | Flash Movie... and Insert | Interaction... options.
With features like the interactions and the SCORM and AICC output for LMS's, Articulate Presenter can also be used for e-learning.
Articulate includes a storyboard, which makes sharing, editing and collaborating with multiple authors in Microsoft Word easier.
Back
---
Pricing and Support
Articulate Presenter Professional is priced at US$698, while the Standard edition costs US$499. Purchases are through online secure server and you can download the full version of the product immediately after purchase.
Support options include a blog based news and FAQ page called Word of Mouth - an Upgrade subscription plan is included as part of the Professional edition of Articulate Presenter.
Email and web-based support is provided to Articulate Presenter customers through the blog.
Back
---
Conclusion
Articulate is an amazingly mature product that continues to evolve - despite it's seemingly high price, it's actually priced much lower than comparable solutions like Macromedia Breeze or iCreate. You'll find less expensive solutions like PowerCONVERTER and IceSlide - but either they do not provide the multitude of logical options that Articulate brings you or they are aimed at users who are looking more at PowerPoint to Flash conversion rather than an entire ORM solution.
All put together, Articulate is the perfect balanced solution you'll find that provides a ROI on both the price and performance fronts. It is the next generation of PowerPoint sourced online rich media.
Back
---
This is the original page. An AMP (Accelerated Mobile Page) version of this page is also available for those on mobile platforms, at Articulate Presenter.