Introduction
About Animation Carbon
Download and Installation
Using the Plug-in
Pricing and Support
Conclusion
---
Introduction
With the launch of PowerPoint 2002 (and 2003), animation metamorphosed from a simple single-click attribute to something much more enriched, and complicated. Designers spent hours mastering the new motion paths - and fine-tuned the timings on multiple animations. After the jaws finished dropping and the wows were over, designers were expected to create a similar animation effect for another presentation element!
You get the pattern - hours upon hours were being spent on recreating the same effects. It was often felt that it would be great if PowerPoint had a library feature where all such animation procedures could be stored - and then imparted to objects with a single click. Our product for review, Animation Carbon fills that void. Let's explore.
You can download a 15 day trial version of Animation Carbon here.
---
About Animation Carbon
Animation Carbon is from Shyam Pillai, a Microsoft PowerPoint MVP who creates several PowerPoint add-ins. In the past, I have reviewed his Image Importer Wizard product.
You can learn more about Animation Carbon here.
I asked Shyam what motivated him to create Animation Carbon:
"Animation Carbon was conceived immediately after PowerPoint 2002 was released. About 80% of the work was done and then lay idle since my time was shifted to other projects. More recently, the ability to be able to copy animations from one shape to another was often requested in the newsgroups hence Animation Carbon was revived and completed for release. The complexity of the animation engine in PowerPoint 2002/2003 made this product tailor made for power users for increased productivity."
---
Download and Installation
You can download a 15 day trial version of the product from the Office Tips site - the download currently weighs a little over 1 mb.
Installation is an easy affair - Animation Carbon showed up within PowerPoint 2003 within the Tools menu.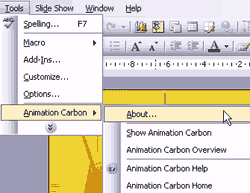 ---
Using the Plug-in
I first opened a presentation in which I had created a Star Wars style credits animation. I selected the shape that was associated with an animation.


Then I chose Tools | Animation Carbon | Show Animation Carbon. The Animation Carbon interface has two tabs: Clone Animation and Animation Library.
Animation Library: In simple terms, Animation Library is where all saved animation sequence styles are stored - and applied to other elements as required. Also, it's here that you manage your animations by creating new categories - think of categories as folders and the saved animation styles as documents.



Right click anywhere within the window to reveal a context menu that allows you to create a new animation category. Several animation categories and styles nested within those categories are included when you first start Animation Carbon.

Once you have selected an object that is animated within the active slide, you need to click the Pickup button here to save the animation style to the library. By default, Animation Carbon chooses a name but you can right-click the animation style and choose Rename.


Clone Animation: If you don't want to save a style to a library but only copy animation styles between different elements on a slide, you'll use the Clone Animation tab. The Clone Animation tab has a drop down box that allows you to select any animated shape within the active slide - clicking Apply then copies the animation style to any selected element on the same slide.


You can also get the Animation Carbon dialog, by right-clicking any shape and selecting 'Animation Carbon...'
---
Pricing and Support
Animation Carbon, priced at US$50 for a single user license is reasonably priced for what it does. There are also volume discounts available. All purchases are through secure server. Support is through email.
---
Conclusion
For what it does, Animation Carbon can be a useful tool within your PowerPoint paraphernalia box. It does exactly what it promises and receives a positive verdict from me.
This is the original page. An AMP (Accelerated Mobile Page) version of this page is also available for those on mobile platforms, at Animation Carbon.