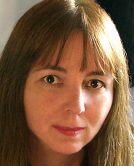 Barbara Brundage has been teaching people ways to use Photoshop Elements since the product came out in 2001. She's the author of the best-selling Photoshop Elements 4: The Missing Manual, published by O'Reilly and several other books.
In this interview, Barbara discusses her book, Photoshop Elements, and how you can use it with PowerPoint effectively. Read here.
---
This is the original page. An AMP (Accelerated Mobile Page) version of this page is also available for those on mobile platforms, at Photoshop Personalities.