Dimensional Size
Physical Size
Storage Size
Cropping
What to Avoid
Selections and Masks
Curves and Levels
Unsharp Mask and Gaussian Blur
---
Sizing Images
Image size is measured in three factors: dimensional size in pixels, physical size in inches (or another real-world measurement system), and storage size. You can always view the current image size in both pixels and physical size by choosing Image | Image Size. Unless you have storage issues or need to transfer your images remotely, you can usually ignore storage size and just focus on the pixels and inches. If you're concerned about storage size, consider cropping unwanted areas of your images, which removes pixels.
---
Dimensional Size
Images in Photoshop are always rectangular, with no exceptions. Each image is a specific number of pixels wide and a specific number tall. You can find the total number of pixels in the image by multiplying the width by the height. You'll get a true feeling for the pixel size of your image when you view it at 100%. Figure 3-6 shows an image of a stunning cloud-filled sunset at 100%; note that 100% displays in the title bar next to the image name.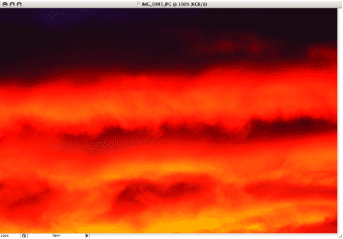 Figure 3-6
---
Physical Size
The physical size of an image—its dimensions in inches, pixels, cm, or some other physical measure—is fixed. However, two images with the same physical size can have very different dimensional sizes. For example, two 3" x 3" images can contain a very different number of pixels, depending on how many pixels per inch each image has. For example, in Figure 3-7, both images are 3" x 3". However, the image on the left has a grand total of 1,369 pixels (37 across and 37 down), whereas the image on the right has a total of 202,500 pixels (450 across and 450 down).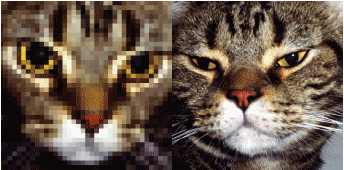 Figure 3-7
---
Storage Size
Each image will take up a certain amount of space on your hard drive. The storage size will be based partly on the dimensional (pixel) size of your image, and partly on the format, you use when saving it. JPEGs tend to be the smallest, whereas TIFFs or PDFs embedded with Photoshop layer information are the largest.
---
Cropping
Cropping is the process of reducing the dimensional size of an image by removing rows and columns of pixels. Of course, when you crop an image you're changing its physical size as well, but the most important thing you're doing is getting rid of extra pixels. To crop an image, either choose the Crop tool, drag out the area you wish to crop, and then press Return (Mac) or Enter (Windows), or make a rectangular selection and choose Image | Crop.
---
Increasing the Clarity of an Image
What exactly is clarity? Most people will probably instantly equate clarity with sharpness and detail, but it's more than that. Clarity has to do with the color balance, the "feel" of an image, and how the image is cropped.
Proper cropping almost guarantees an improvement in image clarity, as Figure 3-8 shows rather well. On the left is the original, uncropped image; on the right is a cropped version of the same image. To be fair, the image on the right was scaled up so that it wouldn't look awkward, but to prove the point, use your hand to cover up the right image and then slide it over to the left image. The image on the right looks way better, thanks to proper cropping.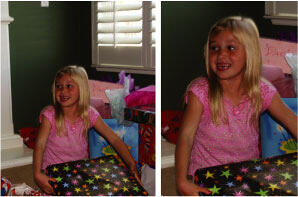 Figure 3-8
That's just one example—bringing up the detail level and enhancing edges that are too soft are other ways of increasing the clarity of an image. Before going into detail on those, however, it's important to note that such techniques for enhancing your images are rarely optimal when applied to an entire image. Selecting individual portions of an image (i.e., the subject or the background) and applying the necessary changes only to those areas will result in the best possible outcomes.
---
What to Avoid
Your first thought in approaching the issue of image clarity might be to use Brightness and Contrast, which sounds easy and friendly and works amazingly quickly—but you should absolutely never use this function for improving clarity. Doing so destroys data and quickly removes detail from highlights and shadows. Watch the darkest and lightest areas as you experiment with this function, and you'll see what I mean (experiment, but never use it for real!). Instead of Brightness and Contrast, use selections and masks to work on specific portions of your images, use Curves and Levels to adjust colors and brightness, and use Unsharp Mask and Gaussian Blur to heighten clarity.
---
Selections and Masks
Proper selecting of portions of imagery is essential to getting the best result. For example, when dealing with a specific subject, enhancing the subject separately from the background results in a much better end result. And whenever you spend a lot of time selecting a portion of your image, it's always a good idea to save the selection as a mask. This will allow you to access the selection in the future, if you have any additional enhancement work to do after you've saved and closed the image file.
---
Curves and Levels
Curves and Levels are the most powerful tools in your image-enhancement arsenal. Jump into the Curves dialog box (by choosing Image | Adjust | Curves), shown in Figure 3-9, to quickly set the white, black, and gray points of your image. This can result in a better-looking image pretty much instantly. When working in the Curves dialog box, be sure to click the box in the lower-right corner to see more detail in the curve display. For a quick spectral glow effect, play with the Pencil control in the Curves dialog box on each of the channels, as shown in Figure 3-10.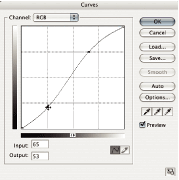 Figure 3-9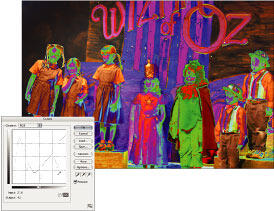 Figure 3-10
The Levels dialog box can be useful for quickly enhancing clarity by "stretching" and "squeezing" the image across a wider range of lightness to darkness. Figure 3-11 shows an image with the original Levels settings (left) and the adjusted image with "better" settings (right).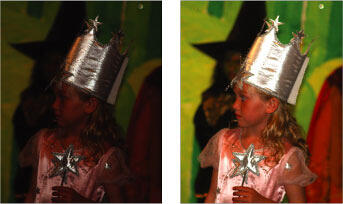 Figure 3-11
You can access all of the color adjustment controls, including Curves and Levels, through the Image | Adjust submenu, but a better option is to use adjustment layers (Layer | New Adjustment Layer). If you apply your color changes as adjustment layers, you'll be able to alter them at any time, even after you've saved and closed the file.
---
Unsharp Mask and Gaussian Blur
Unsharp Mask, when used on the subject of an image, can further distinguish the subject from the background. Gaussian Blur can be used in the background to make the subject stand out even more. Figure 3-12 shows an image as it appeared originally (left), as well as the resulting image when the foreground was sharpened and the background blurred (right). In order to do this, I made a selection of the background, applied the Gaussian Blur, and then chose Selection | Invert Selection so that the foreground was selected, allowing me to sharpen just the foreground.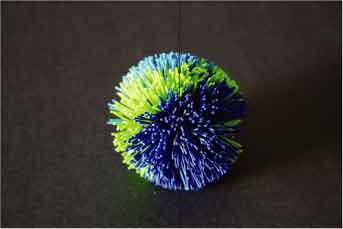 Figure 3-12
---
This is the original page. An AMP (Accelerated Mobile Page) version of this page is also available for those on mobile platforms, at Excerpt from Adobe Creative Suite 2 Workflow.