This book extract from Adobe Creative Suite 2 Workflow is an Indezine exclusive with permission from O'Reilly Media, Inc.
Jennifer Alspach, Shari Nakano, and Steve Samson—the authors of the book have several decades of combined experience in using graphic design technologies.
The excerpts chosen to be published on Indezine explain image and pixel basics.
I wish to thank Betsy Waliszewski, Regina Wilkinson, and Craig Palmer for facilitating the permission to extract.
ISBN: 0-596-10236-4
---
Pixels Up Close
Transparent Pixels
---
Exploring Image and Pixel Basics
Images are made of pixels. If you rolled your eyes when reading that last sentence, skip ahead to the Sizing Images section. If not, read on: the following section describes what pixels are and how they form images.
Pixels Up Close
Pixels are individual squares of color—any color—on a grid of thousands of squares that, together, form an image. Nowadays, even the smallest files can contain one or two million pixels. Digital camera manufacturers use the term megapixels (MP), where one megapixel equals about a million pixels.
Although one or two million pixels may seem like a lot, the resulting image isn't all that large. A typical 2-MP image is 1600 x 1200 pixels, or about the size of a 21-inch monitor. An 8-MP image is about 3500 x 2300 pixels, or about twice the width and height of a 2-MP image.
The interesting thing about pixels and megapixels is that the relative density of pixels is what creates more or less detail in an image. Look at the image shown in Figure 3-1, where one screen pixel is equal to one image pixel. If you look really, really closely, you can see the pixels.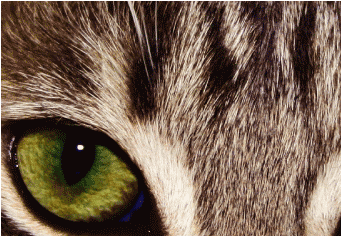 Figure 3-1
Now, look at the image shown in Figure 3-2, where four screen pixels are equal to one image pixel. No need to look closely here; the pixels are quite easy to spot.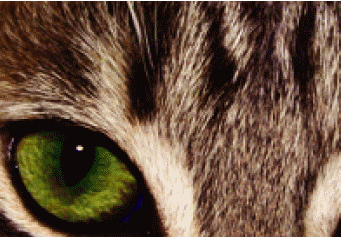 Figure 3-2
---
Transparent Pixels
In Photoshop, in addition to being a specific color, pixels can also be partially transparent. If a pixel is transparent, you can see part or all of the pixel underneath it. If there's no image pixel behind the transparent pixel, Photoshop substitutes white.
Figure 3-3 shows a partially transparent image on top of another image. This example is offset to the left, so that you can see the original image for comparison purposes. All of the pixels in the "top" image are set to 50% transparency (via the Layers palette). You can easily see through the top image to the image beneath, although the result is actually not all that pleasing.

Figure 3-3
In this case, a better result might be gained from using transparency only on the background of the original poker chip image, as shown in Figure 3-4. Now—depending on your point of view—you have either giant poker chips or a grass-like tabletop. I like the giant chips myself.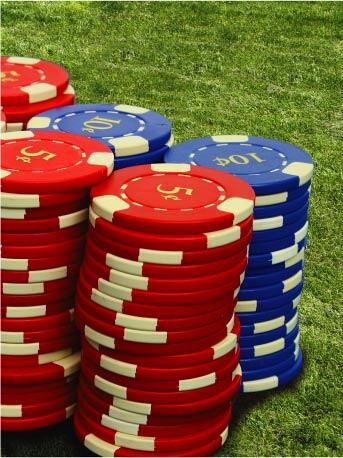 Figure 3-4
To clarify the size of the poker chips, we'll add a dog to the image, as shown in Figure 3-5.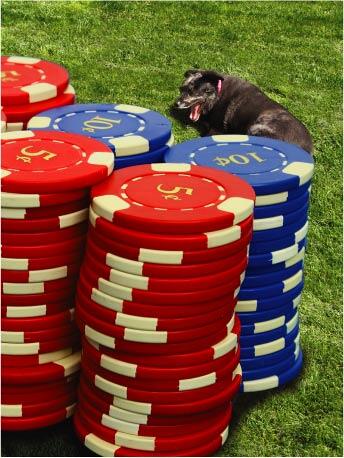 Figure 3-5
---
This is the original page. An AMP (Accelerated Mobile Page) version of this page is also available for those on mobile platforms, at Image Preparation and Enhancement.