Windows 8 introduces a different type of notification compared to what you saw in previous versions of Windows. You see a small rectangle pop up with a message. These messages may be from different applications you have installed, and you can set those permissions individually. However, all notifications use the same appearance style. Figure 1 below, shows an example of such a notification. This one is from Skype, which frequently shows these pop ups to indicate if any of your contacts has signed in, or if they sent you a text message (as shown in Figure 1).
While these notifications may be helpful in most scenarios, they can be irritating and even embarrassing when showing your PowerPoint slides to an audience. There is no way PowerPoint can automatically disable them while in slide show view. Fortunately, there is a way to disable them temporarily, and you should remember to do so each time you need to show a presentation!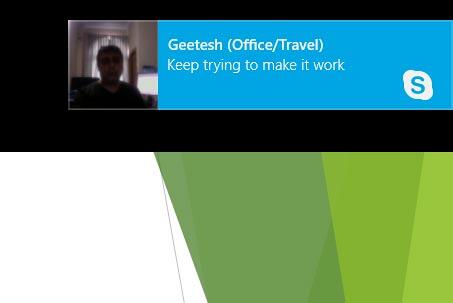 Figure 1: Skype notification
Tip:
Want to permanently disable notifications? That's a big decision to make and while we don't suggest you remove notifications altogether, you can learn how to do so within our
Permanently Turn Off Notifications in Windows 8
tutorial.
Follow these steps to turn off the notifications in Windows 8:
Access the Charms bar by pressing

Windows

+

C

or moving your mouse to the bottom right of the screen and slowly moving the mouse up. When the Charms bar appears, click the Settings option (highlighted in

red

within Figure 2).

Figure 2: Settings option within the Charms bar
This brings up the Settings menu, as shown in Figure 3. Here, click the Notifications option, highlighted in

red

within Figure 3.

Figure 3: Notifications option selected
You will be prompted with a pop up menu, as shown in Figure 4. Within this pop up menu, you'll find options to hide notifications for a certain number of hours such as: Hide for 8 hours, Hide for 3 hours, or Hide for 1 hour.

Figure 4: Notifications pop up menu
Select the desired duration for which you want to hide the notifications. As soon as you select any of these duration options, notice that the Notification icon gets grayed out, as shown highlighted in

red

within Figure 5 (compare with Figure 4, above).

Figure 5: Changed Notifications icon
The notifications will stop appearing for your selected duration.
Note:
Has your presentation been delivered, and you want to restore your notifications now rather than waiting for them to be restored after the time span you chose? It's easy. Just click the grayed out
Notifications
button, shown highlighted in
red
within
Figure 5
, above to restore your notifications immediately.
---
This is the original page. An AMP (Accelerated Mobile Page) version of this page is also available for those on mobile platforms, at Turn Off Notifications in Windows 8.