Introduction
Download and Installation
Working with muvee Reveal
Other Features
Pricing and Support
Conclusion
---
Introduction
I have been using muvee's range of tools to create quick movies and slideshows for a long time now -- not only are these tools very intuitive to use, but they make sure that anyone can create professional looking movie montages in minutes -- these same results could take hours and days using other video editing tools. Sure, you get a lot more control in the other high end tools, but most of the time you just want to get in your camcorder footage and make something presentable -- and you want it fast.
muvee recently sent me a new version of their product -- it's called muvee Reveal, and it's a completely rewritten program that makes creating professional looking movies even easier. Let us explore muvee Reveal in this review.
You can find the older review on muvee autoProducer 6 here.
My contact at muvee for this review was Carrie Taylor, thank you Carrie.
Back
---
Download and Installation
You can download a trial version of muvee Reveal that functions like the full version for 15 days. The download is quite large at 88 mb -- and you may also have to install the .NET 3.0 framework and Microsoft C++ redistributable if you don't already have them -- so be prepared for a little wait to get started.
Once you install muvee Reveal, you will find shortcuts for the program in your Windows Start Menu (see Figure 1).

Figure 1: Windows Start Menu
Back
---
Working with muvee Reveal
Launch muvee Reveal to bring up the interface as shown in Figure 2

Figure 2: muvee Reveal interface
Click the figure above to see a larger representation -- here's a brief walkthrough of the interface:
Photos and Videos: Here you can add video/pictures from your computer, or import them directly into muvee Reveal from another device like a DV camcorder, digital camera, etc. You can also resequence or arrange them as you required by dragging and dropping.
Styles: Here you can apply and change between muvee's various preset styles. You can also purchase additional styles from the muvee web site.
Music: Allows you to insert a music clip.
Preview: Displays a preview of the muvee with inserted pictures/video, changes after applying preset styles, and the final video. There are navigation controls to stop, play, pause, etc.
Back
---
Other Features
Sharing muvves: Creating muvees is half the fun -- the other half entails sharing them with others. muvee Reveal provides several new sharing options including shwup.com -- a new video sharing site promoted by the folks at muvee (see Figure 3). You can still create DVDs, save for iPods and PSPs -- and export to a range of common file formats.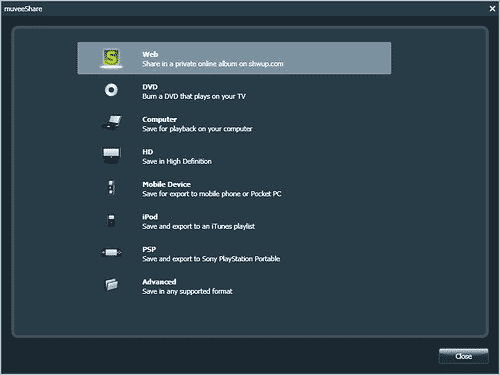 Figure 3: muveeShare
Shwup.com: Shwup.com is a very contemporary looking movie sharing site that allows you to upload your videos -- and organize them within albums -- these uploaded muvees and albums can be shared (see Figure 4 below).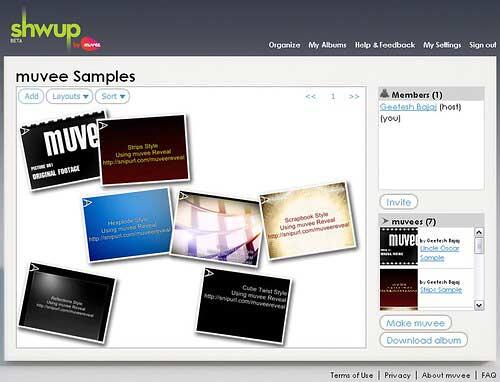 Figure 4: Shwup.com
Working with Styles: Although at first it may seem that the styles are set in stone, you can do quite a bit of tweaking within the style presets -- to do that, select any style, and choose the Style Settings option. You can also do more tweaking by clicking the Personalize button on the bottom right of the interface (see Figure 1 above).
magicMoments: This option allows you to highlight areas of inserted videos that you want to be more visible in the output. In the same way, you can mark certain areas of the footage so that they are not included in the output. You can access the magicMoments interface for any inserted video clip as shown in Figure 5.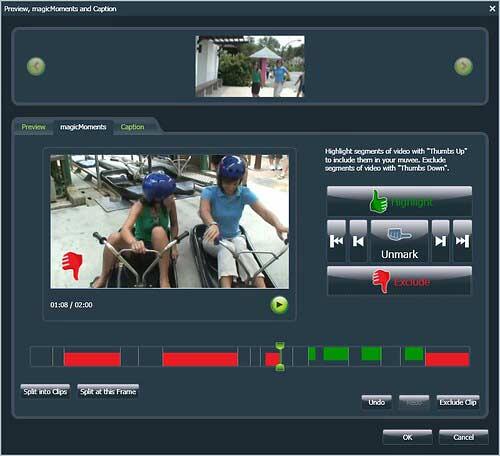 Figure 5: muvee magicMoments
Back
---
Pricing and Support
muvee Reveal costs $99.95 -- this is considerably lower than the cost of the previous version. muvee Reveal is also available at an upgrade pricing of $59.95 to existing muvee user as of version 4, 5, and 6 products.
Support options include e-mail responses and an online FAQ. The email support is very good -- I found their help quick and responsive.
Back
---
Conclusion
There's probably no easier and quicker way to create a quick movie clip from your footage than by using muvee Reveal. There's just the right amount of control and personalization available -- and if you want to save your time and create professional looking output -- then your money will be well spent on muvee Reveal.
Back
---
This is the original page. An AMP (Accelerated Mobile Page) version of this page is also available for those on mobile platforms, at muvee Reveal.