Introduction
Adobe Illustrator is among the best drawing programs out there, but it still has its limitations. One such area is symmetrical patterns. Although Illustrator can rise to the occasion, most symmetrical work has to be done manually which is rather time consuming and certainly not intuitive.
Artlandia's SymmetryWorks plug-in for Illustrator, now in version 4 changes all that in ways you probably never imagined. Read more to learn how.
Back
---
About SymmetryWorks
SymmetryWorks 4 is an Adobe Illustrator compatible plug-in from Artlandia, an Illinois, USA based company that creates several pattern creating plug-ins. They also sell beautiful, symmetrical patterns.
Other than SymmetryWorks, Artlandia also creates SymmetryShop, a similar plug-in that works from within Adobe Photoshop. You can learn more about Artlandia at their site.
And if all this pattern talk makes you mesmerized, take a look at Artlandia's glossary of pattern design.
Back
---
Download and Installation
You can download a trial version of SymmetryWorks from the Artlandia website. It is a ZIP file that you need to unarchive and place in Illustrator's plug-in folder. Make sure that you quit Illustrator before copying the plug-in.
The next time you run Illustrator, you'll find a Windows | SymmetryWorks option in the menu. You'll also see a floating SymmetryWorks palette and a SymmetryWorks option in the Object menu.
By default, the plug-in runs in a demo mode that limits which configuration options you can change and apply. The full, registered version has no such limitations. Registration provides you with an Artlandia online account and an unlock key. The unlock key is tied to your Illustrator serial number so if you upgrade or change your version of Illustrator, you'll have to get in touch with Artlandia's support department.
The steps detailed in the rest of this review work identically for both the Windows and Mac versions of SymmetryWorks. For this tutorial, I am using the Windows version.
Back
---
How To Use
There are so many ways that you can use SymmetryWorks. In fact, this plug-in provides amazing, creative possibilities. To keep this review simple, I'll use a very simple technique.
Open a new document in Illustrator and create a shape, apply a solid color or gradient. For this tutorial, I took a basic shape and tweaked it a little and used a gradient as you can see in Figure 1.
You can also open some clip art, ungroup it, and delete everything except a simple design element, or use a character from a dingbat font.

Figure 1: A sample shape to start with
With your shape selected, choose Object | SymmetryWorks | Make. This will create a basic pattern.
If your SymmetryWorks palette is not already visible (see Figure 2), choose Window | SymmetryWorks. This opens the SymmetryWorks palette for further editing.

Figure 2: The SymmetryWorks palette
The palette is divided in five parts explained below:

A. Symmetry Control

Symmetry Control has all the different default patterns such as mirror, kaleidoscope, etc., which can be applied by clicking any of them. Do experiment by clicking on each of them. What looks best will be influenced by what you selected to begin with.

B. Layouts

Layouts are presets that let you create some of the most commonly used types of patterns with a single click. Examples include brick, diamond, gradation, etc.

C. Make

Make button creates pattern depending upon what layout has been selected. Release button reverts the pattern to the original, non-pattern state. Below these buttons are some other tools which allow to do advanced editing. I love the Select Control Path option that allows me to alter the spacing between symmetrical pattern elements.

D. Replicas

These are the live copies of selected objects. This set of tools allows you to add or remove replicas.

E. Tiling

Tiling is where you input a number to create repetitive patterns on the X and Y axes. Although you can put in a large number here, do remember that a very large number may not be visible in the canvas area. Also, it will use a lot of your computer's processing power.
Figure 3, below shows a shape and the sample pattern created from a shape using SymmetryWorks in Adobe Illustrator.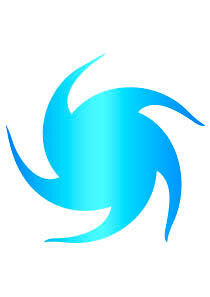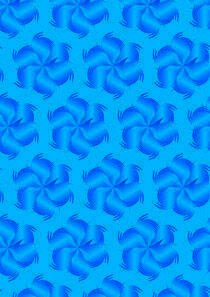 Figure 3: A shape and a pattern
Here are some more examples: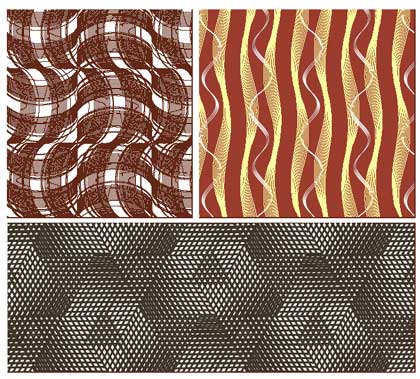 The patterns you create in Illustrator are all editable. You can always go back and change all the settings in the SymmetryWorks palette. However, if you want to create a conventional drawing that you want to share with someone who doesn't have SymmetryWorks, you can choose Object | Expand in Illustrator to break the "symmetry-link".
Back
---
Specifications
| | |
| --- | --- |
| Illustrator Versions: | Illustrator 8.0 or higher versions |
| Platforms: | Windows, Mac |
| Site: | Artlandia |
| Price: | $255.00 (CD-ROM with printed user guide) $229.00 (download only) |
| Trial Version: | Available |
Back
---
This is the original page. An AMP (Accelerated Mobile Page) version of this page is also available for those on mobile platforms, at Artlandia SymmetryWorks.