International Day of Peace
Date Created:
Last Updated: July 24th 2010
The International Day of Peace is celebrated every year on September 21st. On this day, the "Peace Bell" is rung at the UN Headquarters. Individuals, communities, nations and governments highlight efforts to end conflict & promote peace. You can celebrate Peace Day by lighting a candle at noon, or just sitting in silent meditation. Or involve your co-workers, organization, community engaged in a large event.
You can learn more about International Day of Peace on Wikipedia.
See a visual presentation (scroll down this page) and download a free PowerPoint presentation on International Day of Peace here...
---
Free Peace PowerPoint Templates
---
Peace PowerPoint Templates from Ppted.com
---
More Stuff
Search Peace on BigStockPhoto.com...
Free Peace Scrapbook Embellishments
Free Peace Scrapbook Backdrops
---
International Day of Peace on Flickr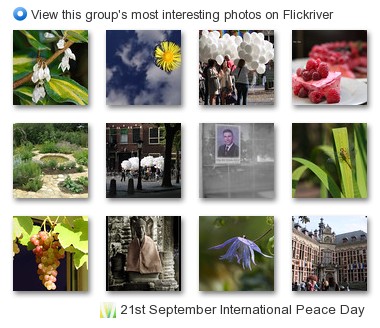 ---
International Day of Peace PowerPoint Presentation

Click above to view on SlideShare

Click above to view on AuthorStream
---