Halloween PowerPoint Goodies
Date Created:
Last Updated: October 25th 2012
---
Halloween, or Hallowe'en, is celebrated on the night of October 31st, it is originated from the 2000 year old Celtic festival of Samhain. Halloween activities include trick-or-treats, ghost tours, parades, bonfires, costume parties, visiting "haunted houses", and carving jack-o-lanterns. Halloween symbols include witches, pumpkins, bats, scarecrows, etc.
You can learn more about Halloween on Wikipedia.
See a visual presentation (scroll down this page) and download a free PowerPoint presentation on Halloween here.
---
---
The Indezine Halloween Kit is a self-contained set of content that provides everything you need to create picture slides for PowerPoint. This kit contains a Halloween PowerPoint Theme, a scary font, some silhouette pictures, scrapbook style embellishments, some pictures, and even a few sample slides. Read more.
---
Free Halloween PowerPoint Templates
---
Premium Halloween PowerPoint Templates - Special 20% Discount Offer! (Ppted.com)
Ppted.com is providing you a special discount of 20% off the normal price on Halloween PowerPoint template and background collections -- this offer is valid today! Use this coupon code INSPIRE and grab this special discount! Explore these Halloween templates on the special landing page.
---
More Stuff
Search Halloween on BigStockPhoto.com...
This download contains over 200 Halloween themed scrapbook embellishments, Snagit stamps, and backdrops. You can use these embellishments to create super cool scrapbook presentations.
Alternatively, use these as attention-seeking graphics within conventional PowerPoint slides.
---
Halloween pictures on Flickr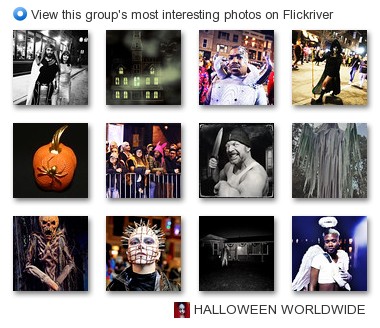 ---
Halloween PowerPoint Presentation

Click above to view on SlideShare

Click above to view on AuthorStream
---