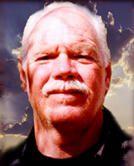 Herb Rubinstein has been involved in computer graphics for over 15 years as founder and CEO of ReGraphix, an award winning creative house for graphics and design. ReGraphix and its staff, have a collective 26 CLIO awards for excellence in Advertising and Graphic Design.
The past few years, Mr. Rubinstein has taken his presentation graphics experience and applied it to developing presentation techniques for the Courtroom. He has worked with the FBI, DEA, U.S. Customs Service and other government agencies, as well as many Law Firms across United States.
Recently, Mr. Rubinstein stepped away from the courtroom to design a presentation graphic imaging effect for the upcoming film production of 'Spartan' starring Val Kilmer and directed by David Mamet. "It was a lot of fun and we enjoyed outrageous banquets and good laughs but, hey, those guys work way too hard!"
When not preparing Courtroom Presentations, Mr. Rubinstein enjoys Kayaking the California coast.
Herb Rubinstein's book and CD called PowerPoint For Court has a site of the same name: PowerPoint For Court
PowerPoint is fast becoming the software of choice for the courtroom. With its video handling capabilities along with the ability to link to any slide, program or file on our computer or the www, we now have a complete courtroom presentation system at our fingertips.
Just a few years ago there wouldn't be much to write about. Sure we had the Elmos and slide projectors and of course the tape recorder and the VHS player. Unfortunately, none of these allowed for non-linear presentations.
If we wanted to play a section of an audio tape we had to cue it up in advance and if we wanted another section, well, we just had to fast forward or rewind until we found it. Same thing with the VHS tape.
With the advent of the computer, we can now have any type of document, image, sound clip, video image, animation etc. at our fingertips. With the LCD Projectors, we can now display our computer screen and anything on it in incredible detail for all to see. Editing video clips and sound bites have become an easy chore. How we get these images out of the computer and into a killer presentation is another new area of expertise.
In this book and companion CD, I have endeavored to demonstrate ways of bringing together these elements and presenting them in a way that is graphically attractive as well as non-linear.
What this book will teach you is how to specifically build a courtroom presentation rich with hi-impact video and graphics. The reasons to use the different graphic file formats. Tips and tricks for using Flash. Best resolutions for clear courtroom display. Setting up the navigation of a presentation, in short, everything that you already figured you needed to know but when you looked it up in your big fat manual, you couldn't find it.
PowerPoint is the tool that can produce Killer Summations, Hi Impact Impeachment, Time Lines that come alive, Links to Photos, documents and drawings, use it to make rebuttal presentations on the fly. Once you get the feel for it, it will do just about anything you can imagine.
Used by itself or in concert with a Courtroom Presentation Software program (like Sanction II or Trial Director) you will be able to create rebuttal presentations while testimony is being given and come back after a quick break with a rebuttal argument that includes video and hi impact graphics.
This is the original page. An AMP (Accelerated Mobile Page) version of this page is also available for those on mobile platforms, at PowerPoint in the Courtroom.