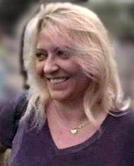 Dian Chapman has been a Microsoft MVP (Most Valuable Professional) since 1995. She specializes in technical writing and illustrations, Word VBA, custom template development, technical support and custom training.
Visit her site, MouseTrax Computing Solutions for more info.
The Idea
But I Don't Have Time to
Some Music
Finally
---
The Idea
This article is more of an idea article to get your ol' creative juices flowing and help you look that much more professional next time you need to put on a presentation or conduct a little training seminar. Much of this information has already been presented, separately, in TechTrax. So allow me to tie it all together.
I recently taught an Outlook class to new users. I was somewhat amazed that so many folks made mention of my little Break Time presentation that I would set to run as the class broke and folks shuffled in and out of the classroom. This is something I learned to do after seeing it done at a Microsoft TechNet session, many years ago. Realizing how many people were apparently unfamiliar with the concept, I thought it would be good to share this idea with our readers.
Let's say you have a presentation to give or you've been asked to do a little techno teaching for your office staff. As with any assemblage of folks, it'll take a little time to get everyone into the room and settled down so you can begin.
A terrific tool to have handy is a Break Time presentation.
As people are coming in for your presentation, you have this fun, little slide show running on the wall to keep them entertained. Be sure it includes some music that isn't too loud, but loud enough to be noticed when you stop it. When you are ready to begin, just stop the presentation. The music will end and the sudden change in the sound of the room will easily draw everyone's attention to you. This gives you a perfect in to begin speaking...without the need to make a fuss to get everyone's attention!
Play the presentation again when you allow your attendees a little session break and then stop it again to let them know it's time to get back to work. It works great and makes you look like the consummate professional...prepared!<wink>
Back
---
But I Don't Have Time to Put Together a Musical Presentation!
Betcha do! You can literally do it in about 10 minutes and the value it'll add to your professionalism is worth the few extra minutes.
Take a look at your presentation. Is there anything in there that you can use as fun questions that can be run as the visual part of the presentation? For the Outlook class I recently taught, my training manual had a glossary of terms in the Word document version of the manual. Bingo! Instant material.
Note! If you can't find anything worthy, you have my permission to swipe any of the TechTrax Assessment Quiz questions to use in your presentation as entertainment (hit our archives and start swiping, just please be sure to add the TechTrax copyright in a tiny corner of each slide!). Geeks love being drilled with questions!
As Geetesh explained in his TechTrax article: Creating PowerPoint Presentations from Word Outlines, it's very easy to quickly create a whole slide presentation just from some bullet items in a Word doc.
I highlighted the glossary in my manual, opened a new page in Word and dropped in the terms with their definitions. Clicked View | Outline (or hit the Outline icon at the bottom of Word's application window, as shown below) and my bulleted text became an instant outline in Word.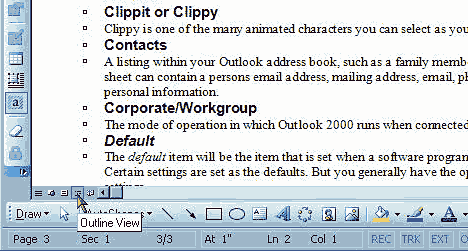 I then clicked File | Send To | Microsoft PowerPoint and voila—I have an instant 29 slide presentation!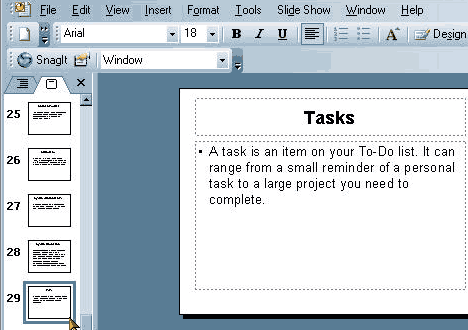 Okay, so it's a little boring as it is. No problem. I can fix that in a jiff!
I click Format | Slide Design, scroll down the list of predesigned presentation designs that come with PowerPoint and double click on the one I want. All 29 slides are now formatted with this new design. Much better!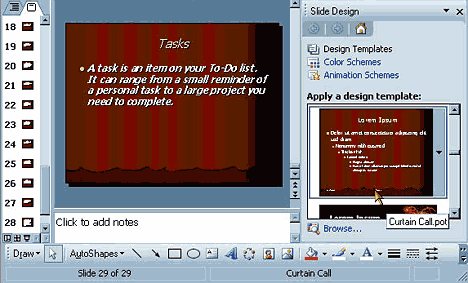 Back
---
Some Music
Now I just need to add some cool music to keep my students awake between my rousing lessons.
And if you think finding quality, motivational music is a battle of searching the Internet, allow me to enlighten you. Thanks to my wonderful brother-in-law, Mitch Chapman, who creates these fantastic DVDs of his mountain climbing adventures, I know of a great site where you can get very cool, royalty free music.
Go hit FreePlay Music, Inc. There you can surely find just what you want to add to get that perfect feel to your presentation.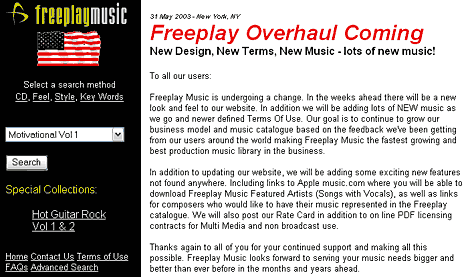 You can get a quick taste of a promising sound by clicking the short version and then right click to download the full version when you find the music you want. I recommend you use the MP3 versions, as they load faster and are much smaller than the WAV files.
Now I jump over to Geetesh's other TechTrax article that tells me how to easily add MP3 sound files to my presentation and follow his directions to drop in my music. See Sound Across Slides for details.
I follow Geetesh's instructions in the article to setup the music automatically and make any custom adjustments to the way the presentation animates from slide to slide, save it and it's done.
Back
---
Finally
In PowerPoint, you can now click File | Pack and Go to roll your entire presentation, mobile PowerPoint viewer (so there's no need to worry whether PPT will be installed on the seminar PC), and music file into a self-running executable file.
I now have this really cool factoid, musical presentation to entertain the masses between sessions.
Last step...so how do I take my presentation with me, if I'm not sure what type of equipment I'll have available at the seminar location? If you read my TechTrax article this month on The Perfect Tech (Geek) Gift, you already know that answer.
Copy it to your new Flash Drive. Toss it in your briefcase and you're set.
When you get to the training room, plug your Flash Drive into the USB port on the training PC, hit Windows + E to access Windows Explorer, double click on your Flash drive, double click on your presentation...and turn up the volume.
And just like the games we played as kids, when the music stops...everyone must quickly find a seat!<wink>
Back