Dr. Carmen Simon is a cognitive neuroscientist, author, and founder of Memzy, a company that uses brain science to help corporations create memorable messages. Carmen's most recent book, "Impossible to Ignore: Create Memorable Content to Influence Decisions," has won the acclaim of publications such as Inc.com, Forbes and Fast Company and has been selected as one of the top international books on persuasion. Carmen holds two doctorates, one in instructional technology and another in cognitive psychology. Carmen speaks frequently to corporate, academic, and government audiences on the importance of using brain science to craft communication that is not only memorable but sparks action. After all, what's the use of memory if people don't act on it?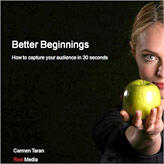 Geetesh: Tell us about your book, Better Beginnings -- and why are beginnings so important to attract and hold attention.
Carmen: Capturing an audience's attention, whether you address them during an informal business meeting or a more formal event, is becoming an increasingly difficult task. To attract someone's attention, we, presenters, are constantly competing with mobile devices, e-mail programs, and day dreaming. We are often just a click away from being switched off. Unless we consciously design presentations for those who are often overwhelmed, distracted, and tied to a digital leash, our efforts often fall on inattentive eyes, iPod-plugged ears, and multitasking hands. The Better Beginnings book was designed to share 10 techniques to capture an audience's attention, and announce from the beginning of your session or presentation is an event worth attending. Similar concepts have also been included in our iPhone app, called Presenter Pro.
---
Geetesh: I looked at the reviews for Better Beginnings on Amazon, and each review tells a message about how your book helped the reviewers. So in your opinion what is the single, largest takeaway message that a reader can get from your book?
Carmen: The main idea that rests at the foundation of the book is that we cannot treat audiences as if they have unlimited attention. Imagine speaking to people who have remote controls in their hands. How would you design your presentation differently with this image in mind? Capturing them immediately and repeating the 10 techniques included in the book every 2-3 minutes gives you increased chances of attracting and sustaining attention.
---
Geetesh: If there's just one thing that people can do to create better presentations, what do you think that "one thing" should be?
Carmen: Regardless whether you create beginnings, middles, or ends of a presentation, the "one thing" that we all need to keep in mind is emotion. Unless you generate some emotion with what you say or do, the presentation will be flat. Even when people present highly technical information they need to consider the emotional side of the facts. Information reaches the emotional part of the brain first, before it gets to the reasoning part. If you wish to make an impact, elect emotion as the best informative and persuasive tool. This can translate into using a well-selected visual, story, prop, or audience participation. Even a negative emotion is better than no emotion.
---
Geetesh: What is imagination for the presenter -- is it just imagination on his or her part, or is it imagination for the audience? Please tell us more.
Carmen: Imagination from the presenter's part relies on two things:
Willingness to be risky and show the audience something they may not expect (e.g., a new point of view or a fresh look at something old). Unfortunately, too many presenters try to fit in and seek harmony and applause. Predictable presentations are dull and unimaginative. Stay away from those.
Ability to use descriptive language that ignites the audience's imagination and transports them into a place they can "see", even though they are not there. This is why at Rexi Media, we do not endorse corporate clichés such as paradigm shift, holistic approach, unparalleled technology or win-win, customer centric approaches. These type of phrases are enigmatic and lead to invisibility; they don't ignite anything in the audience, except sleepiness. When you use a phrase such as "I cried a river when you left", it leaves an audience untouched. But when you say "I cried the Ganges, the Amazon, and the Mississippi when you left"…now listeners can "see" what you mean and their imagination is transported to all sorts of places.
Of course, there is some imagination required from the audience as well. An audience is not moved unless it is willing to be moved. I would recommend that audience members everywhere attend a presentation that is important to them without a digital device. You will be amazed how your imagination is triggered and the creativity that can get generated out of moments to which you attend fully. ROA (Return on Attention) can be as powerful as the traditional ROI.
---
Geetesh: How does a presentation intended for live presenting in person compare to something used in a webinar -- is there anything one can do to make a presentation work in both scenarios, or is there a difference in design that one needs to be aware of?
Carmen: I was recently asked a similar question after an online presentation. Someone said "What would you have done differently face-to-face?" And the answer was, for that particular situation, "nothing". There are instances when the same presentation can be done equally well in both circumstances. If you craft a presentation primarily with the audience in mind, the medium becomes secondary. It fades in the background, it's transparent and odorless. Here is a formula that you can apply for face-to-face presentations as well as online delivery: make one statement, ask one question or involve participants in some way. Then repeat. Audience involvement leads to active participation, regardless of whether you are in a blind medium or not. It's true that body language disappears when you present virtually. However, if you have a pleasant, natural, and forceful voice, along with powerful graphics and valuable content, you can compensate. Many presenters forget to use more graphics and visual movement in a virtual medium. Something needs to change visually on the screen every 2-3 seconds in order to maintain someone's attention.
---
Geetesh: At your recent keynote during PowerPoint Live, you talked about sincerity being a very important characteristic for any presenter -- can you explain this more.
Carmen: Sincerity, a function of authenticity, is essential in business presentations. I've been intrigued with the concept of authenticity in presentation for the past two years, as I am noticing more and more fake presenters. Typically, the ego is to blame. The ego interferes with our presentation style when we give too much importance to how we are perceived. If we feel that the audience needs to see us in a certain light (smart, beautiful, resourceful), we often put on a "persona", a social façade that helps us carry through the image we want to project. Unfortunately, if that's only a mask and what we portray is not part of our natural arsenal, it comes across as contrived and it prevents us from building a genuine rapport with the audience. Surely, you can fake things (especially if you excelled in drama class) but how long can you sustain a mask before it makes you feel depleted, unfulfilled, and overall an impostor? Nourishing authenticity is a salient task for the advanced presenter.
---
This is the original page. An AMP (Accelerated Mobile Page) version of this page is also available for those on mobile platforms, at An Interview with Carmen Simon.