Whenever you create a new presentation using PowerPoint for the iPad, you will first have to choose a Theme that will determine the appearance of your slides (see Figure 1). A Theme is essentially something that determines the colors, fonts, effects, backgrounds, and layouts available to you as defaults within the slides you create.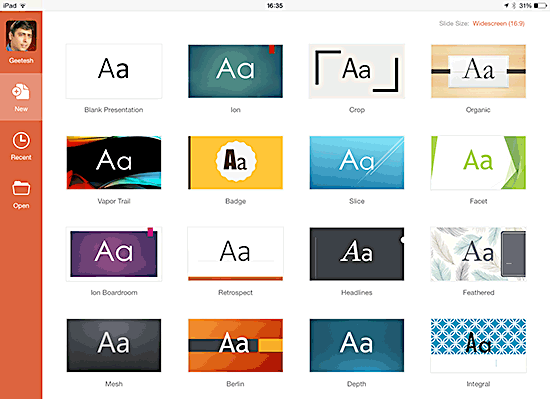 Figure 1: Tap on a Theme to create a new presentation
Let us now explore how you can apply a Theme when you create a new presentation within PowerPoint for iPad:
Do notice that by default, all the Themes you see sport Widescreen aspect ratios (16:9). If you are creating a presentation that you will deliver elsewhere, then there's nothing to worry about. However if you are planning to present this new presentation from the iPad, then you will want to make sure that the slides you create use a Standard (4:3) aspect ratio. To make this change, tap on the Slide Size link on the top right to bring up a small menu (see Figure 2 below). Within this menu, tap on the Standard (4:3) option.

Figure 2: Choose your Slide Size
As soon as you choose the Standard (4:3) option, all the Theme thumbnails will change their aspect ratios, as shown in Figure 3, below (compare with Figure 1).

Figure 3: All Themes are now Standard (4:3)
Now tap on any of the Theme thumbnails to create a new presentation based on the Theme you choose. You will see a new presentation with a Title Slide, ready to edit as shown in Figure 4, below.

Figure 4: Your new presentation
Hereafter proceed by adding your content, and any more new slides as required.
Note:
Want to import an outline? Unfortunately, PowerPoint for the iPad does not let you
import an outline
. Yet, you can always save your presentation to OneDrive and then import a structured outline within the Windows or Mac versions of PowerPoint to quickly add more slides.
Once you create a presentation using one of the Themes, you are not bound to use that same Theme forever. You can quickly apply a new Theme to your presentation. We explain that in our Apply Themes in PowerPoint for iPad tutorial.