The situation is familiar: you or someone else uses a non-standard font (not a PowerPoint-safe font) in your presentation. You then open this same presentation on another computer, and PowerPoint uses another font to display the text. Why does it do so? The reason is simple enough: the font used initially is not available on the other system. And that is not even half the problem.
So what exactly is the problem? There are multiple problems here:
The end-user has no idea that PowerPoint substituted one font with another. There is no information provided at all.
The font that is used as a substitute cannot be identified. If you have 500 fonts on your system, there's no way to understand why PowerPoint used a particular font as a substitute.
If you have two completely identical systems, and both do not possess the original font, then PowerPoint will arbitrarily choose two different fonts on both systems. There's no way to understand this behavior pattern.
Let us understand this problem and the solution better with an example. Look at the slide you see in Figure 1 below. You will notice that we have used an uncommon font named Capture it 2, highlighted in red within Figure 1.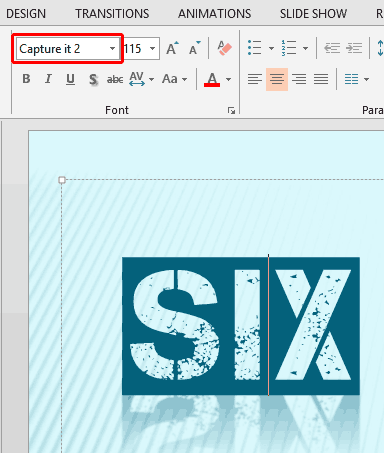 Figure 1: A non-standard font used in a PowerPoint slide
Next, we opened the same presentation on another computer that does not have the Capture it 2 font installed (see Figure 2 and compare with Figure 1).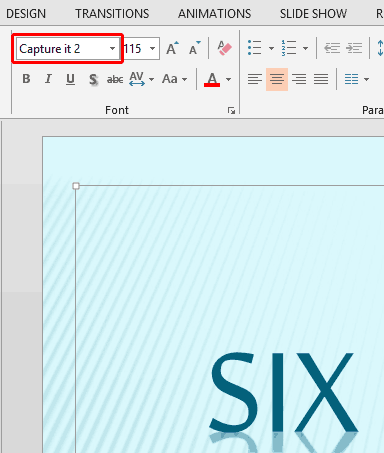 Figure 2: Substituted font
PowerPoint does not warn about any missing font and opens the presentation without a hiccup. Look at the font name again, highlighted in red within Figure 2. You will discover that PowerPoint inadvertently misreports the font with the same name and does not mention that:
- The font is substituted
- Or the name of the font used as the substitute
If the recipient sees this presentation for the first time, he or she has no clue that any font substitution has happened.
Some tell-tale signs indicate that the presentation may have missing fonts:
Text may be spaced differently than usual. In extreme cases, some text may even show outside the slide area. This behavior happens because the length and width of the same characters vary in different fonts. For example, Arial Black uses much more space than Calibri.
Text containers such as text boxes and even some shapes may be sized or positioned oddly.
Text characters may stack up strangely, one above the other at the beginning of a line.
So what can you do to overcome this problem? There are three options:
Report to Microsoft that there needs to be a better solution.
Use a third-party solution like Slidewise.
Use a workaround to identify the font used. This workaround will only help if you know that a substitution has happened!
We will explore all three options.
1. Report the Issue
You can bring this problem to Microsoft's attention. Even better, we already reported this issue. You can upvote and raise awareness about this issue so that they act to resolve this problem.
2. Use Slidewise
There's a PowerPoint add-in from Neuxpower called Slidewise that's just awesome at solving problems of this sort. With the presentation open in PowerPoint, we summoned the Slidewise Task Pane, as shown in Figure 3, below. Sure enough, you can see that the font, Capture-it 2 has a prominent, red exclamation icon that you cannot miss. You can click the ellipses next to the icon to find an option to replace the font, highlighted in red within Figure 3. you can also install the font if that's an option.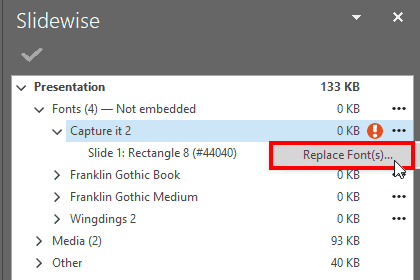 Figure 3: Identify missing fonts and replace them with Slidewise
Asking Mike Power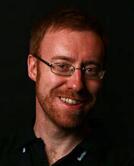 Mike Power runs Neuxpower, the company behind the popular compression software NXPowerLite, WeCompress, and now Slidewise, a PowerPoint font and media add-in.
We asked him this question related to the topic we are exploring.
Geetesh: Tell us about Slidewise's feature that identifies missing fonts and allows them to be replaced?
Mike: Slidewise builds a list of fonts used in your presentation, and those installed on your computer. It compares the two lists to see if any required fonts are missing, and flags these in the index so you can instantly see which fonts might be a problem.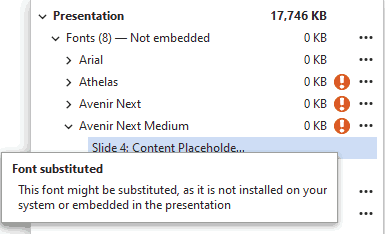 Figure 4: Fonts silently substituted by PowerPoint
This can be really helpful for avoiding any of the many issues caused when fonts are silently substituted by PowerPoint (see Figure 4, above). If you don't need those fonts, Slidewise also makes it super easy to replace them, all at once to a font of your choice.
You May Also Like: Why are fonts not displaying properly in your PowerPoint presentation
3. Use a Workaround
The workaround is to use PowerPoint's Save as PDF option to export your slides as a PDF. Once the PDF is created, open your PDF in one of the Adobe applications like Adobe Acrobat Pro or even the free Adobe Acrobat Reader. Then press the Ctrl + D keyboard shortcut in Acrobat to bring up the Document Properties dialog box that you see in Figure 5, below.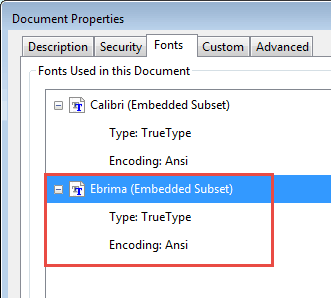 Figure 5: Document Properties dialog box in Acrobat Pro or Acrobat Reader
Make sure you select the Fonts tab in this dialog box (see Figure 5 again). You will see the name of the font PowerPoint used to substitute the original font, highlighted in red within Figure 5, above.
So at least you know now which font is being used to substitute the missing font!
You May Also Like: PowerPoint MVP, Steve Rindsberg has a resourceful page on his site called Troubleshoot Font Problems that is certainly worth exploring.
This is the original page. An AMP (Accelerated Mobile Page) version of this page is also available for those on mobile platforms, at Find Substituted Fonts in PowerPoint.