Color as a solid swatch may be an absolute value such as red, blue, green, yellow, etc. but to take a picture and then decide a color for that picture is an objective task! Can you just allot one color for a picture of a garden that shows a blue sky, green meadows, and multi-colored flowers? Probably not. Or maybe, you can just choose green as a dominant color in that case! Whatever choice you make, there will be times when you need a picture that has a predominant red value or a primary grey value, or a foremost value of some other color. Fortunately, Bing's Image Search has some great filters that let you percolate your search results to any color!
Before we begin, a word about Bing's Image Search filters. These filters do not restrict your search to any one parameter, so even if you choose to search pictures that are prominently red, you can also choose a larger image size and a particular license—all at the same time! In this tutorial, we will use the Color parameter. To learn more about Bing's other filters, explore our Bing Image Search page.
For this tutorial on Color filters, we will use "Flowers" as a search term. Figure 1, below shows a normal search for this term on Bing Image Search.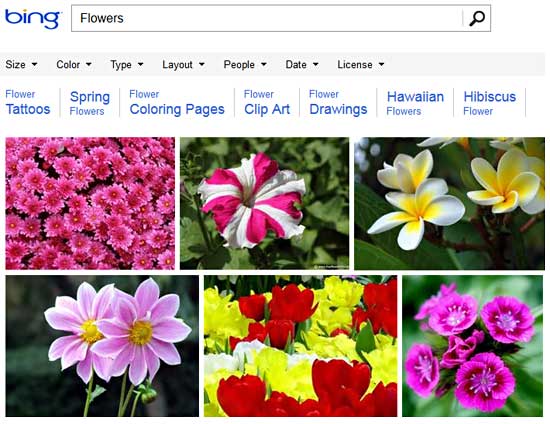 Figure 1: Search results for Flowers
Note: Bing's Image Search page changes every day, and the screenshots and techniques on this page are current at the time of writing. Even if there are some changes, basic concepts explained on this page should be the same.
When you use Bing's Color filter (see Figure 2), you search results contain pictures that contain your chosen color as the predominant hue.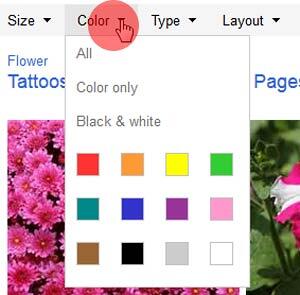 Figure 2: Bing Images Search by Color Filters
The Color filter (see Figure 2) provides four attributes:
All: This is the default option which allows you to search all colors available for a search term. You will see results, similar to what you can see in Figure 1.
Color Only: Limits your results to colored images. The resultant pictures are essentially comprised of all colors, and search results are almost identical to what you see in Figure 1 (shown earlier on this page). So why does Bing even have this search option available? That's because search results may differ from one keyword to another. Our existing keyword, "Flowers" actually calls out for color! So now, let us use a more restrained keyword, "Ansel Adams Photoshop". Figure 3, below shows you unfiltered results for "Ansel Adams Photoshop". You'll notice that both color and grayscale results are shown. Further below, see Figure 4, and here you will see that the Color only filter (highlighted in

red

within Figure 4) results in pictures that are colored. Yes, you see some stray grayscale results but even those pictures have a wee bit of color within their spread.

Figure 3: Pictures visible without any filters

Figure 4: Pictures filtered to show "Color only" results
Black & White: Limits your results to black and white images. The results you see are primarily greyscale but sometimes you may see other monochromatic pictures too (see Figure 5).

Figure 5: Grayscale and monochromatic pictures
Solid Colors: Allows you to filter your search by choosing any one color palette amongst twelve solid color palettes.
Let us filter our search to pictures which are predominantly Orange. Selecting the Orange solid color palette shows pictures of orange flowers (see Figure 6).

Figure 6: Search results of orange pictures
Similarly, you can try other color filters.
Remember though that all pictures you find may not be suitable for use in your presentation slides or other projects. Learn how you can find pictures that are allowed to be used in our Bing Image Search by License tutorial.
Note:
Along with the Color filter, you can also percolate your results using other filters such as Size, Type, etc. In the next tutorial of the Bing Image Search series, we will explore the
Search by Type
filter.