Emphasis effects are PowerPoint animations that determine how the slide object calls attention to itself while it is on-the-slide. Unlike Entrance and Exit animation effects that allow a slide object to enter or exit the Slide Area, slide objects with Emphasis animation effects are already within the slide area before they start animating, and continue remaining there even after they have finished animating. Typical Emphasis animation effects are Spin, in which an object spins 360 degrees (and more or less) on its own axis, or Grow / Shrink, in which a slide object may increase or decrease its size. You can also apply Emphasis animation effects to text objects so that fonts or text colors change.
In all, there are 50 or more Emphasis animation effects that PowerPoint provides. However, make sure you use animation only if it adds value to your presentation and helps you explain something better to your audience.
When you summon the Emphasis Effects drop-down gallery for applying animation to your selected slide object, you will notice that the Emphasis Effects available are divided into four categories, as shown in Figure 1, below. These categories are:
Basic,
Subtle,
Moderate, and
Exciting.
Broadly speaking, these category names explain how much attention-seeking each of these available effects are. Effects in the Basic category are simple emphasis effects that grow an object in size, make it transparent, or spin it. These are important effects to master if you need to show processes in your slides. Subtle effects are simpler effects that change, contrast, or darken colors. Moderate effects do ask for some extra attention, and effects in the Exciting category just shout for attention. As far as possible, you should use something simple such as a Desaturate, a Grow/Shrink, or a Spin effect. These are all from either the Basic or Subtle categories.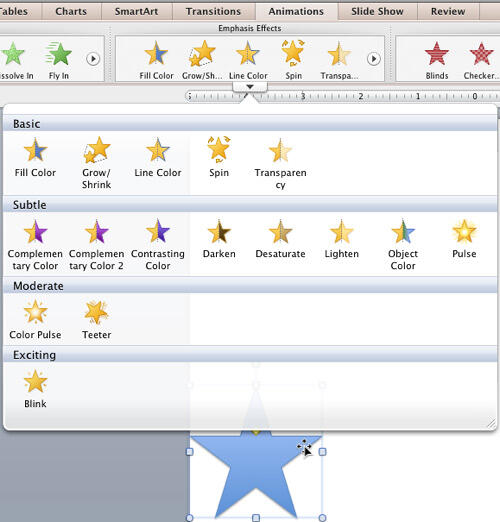 Figure 1: Emphasis Effects drop-down gallery opened along with a shape selected
As with Entrance effects, the Emphasis animation effects within this drop-down gallery entirely depend upon the slide object you have selected. Figure 1, above shows the Emphasis Effects drop-down gallery options when a shape is selected for applying animation. Here, we selected a Star shape. If you summon the Emphasis Effects drop-down gallery to apply animation to a text box, it will be populated with a few different Emphasis animation effects, as shown in Figure 2, below.

Figure 2: Emphasis Effects drop-down gallery opened along with a text box selected
As you can see in Figure 2 above, there are plenty of additional Emphasis Effects available for a text object. Compare Figures 1 and 2. All these extra effects work only with text, and not with shapes.
This sample online presentation shows all the Emphasis Effects available in PowerPoint 2011 for Mac.
You can also learn how to add an animation in PowerPoint 2011, and the types of animationthat PowerPoint provides.