Using Cartoons In PowerPoint
Dan Rosandich creates cartoons that can be used in PowerPoint. Cartoons in PowerPoint slides can help add a light moment or highlight attention towards a strong point.
---
Author: Geetesh Bajaj
Product/Version: PowerPoint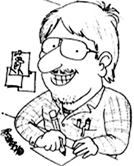 Dan Rosandich (pictured and self-caricatured) creates cartoons for various media including PowerPoint presentations. Dan has a ready library of cartoons available for licensing. He also creates custom cartoons. Look at his site, DansCartoons.com for more info.
Introduction
The Story
An Interview
How it works
Showcase
Conclusion
---
Introduction
Using cartoons within PowerPoint slides can be an amazing route to add a light moment or highlight attention towards a strong point. Either way, it is a great concept that is going places as Dan Rosandich discovered much to his delight.
---
The Story
Let's hear Dan's story in his own words.
I got started as a fulltime cartoonist back in 1976 as I desperately wanted to get my cartoons published after developing a keen interest in magazine cartoons. My first time out, submitting 10 cartoons to a magazine in New York called Mechanix Illustrated resulted in one of them being accepted for publication for the fee of $35. I quickly became involved creating new cartoons on many different subjects and after a few years developed a large circle of regular "markets" which published my work. I then began mailing promotional brochures to various businesses and one of them approached me asking to use some in a series of presentations.
He continues:
I soon began to realize a new market for my cartoons and ran an ad in Presentations magazine. I got more work and now license a lot of my existing images from my various catalogs for this purpose alone. Not to mention newsletter publishers, book publishers, e-zine publishers and also websites and magazines. For instance, if a presenter is working with a group of healthcare people, my medical cartoons are available. If they're working with CEO's for a specific corporation, some of my business cartoons may apply. Or if they're working with people in the educational sector, my education or school spots may apply, and so on.
---
An Interview
All questions are in bold and the answers are in normal text. Since the interview was conducted in a free conversation style, the questions and answers are all mixed up!!! Actually, Dan answered most questions before I could even ask. It so happens sometimes, the questions finish after (not before) the answers themselves.
Geetesh: What inspires you?
Dan: It's hard to put my finger on what "inspiration" is or what actually inspires me except to say I enjoy the simple form of being creative with pen on paper. In essence, drawing something and looking at it and feeling satisfied with what I have illustrated.
Geetesh: And do you get creativity blocks?
Dan: I do get "blocked" from time to time. I once dealt with a long period of time in which I had a hard time creating cartoons, although I am "on call" with many other publishers, it's nice when they call to actually assign something and say: "Draw something which shows...." , and I'll do a rough sketch and send it to them and they'll approve it for a finished inking or tell me to fine tune a specific part of the drawing. But moreover it's nice to get a fast approval so I learned to pay close attention to the details of the work they need when I am initially contacted.
Geetesh: If yes, how do you overcome them?
Dan: To overcome creative blocks, I usually pick up books or collections of other cartoons and by reading through them, this has helped in the past. Seeing other forms of creative people's work can sometimes help to overcome this. Or I leave cartooning alone altogether and step out for a run. By seeing something different, breathing fresh air and getting negativity out of mind also helps. I'm no health-nut by any stretch of the imagination but have managed to run well over 1200 miles per year for the last 20 years, and when you do something that invigorates you physically, it also invigorates your creativity. At least it's worked for me.
Geetesh: Do cartoons enrich?
Dan: Any presenter who has used cartoons in their projects has told me it helps in their own communication with the audience in that once a little humor or laughter is injected, the point is easier to convey and many times the message is better understood.
Geetesh: PowerPoint? How?
Dan: Sometimes in the introduction and ending of the presentation or even throughout the show. This is left up to the presenter since they know from the message they're trying to convey what should and should not be portrayed.
Geetesh: And where?
Dan: Of course in any humorous or comedic display, and definitely within a presentation that is mundane, i.e., in something where you may be using A LOT of text or graphs, images like a cartoon can keep the attention of your audience.
Geetesh: Do you think they can be used and when should they be avoided?
Dan: Any presentation which involves negative health issues like cancer or AIDS for instance. If your audience notes you're including humor within your project, they may not percieve your intentions in a positive or enlightening manner.
Geetesh: Tell us about some instances where cartoons added value to a presentation
Dan: A company in Colorado was instituting a 911 program in their county and to help their workers understand the issue at hand, I created a few customized animated looking, human-like telephones with pointers in hand so the presenter would show him looking or pointing at the text in the overheads. This helped keep the attention of the audience and the message conveyed in the text or paragraphs of this particular presentation. The canned laughter of the crowd also left the presenter at ease with his audience I later learned..
If someone doesn't want any EXISTING images from my catalogs for a presentation, can I create CUSTOMIZED cartoons under their art instructions?
The answer is YES. In fact, over the years I have considered creating customized cartoons as a specialty of mine.
Geetesh: What about pricing?
Dan: I usually base this on a number of factors and would appreciate knowing this up front, to provide you with a reasonable and understandable fee. Some of the factors I take into consideration are:
Whether or not the images are in color or black & white
How fast you need the artwork. In an hour? A day? A week?
How many in attendance
Will the images appear in just the overheads or also in any print materials you hand out to the audience
What number of images you will need....1,2,3, or ??
Will the presentation be in front of any Fortune 500 officers or a group of non-profits?
So there are many factors to let me know about ahead of time if you'd like a reasonable quote.
---
How it works
Dan uses Photoshop for most of his work. This allows him more than just creative freedom since he can distribute work to his clients in any format they require from uncompressed TIFF to high-res JPEG and regular GIF files.
For PowerPoint use, JPEG and GIF files work the best and GIF really works so much better for use in presentations, especially if there are not too many colors in the cartoons being used. GIF also keeps file sizes under control since its gamut does not exceed 256 colors, also known as 'indexed color' in the professional world.
---
Showcase
Dan is providing 5 cartoons absolutely free to Indezine readers, all on different topics: healthcare, technology (a PowerPoint cartoon!), business, education and law. They are all in GIF format and offered as "incentive" cartoons. These can be used royalty free in presentations as long as the © copyright symbol and Dan's name and URL is retained on each image to at least protect them from potential abuse.
Here's one of them: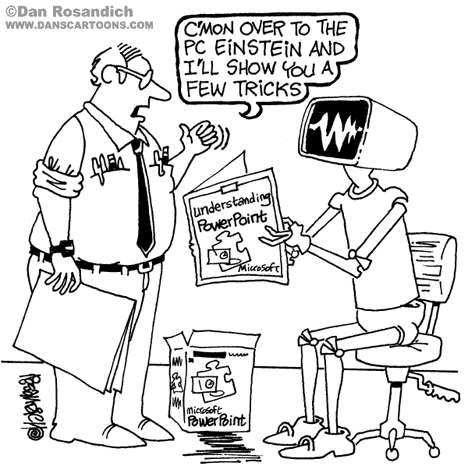 You can download all five of them here (link no longer exists).
---
Conclusion
I think use of Dan's cartoons in PowerPoint slides opens up a new way to bring the amazing world of cartoons and presentations together. If you know of an interesting story like this that explores a new facet of PowerPoint usage and would like to be featured on Indezine, do reach out to us.
You May Also Like: Mike Pearce: Using PowerPoint in School
---
Popular Posts
PowerPoint Templates
Find over 6000 PowerPoint templates in thousands of categories and all colors—from a trusted PowerPoint template resource for 20 years.
PowerPoint Tutorials
These PowerPoint tutorials have many screen shots that show you exactly what you see in your computer!
PowerPoint Keyboard Shortcuts and Sequences Ebook
PowerPoint 365, 2019, 2016, 2013, 2011, 2010, 2007 and 2003 for Windows
PowerPoint 365, 2019, 2016 and 2011 for Mac
PowerPoint for the Web on Windows and Mac
Have you ever used keyboard shortcuts and sequences in PowerPoint? Or are you a complete keyboard aficionado? Do you want to learn about some new shortcuts? Or do you want to know if your favorite keyboard shortcuts are documented?
Go and get a copy of our PowerPoint Keyboard Shortcuts and Sequences ebook.
This is the original page. An AMP (Accelerated Mobile Page) version of this page is also available for those on mobile platforms, at Using Cartoons In PowerPoint.