Picture In Picture
Record Hotkey
Watermark
---
Picture in Picture
This section controls the implementation of camera video in your PowerPoint recordings. With version 3.0 of Camtasia Studio, you suddenly had the ability to include a camera view of yourself superimposed over your screen video. Version 3.1 expanded on this by offering a side-by-side formation, so that you never need to worry about camera video covering up something important on your slide. This has exciting implications for PowerPoint. You can essentially hand someone a presentation you gave some months ago, and rather than trying to decipher your cryptic titles and brief notes from the PowerPoint slides, you're practically transporting them into the front row of the lecture hall where you delivered that presentation. They can view the slides, hear your voice, and see your face.
Record from camera

If you're the kind of presenter that stands stock-still at the podium, you can probably get away with using a simple webcam. However, if you're like me and you like to move around a bit, it probably behooves you to recruit a volunteer to shoot you with a camcorder that is attached to your computer via IEEE 1394 (Firewire). You'll end up with better, more professional footage.
To enable the camera video, click the Record from camera check box. Make sure that there's actually some sort of video capture device attached to your computer; otherwise, this entire section will be grayed out.

Camera Setup

To choose a capture device and adjust settings, click Camera Setup…. Just as with the Camera tab of the Tools Options dialog in Camtasia Recorder, this dialog will let you pick a capture device from the drop-down list. As a courtesy, it also offers Camera Properties… and Video Format… buttons that link to the various settings of your video device's camera driver. These settings are different for every video device, so please consult your device's documentation to learn about all the different settings.
---
Record Hotkey
This is just a quick preference that allows you to adjust the hotkey that toggles the Record and Pause commands. It is Ctrl + Shift - F9 by default. You can use any combination of the Ctrl, Shift, and Alt modifier keys plus alphanumerical characters, F -keys, or the PrntScrn key. The Escape key (Esc) will always stop the recording (and the presentation as well).
---
Watermark
Do you have a corporate logo or other image you want to use to "brand" your video? Consider using it as a watermark. Just click the Include watermark check box (located up in the Program section of the dialog) to get things started. But we're obviously not done yet, as we must at least choose the image file that will serve as our watermark. This is done by clicking the Watermark… button. You'll need to specify a file path of the image we want to use in the Image Path field. You can type the path into the field directly, click the drop-down arrow to select from the most recently used watermarks, or click the Browse button to maneuver through your directories to find the file.
There are also some preferences that can be set here on the Watermark Options dialog. These options are a somewhat watered-down version of the Watermark tab used in the Camtasia Recorder Effects Options. But the basics are all represented: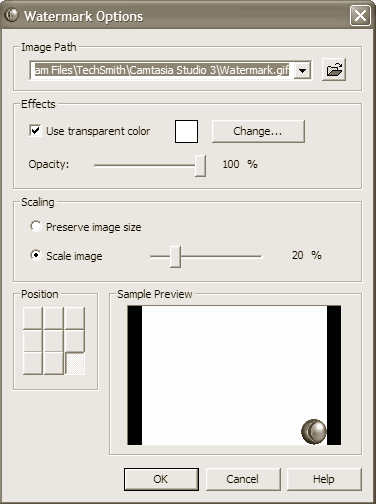 You can do any of the following within this dialog:
Select a color within the image that will be transparent
Change the opacity of the watermark, from fully transparent to fully opaque
Scale the image to an appropriate size
Choose from any of nine screen positions
In Chapter 6,"Special Effects of the Camtasia Recorder," I cautioned you against using watermarks within the Recorder except in very rare circumstances. This caveat applies here, too. Using watermarks at record time means that you will not be able to change or remove them later. If you're going to use a watermark, it's far better to do so in Camtasia Studio, where you can always change your mind if you later decide you want to change it or remove it entirely.