Add-in Options Dialog
Video and Audio Options
---
Add-in Options Dialog
The final button on the toolbar is the Camtasia Studio Recording Options. Clicking this button brings up the Camtasia Studio Add-In Options dialog. This is essentially a one-screen amalgamation of all the effects and tools options from the Camtasia Recorder that are most pertinent to recording a PowerPoint presentation.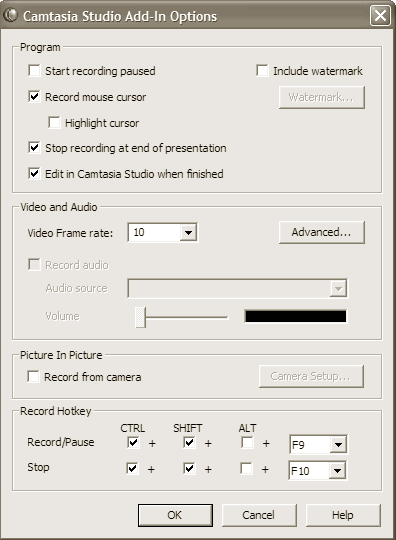 The dialog is divided into five sections: Program, Video and Audio, Picture In Picture, Record Hotkey, and Watermark. Let's look at each of these in turn.
Program Options
There are six preferences in the Program section, all of which can be toggled on and off. They are:
Start recording paused

Checking this box will start out the recording in paused mode, so that you can do a final sanity check prior to beginning the recording. It's also handy for getting everything set up while people are filing into your presentation, and then postponing the actual recording until you begin to speak. This avoids having to edit out the 15 minutes of "audience murmur" you unintentionally recorded before your presentation got underway.

Record mouse cursor

This option, which is checked by default, will include the mouse cursor when recording your presentation. This is a matter of personal taste. If you plan on using PowerPoint's Pointer Options settings to do any drawing on the screen, I would recommend that you keep it enabled. If you feel as if the mouse cursor will distract the viewer, then turn it off.

Highlight cursor

If Record mouse cursor is enabled, then you also have the option of having a highlight appear around the mouse. It takes the form of a translucent circle that moves with the mouse cursor in order to help the user keep better track of the cursor. Like the cursor highlight of the Camtasia Recorder, it is only seen at playback time, not at record time. Unlike the Recorder's cursor highlight tool, you cannot configure the cursor highlight to use other shapes, colors, and opacities — I'm afraid you're stuck with a small, mustard-yellow, translucent circle. But it does get the job done.

Stop recording at end of presentation

While you can always stop the recording using either the

Esc

button or

Ctrl

+

Shift

-

F10

hotkeys, this option will also end the recording automatically when you get to the end of the presentation.

Edit in Camtasia Studio when finished

When checked, Camtasia Studio will automatically launch upon the conclusion of recording, and your saved project will be immediately imported, ready for editing. If unchecked, your work is saved as either an AVI or CAMREC file (depending on whether you enabled cameravideo), along with a Camtasia Studio Project (.camproj) file that references your video. This project file also contains automatically named (and appropriately placed) markers based on the titles of your individual PowerPoint slides.

Include watermark

This option lets you add a watermark to your recordings. We'll discuss this option in detail a bit later; I've relegated it to its own section.
---
Video and Audio Options
This section of the dialog allows you to choose the settings that affect how your video and audio streams are recorded, such as frame rate, codecs, audio source, and record volume.
Video Frame rate

The frame rate is the number of frames per second at which the add-in records your presentation. You may either choose a frame rate from the drop-down list or simply type a number into the field. The frame rate you select will depend on your content. If your presentation has a gazillion animations like bouncing text and wacky slide transitions, you'll want to go with a higher frame rate so that you can capture all these elements fluidly. On the other hand, if your presentation is pretty static, and the only movement that happens on the screen is the appearance of the next slide, then you can easily get away with four (or even fewer) frames per second.

Advanced… button

This button brings up a dialog allowing you to change the default codecs as well as choose an audio recording device.
You're presented with options for both video and audio. Let us first tackle the former. A click on the Video Setup… button will let you choose the video codec from a drop-down list. The default is the TechSmith Screen Capture Codec, and I strongly recommend you leave it alone. Even if you have a ton of animations, TSCC can most likely capture it all without dropping any frames. Then, if you find the resulting file size too large, you can encode using another codec after you've edited your project. The only possible exception I can think of is if you have many real-world videos embedded into your slides — this may necessitate a codec like MPEG-4. But I would still give it a shot with TSCC, just so that you can have a lossless original.

You may notice here that the default key frame rate for TSCC is lower than it is in the Camtasia Recorder, at one key frame per 300 frames. Since PowerPoint slides tend to remain static for longer periods of time, you can get away with fewer key frames. Please see the previous chapter for a full discussion of key frames and delta frames.

Let's move on to the Audio Options. First, you'll need to choose an Audio Device from the drop-down list, indicating which device you wish to record from (usually the sound card). It can be set to make use of the Windows default, or you can choose something different. You will also see details of the chosen audio codec as well as that codec's attributes on this screen. To change them, just click the Audio Setup… button.
The Audio Format dialog is exactly the same as in Camtasia Recorder, though the default codec settings are vastly different. Because you're unlikely to be recording with high-end audio equipment during a presentation, the default codec here is GSM 6.10. It provides telephone-quality output (in fact, this exact codec was used in the first generation of digital mobile phones), and is designed specifically for speech content. If you have a system that can handle the load, I would recommend setting the codec back to uncompressed (PCM), at 44,100 Hz, 16-bit, mono. Since you may want to distribute this file on the web at some point, you'll obviously want to use a different audio codec later in the production process. But if you have the drive space and enough processing power to make a fluid capture, I'm generally for creating the highest-quality original possible, and then compressing and downsampling as needed.

Keep in mind that if you ever lose your bearings when experimenting with the video and audio codecs, you can always go back to the factory defaults by clicking the Defaults button in the Advanced Video and Audio Setup dialog.

Record audio

Checking the Record audio box will include audio with your presentation, either from a microphone or the computer's own system sound. You can choose between Microphone only and Computer speakers only by making the appropriate choice in the Audio source drop-down list. Note that the latter option is good for recording presentations where the audio narration has already been recorded within PowerPoint. However, keep in mind that this option might not be available to you if your sound card doesn't support recording audio from the system (fortunately, most modern cards do). And finally, you have the option of selecting both Computer speakers and microphone, which will record both at once. Again, the system's ability to do this is dependent on your sound hardware.

Volume slider

No matter which option you choose, you have a Volume slider that you will let you quickly adjust the recording volume for your selected audio source. You can test the volume by speaking into the microphone and monitoring the activity on the colored volume bar. Ideally, your volume should be within the range of yellow/orange, without going into the red area (where some clipping may occur). For the full lowdown on recording audio narration, please see Chapter 10, "Working with Other Media: Audio, PIP, and Title Clips."