Introduction
Using Slidevana
Pricing and Support
Conclusion
---
Introduction
Slidevana is a presentation toolkit which provides over 150 ready to use slide layouts including charts, diagrams, tables, and frameworks. Slidevana slide layouts use a clean, minimal design, and are available in dark and light color schemes which can be edited to meet your specific needs. You can also customize logos, graphics, and color palettes, or even add an entirely new layout.
Slidevana is already available for Keynote for Mac, iPad and iPhone. In this tutorial we'll explore Slidevana for PowerPoint, that works on both Windows and Mac versions of the program.
Slidevana is from Slidevana, Inc, a company based in Winchester, Massachusetts, USA. You can find more information about Slidevana at the Slidevana web site.
My contact at Slidevana, Inc for this review was Tiffany Mehta - thank you, Tiffany.
Back
---
Using Slidevana
Here are previews of some of the layout designs from Slidevana.

Basic Layouts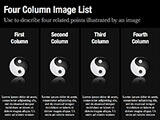 List Layouts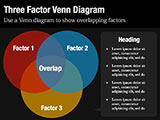 Venn Diagrams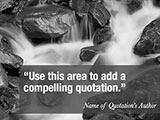 Minimal Layouts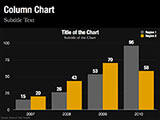 Basic Charts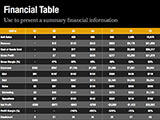 Tables
Slidevana for PowerPoint includes the following content:
Slidevana Dark for PowerPoint
Slidevana Dark (Mac Only).potx: This template for PowerPoint can be only used on Mac. It uses fonts that are standard on the Mac, but not available on Windows. Presentations created with this template will be nearly identical to presentations created with Slidevana for Keynote.
Slidevana Dark (Universal).potx: This template can be used on both Mac and Windows. It uses fonts that are available when Microsoft PowerPoint is installed on either Mac or Windows.
Slidevana Dark (Windows Only).potx: This template can be only used on Windows. It uses fonts that are standard on Windows, but not available on Mac.
Slidevana Dark Layouts.pptx: This file contains the full portfolio of Slidevana slide layouts. This file uses the Universal fonts that are available on both Mac and Windows. If you've chosen a platform specific PowerPoint template, the fonts will automatically change when you copy a slide from the Layouts file to your presentation.
Slidevana Light for PowerPoint
Slidevana Light (Mac Only).potx: This PowerPoint template can be used for presentations that will only be used on Mac.
Slidevana Light (Universal).potx: This template can be used on both Mac and Windows. Note that there is no PowerPoint template for Windows only since it would use the same fonts as the universal template.
Slidevana Light Layouts.pptx: As with Slidevana Dark Layouts, this is a standard PowerPoint file containing the full portfolio of Slidevana slides. This file uses the Universal fonts that are available on both Mac and Windows.
The PowerPoint templates also include several blank or partially blank layouts that can be used to build custom slide layouts. The standard PowerPoint files (.pptx) contain the entire collection of slides included with Slidevana. Take some time to browse all of the slides in these files to familiarize yourself with the types of slides that are available.
Back
---
Pricing and Support
Slidevana costs USD 139, and is available on offer at the time of writing for $69. The toolkit includes both color schemes, Slidevana Light and Slidevana Dark.
A bundle of both Slidevana for Keynote and Slidevana for PowerPoint is available for $99.00.
Support options include email, and a FAQ.
Back
---
Conclusion
If you need to use layouts that are aesthetically created within your existing presentations, then Slidevana offers an alternative. What we found strange was some of the Slidevana layouts have far too much text content, and the slides look more like dashboards than slides. Presenters will have a tough time delivering these slides with such minute detail.
To their credit, Tiffany explained that this was done on purpose because "layouts include the maximum amount of text that a presenter should ever use on a slide, and, in most cases, presenters should use far less text. Its much easier for the end user if the template supports too much text rather than too little text. Many templates have too little text, so then the presentation author has to change the layout or overlap text with other elements. Here, the user can simply add their text and increase font sizes if necessary. All of the alignment is set properly, so this process is quick and easy for the user."
Do remember though that one glove does not fit all hands, and you will have to customize or edit some layouts for your individual requirements -- thus some knowledge of working with PowerPoint or Keynote may help you create better slides with Slidevana layouts.
Back
---
This is the original page. An AMP (Accelerated Mobile Page) version of this page is also available for those on mobile platforms, at Slidevana for PowerPoint.