Introduction
About PPTminimizer 4 and New Features
Download and Installation
Using PPTminimizer 4
Enterprise version for Servers
Pricing and Support
Conclusion
---
Introduction
Working with large PowerPoint files is a serious problem, especially when you need to share these often through email. Although several programs allow you to convert your PowerPoint files to another non-editable file format like Flash SWF, that's not always a viable option, especially if you want to end up with both an editable and a smaller file.
A range of PowerPoint optimization programs lets you tackle this issue by compressing PowerPoint files without changing the editability or the file format. PPTminimizer 4, our review product is one of them.
PPTminimizer's new version 4 is a much improved version that has been just launched. You can find review of the previous version here.
Back
---
About PPTminimizer 4 and New Features
PPTminimizer is from balesio, a German company that also creates several other products such as TurboDemo. You can download a free trial version of PPTminimizer 4 from their site.
PPTminimizer 4 is a new version of their office compression tool that now also does Word documents and has a Word add-in.
New features includes
Reduce the file size of Word and PowerPoint files by up to 98%
Keep the original file format - gives output as a new file with a suffix of (pptmnimizer)
You can choose between 4 different compression levels
Search Wizard to find all the PowerPoint presentations and Word documents on your system and network.
Add-ins for Microsoft Outlook, PowerPoint, Word and Windows Explorer
PPTminimizer Enterprise version for Servers: Compress and replace Word and PowerPoint files by optimized copies, free storage space, cut storage costs, save time.
My contact at PPTminimizer for this review was Jörg Gerczuk - thank you, Jörg.
Back
---
Download and Installation
Download the installer from the link given above, run the setup routine and follow the instructions. You'll end up with an PPTminimizer program group in your Windows Start menu, as shown in Figure 1 below.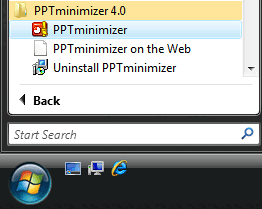 Figure 1: The PPTminimizer Start Menu Group
When you run it for the first time it will ask for your registration details (the serial number) -- alternatively, you can run the product in evaluation mode that allows you to do 12 free optimizations.
You can also find PPTminimizer 4 within the Add-Ins tab of the Ribbon in PowerPoint 2007 and Word 2007 (see Figure 2).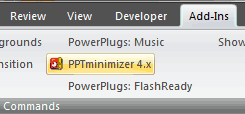 Figure 2: PPTminimizer 4 in the Add-Ins tab of the Ribbon in PowerPoint 2007
Back
---
Using PPTminimizer 4
PPTminimizer 4 works in two ways:
As an add-in from within PowerPoint 2007
As a standalone product
When installed, follow these steps to compress a PowerPoint 2007 file using PPTminimizer's 4 standalone version.
Go to your Windows Start menu and choose All Programs | PPT minimizer 4.0 | PPTminimizer (see Figure 1 above).
This opens the PPTminimizer 4 interface, as shown in Figure 3.

Figure 3: PPTminimizer 4 interface
The interface is explained below:

A. Toolbar

Here you will find options to open, optimize, or search presentations.

B. Presentations to Optimize

Shows the list of opened presentation(s), which need to be optimized.

C. Optimized Presentations

The optimized presentations can be seen here. To save the optimized presentations in a particular folder, choose the Save optimized presentation in folder option.

D. Custom Compression

Activate the check box and click the Settings button, which opens Custom Compression Settings dialog box as shown in Figure 4 -- by tweaking parameters like setting the screen resolution and JPEG quality, you can get the best compression value.

Figure 4: Custom Compression Settings

E. Sidebar

The tabs at the left side of the interface replicate the options available on the toolbar.
The Configuration option opens the Settings dialog box (see Figure 5), where global settings can be altered.

Figure 5: Settings

F. Compression Settings

Has three basic compression values which are strong compression, standard compression and low compression.
To open files, choose the Open Files button (see Figure 6).

Figure 6: Open files
This opens a dialog box from where you can select the presentations that you want to compress.

Note: Multiple presentations can be opened and optimized at one go.

The opened presentation(s) will be listed under the Files to Optimize list, as shown in Figure 7.

Figure 7: Files to be optimized
When all the settings are tweaked, click on the large Optimize Files button (see Figure 8).

Figure 8: Optimize file
Depending upon the settings, the application will compress the presentation(s) and shows the changes in next window as shown in Figure 9.

Figure 9: Optimized presentation(s)
In this window, you can see old size, new size, and reduction percentage of the presentation. The other options are for viewing, e-mailing and deleting.

Note: To view the presentation, Microsoft PowerPoint should be installed on the machine.
Back
---
Enterprise version for Servers
PPTminimizer 4 Enterprise version is a server-capable version with the following features:
Optimize and replace Word and PowerPoint files not only on local drives but also on servers and networks.
Search Wizard finds all presentations and documents on the entire server.
Effective storage management -- immense storage space can be gained by replacing unnecessarily large PowerPoint and Word files by optimized copies.
Cut operative storage costs.
Developed for Windows Server.
Many corporates, SMEs, academic and governmental organizations already use PPTminimizer.
Back
---
Pricing and Support
PPTminimizer 4 has two versions:
PPTminimizer 4 costs $39.95 for a single-user license
PPTminimizer 4 Enterprise costs $279.30 for a single Server.
Support is through email and phone, and a small online FAQ.
Back
---
Conclusion
PPTminimizer 4.0 improves on the previous versions and has evolved as a capable product that works with PowerPoint and Word files. While it works with files from PowerPoint 2007 and earlier versions, it only works with Word 97-2003 files. According to the company, an upgrade will follow very soon to make this product comaptible with Word 2007 files.
Back
---
This is the original page. An AMP (Accelerated Mobile Page) version of this page is also available for those on mobile platforms, at PPTminimizer 4.