Introduction
Claims abound about more than 30 million presentations being created each day by PowerPoint users worldwide--the important question here is what sort of training background these presentation creators have? Even more important is whether they have had the right type of training. Based on my experiences, I can safely assume that 90% or more of those who use PowerPoint are either self taught, or just learned to use PowerPoint because their work environment required that skill. Naturally, there are no common or easy parameters against which their aptitudes can be measured.
Whatever be the numbers or skills, no one disagrees with the fact that many PowerPoint presentations do fail to leave an impact on the audience. And that's exactly what Jeff Van West tackles in his Effective Presentations tutorial that I'm reviewing. Effective Presentations is a movie-based tutorial that's available both on CD-ROM and an online movie library.
---
About Lynda.com and Jeff Van West
Effective Presentation is from Lynda.com, a company based in Ojai, California, USA that provides educational content for computer users in the form of instructional books, an online training library of movies, CD- and DVD-based video training, and events for creative designers, instructors, students, and hobbyists. Lynda.com is promoted by noted author and designer Lynda Weinman.
Do visit their site at Lynda.com
Jeff Van West, who anchors and authors this tutorial is a author of over a dozen training curricula, books, and CD-ROMs in computers and high technology.
---
Using the Tutorial
Effective Presentations is a set of three CDs that contains movie-based tutorial chapters on creating presentations in PowerPoint. The CDs also contain exercise files that are used for the training.
Unlike other PowerPoint training material, Effective Presentations does not take a menu-based approach to PowerPoint's abilities. Rather, it takes an element based approach by devoting separate sections to storyboarding, content, design, typography, charts, animation, etc. And it contains a whopping 11 hours of movie content--and it's great content.
The first CD covers just two of the eleven chapters--and they indeed are the most important chapters although they are almost entirely theory based. Your working style with PowerPoint will certainly be influenced once you see these movies.
The second CD contains four more chapters--these discuss writing style and storyboarding, layout and design fundamentals, typography, and charting. Most of the content in this CD shows actual PowerPoint usage.
The remaining five chapters comprise the third CD. These cover working with images, sound, animation, linking, presenting, support materials, and troubleshooting.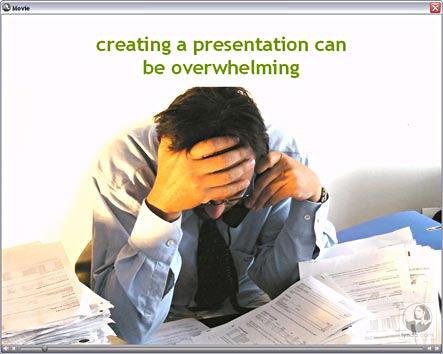 The CDs don't require any installation--they can be run directly from the drive on both Windows and Mac machines. If you are using the online movie library version, they work within your browser--however some movies are very large in size and make sure you have a fat pipe to the internet if you opt for a movie library subscription.
---
Pricing and Support
The three CD set of Effective Presentations costs $99.95. The product can be bought through a secure, online server.
This title is also part of Lynda.com's online training library--this is a subscription based service that is available in three different plans. The basic, monthly plan costs $25 monthly, and the same plan costs $250 for an annual subscription. The premium plan, which costs $375 annually provides access to exercise files as well in addition to unlimited movie access. Of course, the exercise files are included in the CD set.
Support is through an online FAQ--you can also contact support through email and a toll free number.
---
Conclusion
For eleven hours of first-class training, I think this product is certainly worth $99.95--make sure that you have these CDs if your office creates PowerPoint presentations all the time. For small business and home users, the online library is a better option since that provides access to so many more tutorials as well.
---