Introduction
Dynamic NEWS is an add-in for PowerPoint that enables you to add RSS feeds to your PowerPoint presentations. Typically, RSS feeds deliver latest news, but of course you are not limited to news alone! Whatever the content of the RSS feed you choose to integrate, the moot point here is that this content can be presented and delivered right from within a PowerPoint slide. You can imagine that the possibilities to use something of this sort can be endless.
Dynamic NEWS is from PresentationPoint, a company based in Belgium that's been creating such add-ins for many years now. PresentationPoint has now partnered with PresentationLoad of Germany to create Dynamic NEWS and other similar add-ins for PowerPoint such as Dynamic TIME and Dynamic MUSIC. My contact at PresentationPoint for this review was Kurt Dupont -- thank you Kurt.
You can learn more about Dynamic NEWS and also download it from their site.
Back
---
Dynamic NEWS
Installation is easy -- once you run the set-up routine, you will find a new Dynamic ELEMENTS tab in your PowerPoint Ribbon, as shown in Figure 1, below.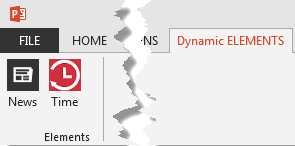 Figure 1: Dynamic ELEMENTS tab of the Ribbon

Let's do a small walkthrough of Dynamic NEWS now:
Open any existing presentation and navigate to the slide where you want to add a news feed. Make sure your presentation has been saved with a name and a location. Then insert or select an existing text container (text placeholder, text box, or any shape) in your slide, as shown in Figure 2, below.

Figure 2: Text box added on the slide
Type in something within this text container - we just typed "Dummy text". Format it's attributes so that you have the right font size, font type, font color, etc. (see Figure 3, below). To learn more about text in PowerPoint, explore our Text and Fonts in PowerPoint tutorials.

Figure 3: Dummy text typed within a text container
With the text box placeholder or box selected, access the Dynamic ELEMENTS tab of the Ribbon and click the News button, as shown highlighted in

red

within Figure 4.

Figure 4: News button
This brings up the News Task Pane, as shown in Figure 5. Note that there is no News feed added yet.

Figure 5: News Task Pane
To add a news feed to your presentation click the Add button, shown highlighted in

red

within Figure 5. This brings up the Add RSS feed dialog box, as shown in Figure 6.

Figure 6: Add RSS feed dialog box

Note:

By default, the

ABC News: Top Stories

feed is available within the

Add RSS feed

dialog box, as shown in

Figure 6

, above. Just click

OK

button to add the news feeds. You can add multiple news feed. For this review we chose to add the

BBC news feed

.

Options within the Add RSS feed dialog box are explained below, as marked in Figure 6, above:

i. Name

Enter RSS feed name.

ii. RSS URL

Here enter the RSS URL.

iii. Check-boxes

Out of three check-boxes, only one check-box: Use articles with pictures only may be active. Select this check-box optionally so Dynamic NEWS shows images of the respective news articles (articles without or with missing pictures will not be displayed).

iv. Feed Update Interval

Use this slider to control the update interval of your feeds.

v. Duration to Display Article

With this slider you can regulate the display duration of each feed.
After making changes, click the OK button to apply these changes.

Note:

After adding sources for news feeds, you can still edit or delete them. Choose the feed item you want to change, and then click the

Edit

button, shown highlighted in

blue

within

Figure 5

, shown earlier on this page. To delete the selected feed source altogether, click the

Delete

button, shown highlighted in

green

within

Figure 5

shown earlier on this page. You will be asked to confirm your request.

Look at Figure 7, below – and you can see that both the ABC News: Top Stories (default) and BBC News feeds now show up within the News Task Pane.

Figure 7: News feed is added within the News Task Pane
Once the news feeds have been added, you can select a text container on your slide. Then the pane will find options that allow you to customize how these news feeds need to be displayed. These options are explained below, as marked in Figure 7, above:

A. RSS Feed to Display

If you have multiple news feeds added, choose and select your feed from this list.

B. Column to Display

Choose the content type to display within the selected text container. These include the Category (for example, Politics) the Description (the actual content), Pub Date (date of the news), Title (title of the news), etc.

C. Transition

Set how you want you news feeds to appear using available transition effects.

D. Hyperlink

This enables you to add the link to a website that can be visited during the presentation mode (F5).
Note that all changes will be applied and saved automatically.

Run the presentation in Slide Show view to see the dynamic elements.
Save your presentation often.
For a quick start, use any of the ready to use slides. Each slide and its elements can be edited in size, shape, font and color according to your requirements. The fonts that have been used for the design slides are already included with the download. Note that, the country specific settings will only be applied after saving a new presentation (based on the templates) at least once.
Back
---
Pricing and Support
Dynamic NEWS costs US$149.
Support is through e-mail and a knowledge base. There is also an excellent PDF manual included.
Back
---
Conclusion
Dynamic NEWS is an amazing product that starts with a familiar product such as PowerPoint, and then adds a ability that takes it to a whole new level! In our opinion, if you need a way to display RSS feeds on any type on a public display platform, then this product is so worth the price!
This is the original page. An AMP (Accelerated Mobile Page) version of this page is also available for those on mobile platforms, at Dynamic NEWS: The Indezine Review.