Introduction
SymmetryShop has been one of our favorite Photoshop plug-ins. It's a one-trick pony, but it performs this trick so well with infinite possibilities. With its vast repertoire, it almost ends up being a whole application rather than just another Photoshop plug-in. So, when the folks at Artlandia announced a new version of SymmetryShop, we were only too happy to explore how they made it even better. So how does the new Artlandia SymmetryShop 3 fare? Read on...
---
About Symmetry Shop 3
SymmetryShop 3 is from Artlandia, a company based in Illinois, USA that creates graphic design software to create patterns. They also sell the patterns. Other than SymmetryShop 3, Artlandia's other product is SymmetryWorks, a similar add-in for Adobe Illustrator. You can learn more about Artlandia at their site.
SymmetryShop 3 is an Adobe Photoshop CS4 compatible plug-in that also works with older versions of Photoshop. Using SymmetryShop 3, you can create professional repeating patterns that can be used for textile design, certificate design, op art, etc.
Within Photoshop, you first select a part of an image/shape, and then SymmetryShop does the rest. Patterns created remain editable forever, and you can make changes to your source image/shape, and rebuild the patterns with same or different parameters.
SymmetryShop 3 is the new version of the same plug-in that we have reviewed in the past. The updated version has several very interesting and appealing new features.
---
New Features
The new features in SymmetryShop 3 are explained below. If this sounds too technical, feel free to skip these and go ahead to the How To Use section.
Floating SymmetryShop panel: You can access and move the panel (see Figure 3, shown later on this page) to a convenient place on the screen or dock it with other Photoshop panels.
Dynamically adjusted image size: Increased speed and performance by reducing the image size of your pattern. SymmetryShop now preserves the quality of the original motif in a smart object and rebuilds the pattern at full size as soon as it is ready.
One-click pattern/motif toggling: You can edit your motif in SymmetryShop 3 anytime with the new Target Seed/Pattern Layer button that allows you to toggle between the pattern layer and the seed layer.
Easy selection of the control path: Now you can easily select the control path to visualize, or for transform. The new Select/Deselect Control Path button in the SymmetryShop panel lets you quickly switch between editing pattern elements, and changing the repeat size.
Interactive editing of the control path: You can use Adobe Photoshop's Transform Path command to change the repeat size of your pattern. The plug-in will automatically recreate the pattern with the changes applied. Also, edit the control path with Photoshop's vector tools, and update the pattern with a click.
Enhanced pattern preview: You can preview, or fill the whole layer/selected region with the pattern on another layer. With the new Preview Pattern button, you can preview the exact result which will be produced as a Photoshop preset.
Support for large images: The plug-in no longer limits the document size to less than 30,000 pixels. You can use images of any size that are supported in Photoshop.
Other productivity enhancements: With the multiple technical improvements in many operations, such as the canvas extension management, autorun, etc. the plug-in now works faster and more efficiently.
---
How To Use
Here's how you create symmetrical patterns using SymmetryShop:
Create a new document in Photoshop, and place any custom shape, as shown in Figure 1, below.

Figure 1: Custom shape
Now, choose the Window | Extensions | SymmetryShop option, as shown in Figure 2, below.

Figure 2: SymmetryShop
You will now see the SymmetryShop 3 interface, as shown in Figure 3, below.

Figure 3: The SymmetryShop 3 interface
Now, choose any layout. For example strip, mirror, kaleidoscope, diamond, brick, etc.
Then, click the Make button which will create the pattern, based on your selection.
Now you can edit the pattern by using options under the Control Path panel, as shown in Figure 4, below. You can choose an area of the custom shape from where the path or the selection for the pattern is procured. You can even scale, skew, and rotate this selection.

Figure 4: Control Path panel
Within the Clipping panel, as shown in Figure 5, below. You can fine-tune the required gap parameters between repeating patterns by using the Overlap slider. You can also make softer edges by using the Feather slider in the same panel.

Figure 5: Clipping panel
Use Tiling to create the number of repetitions on the X and Y axes.
You can preview the entire pattern by clicking the button next to the tiling option . If you are happy with the result, save your .PSD file or choose the Export option to add the created pattern into your current Photoshop patterns library, so that it can be used in the future
Figure 6 shows a custom shape and the sample pattern created from a shape using SymmetryShop 3 in Adobe Photoshop CS4.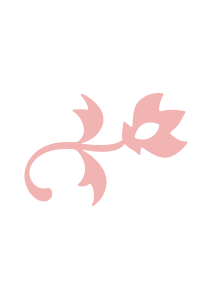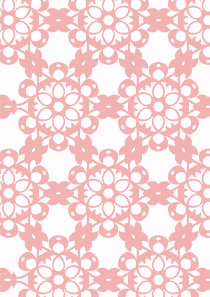 Figure 6: A shape and a pattern
The figures below show some more patterns created with SymmetryShop 3: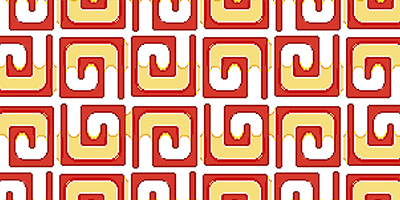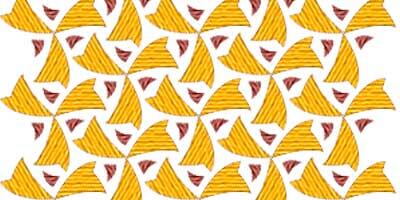 ---
Specifications
| | |
| --- | --- |
| Photoshop Versions: | Photoshop 7 through CS4 |
| Platforms: | Windows, Mac |
| Site: | Artlandia |
| Price: | $341.00 (CD-ROM with printed user guide) $315.00 (download only) |
| Trial Version: | Available |
---
This is the original page. An AMP (Accelerated Mobile Page) version of this page is also available for those on mobile platforms, at Artlandia SymmetryShop 3.