Introduction
About PDF to PowerPoint Converter 2.0
Working with PDF to PowerPoint Converter 2.0
Pricing and Support
Conclusion
---
Introduction
If you have ever ended up with a PDF copy of an important presentation, only to know that the original PowerPoint file no longer exists, then, you know that's not a very happy state of affairs! There are umpteen PowerPoint to PDF converters available, and in fact, the new versions of PowerPoint have this capability built-in. However, the reverse option of creating editable PowerPoint presentations from any such PDFs is not a simple affair. In fact, by their very nature, PDFs are intended to be viewable rather than editable files. So do understand that a lot of reverse engineering has to happen when any product claims to create PowerPoint files from PDFs.
Our review product, PDF to PowerPoint Converter 2.0 claims to make any such reverse engineering easy and simple. So the question is, how does it fare? Read more to find out.
Back
---
About PDF to PowerPoint Converter 2.0
PDF to PowerPoint Converter 2.0 is from AnyBizSoft Studio, a Shenzhen, China based company that also creates the series of PDF related software such as PDF Converters, PDF Creators, PDF Editors, etc. You can download a free trial version of PDF to PowerPoint Converter 2.0 from their site (link no longer exists).
Following are some of the key features within PDF to PowerPoint Converter 2.0:
Supports conversion of encrypted PDFs: Can convert PDFs even if they are originally restricted from copying, editing, or printing.
Convert single PDFs without starting the main program: If you select to install the Add to shortcut menu during the program setup, you can convert a single PDF file without starting the main interface. Just right-click a PDF, and click the Convert with AnyBizSoft PDF to PowerPoint option on the resultant shortcut menu.
Conversion of password protected PDFs: This can be done by providing the password, and is detailed in the next section on this page.
Select certain pages of PDF to convert: You can convert selective pages of a PDF. To do so, click the Selected Pages field and type the page numbers to be converted.
File Format Support: The application supports exporting to both PPT and PPTX formats, and it supports import of Adobe PDF 1.0 - 1.7 formats.
Batch conversion: It can convert 200 PDF files at one time.
Works without Adobe Acrobat or Reader: To convert a PDF to PowerPoint, you don't need to have either Adobe Acrobat or Adobe Reader.
My contact at AnyBizSoft Studio for this review was Ricky Wong. Thank you, Ricky.
Back
---
Working with PDF to PowerPoint Converter 2.0
Download the installer, run the setup routine and follow the instructions. When installed, follow these steps to convert a PDF to PowerPoint:
Go to your Windows Start menu and choose All Programs | AnyBizSoft | PDFtoPowerPoint | PDF to PowerPoint.
This opens the PDF to PowerPoint interface, as shown in Figure 1.

Figure 1: PDF to PowerPoint interface
Click the Add Files... button within the AnyBizSoft PDF to PowerPoint interface (refer to Figure 1 above).
This brings up a navigation window, from where you can choose the PDFs for conversion, as shown in Figure 2. Select the files you need, and then click the Open button.

Figure 2: Open files
Figure 3 shows that the selected files have now been added to list of files for conversion.

Figure 3: Added files
Once the PDFs are added, you can tweak some settings or reorganize the files themselves. The following tasks can be done:
You can remove selected PDFs, or clear the entire batch of PDFs.
The Selected Pages column lets you choose selected pages from each PDF for conversion. To do that, just click the field and type the page numbers to be converted.
You can choose the folder location for converted PowerPoint files. The default option saves to your My Documents folder but you can also save to the same folder as the source file. Or click Customize, and choose any other folder location.
If you want to convert a password protected PDF file, the application will load the file and display a lock symbol. Right-click the protected file, and click Unlock on the shortcut menu, or just click on the lock symbol to type the password in the pop-up dialog box, as you can see in Figure 4, below. And then the page number appears in the Total Pages field.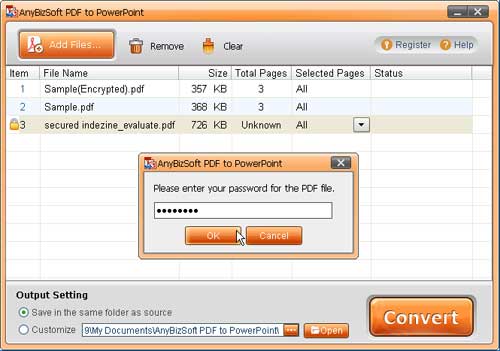 Figure 4: Unlock password protected PDF
To start the conversion process, click the large Convert button (refer to Figure 4 above). This will start the conversion process.
When the conversion is done, a window comes up displaying the "Conversion finished!" message (see Figure 5).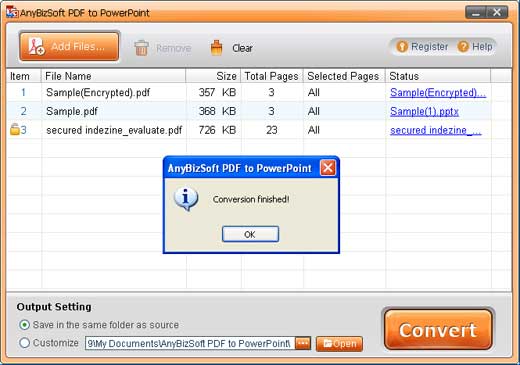 Figure 5: Conversion finished
Back
---
Pricing and Support
PDF to PowerPoint 2.0 costs $29.90 for a single-user license.
Support is through email, online forum, and FAQ.
Back
---
Conclusion
AnyBizSoft's PDF to PowerPoint had worked better. First of all, none of the titles or text made it to the presentation outline as part of text placeholders. All text in the converted PPTX file was in the form of text boxes (see text boxes vs. text placeholders to understand the difference). Secondly, all my Arial text was converted to Times New Roman. I find it strange that this program can replicate the position and color of my text, but not the font style, and font styles are actually exposed in the PDF, so that's no excuse.
If you can live with these two grievances, then I think AnyBizSoft's PDF to PowerPoint does a good job, and it does have an amazing price:performance ratio.
Back
---
This is the original page. An AMP (Accelerated Mobile Page) version of this page is also available for those on mobile platforms, at AnyBizSoft PDF to PowerPoint Converter 2.0.