Introduction
Artlandia LivePresets is a new plug-in for Adobe Illustrator that creates live pattern swatches. Although Adobe Illustrator provides a few pattern swatches, the implementation in Illustrator is nowhere as featured and dynamic as it is within LivePresets.
The first time I used LivePresets, I was amazed by the possibilities and options. Use LivePresets and the patterns you edit or create update interactively as you edit, thus creating a workflow that's almost to good to be true. And all these patterns can be edited with Illustrator's native tools. LivePresets also lets the user edit symbols in the same fashion. Illustrator allows editing symbols too, but with LivePresets you can do that interactively.
Back
---
About LivePresets
LivePresets is an Adobe Illustrator compatible plug-in from Artlandia, an Illinois, USA based company that creates several pattern creating plug-ins. They also sell beautiful, symmetrical patterns.
Other than LivePresets Artlandia also creates SymmetryWorks again a Illustrator plug-in, and SymmetryShop, a similar plug-in that works from within Adobe Photoshop. You can learn more about Artlandia at their site.
Back
---
Download and Installation
Download LivePresets from the Artlandia website. It is a ZIP file that you need to unarchive and place in Illustrator's plug-in folder. Make sure that you quit Illustrator before copying the plug-in.
The next time you run Illustrator, you'll find a Windows | LivePresets option in the menu. You'll also see a floating LivePresets palette (see Figure 1) and a LivePresets option in the Object menu.

Figure 1: LivePresets palette
By default, the plug-in runs in a demo mode that limits which configuration options you can change and apply. The full, registered version has no such limitations. Registration provides you with an Artlandia online account and an unlock key. The unlock key is tied to your Illustrator serial number so if you upgrade or change your version of Illustrator, you'll have to get in touch with Artlandia's support department.
The steps detailed in the rest of this review work identically for both the Windows and Mac versions of LivePresets. For this tutorial, I am using the Windows version.
Back
---
How To Use
To use LivePresets, you must have some patterns in your Swatches palette. Access the Swatches palette through the Window | Swatches option to bring it up, as you can see in Figure 2.

Figure 2: Swatches palette
So, how do you get these pattern swatches to start with? Follow these steps to get started:
By default, Illustrator may have some patterns already in your Swatches palette. And Illustrator has many other pattern libraries that you can load.
You can use Artlandia's SymmetryWorks plug-in to create patterns and save them as swatches in Illustrator.
You can create a pattern swatch from any selected object in Illustrator by using the Edit | Define Pattern option.
You can even download free Illustrator patterns from various sources online include Adobe's Exchange site. While there, look for pattern swatches rather than color swatches.
Now that you have enough pattern swatches to use as a starting point, follow these basic steps to use LivePresets:
Open a new document in Illustrator and create any shape such as a rectangle. Apply a pattern fill to it by clicking on any of the patterns in the Swatches palette, as you can see in Figure 3.

Figure 3: Pattern applied to shape
With the shape still selected, click the Make button from the LivePresets palette. This inserts a LivePresets object right on the center of the on the artboard (page), as you can see in Figure 4. Remember it's easier to move your original shape rather than moving this LivePresets object if it obstructs the view of your original shape.

Figure 4: LivePreset object along with the original shape
Once a LivePresets object is created, you can edit the object using the Illustrator tools and apply effects. Any changes you make are interactively shown in the original object by default although you can override this option if required by clicking the link icon (looks like a chain) on the LivePresets palette. This is explained later on this page.
Other than using the default tools and effects in Illustrator, you can even use the LivePresets palette options explained below:

Link/Unlink button

The Link/Unlink button in the LivePresets palette is to suspend or resume interactive updates of Illustrator objects. It's a toggle option that alternates between linking and unlinking.

Target with Drawing Tool

The Target with Drawing Tools mode is similar to the group isolation mode in Illustrator and provides a convenient way to add objects to the preset you are editing.

Pattern Bounding Box

This tool provides a convenient way to select the existing bounding rectangle in a pattern preset, or add a new one, and preview a pattern swatch with or without the masking rectangle.

New Pattern Swatch

Click this button to create a new pattern swatch after editing the existing pattern, this saves the pattern in the Swatches palette.
Back
---
Sample Artwork
Here's some sample patterns created with LivePresets.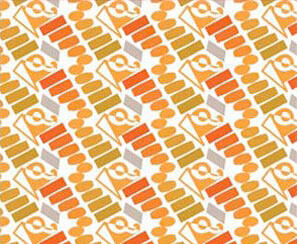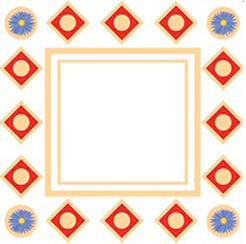 Back
---
Specifications
| | |
| --- | --- |
| Illustrator Versions: | Illustrator 10 or higher versions |
| Platforms: | Windows, Mac |
| Site: | Artlandia |
| Price: | $134.00 (CD-ROM with printed user guide) $125.00 (download only) |
| Trial Version: | Demo version available |
Back
---
This is the original page. An AMP (Accelerated Mobile Page) version of this page is also available for those on mobile platforms, at Artlandia LivePresets.