Introduction
About Adobe eLearning Suite
What's inside Adobe eLearning Suite
Working Together with PowerPoint
Pricing and Support
Conclusion
---
Introduction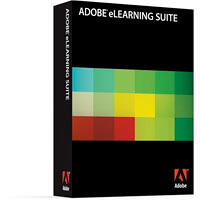 Adobe is a name well known to anyone who works with graphics and media content, and they bundle several of their award winning programs in suites that contain a set of applications geared towards a specific use. Adobe already has such suites for the Creative and Production categories, and their newest Suite offering is squarely aimed for the burgeoning eLearning market. The main products in the Adobe eLearning Suite are Captivate, Acrobat, and Presenter. These work directly with Microsoft PowerPoint whereas other products in the Adobe eLearning Suite such as Photoshop, Flash, Dreamweaver, Soundbooth, etc. aid in making the Suite sweeter and more integrated.
In this review, we'll take a closer look at the Adobe eLearning Suite.
Back
---
About Adobe eLearning Suite
Adobe eLearning Suite is from Adobe, a San Jose, California, USA (corporate headquarters) based company that creates well known programs like Photoshop, Flash, Illustrator, Dreamweaver, etc. Adobe is also well known for their fonts and PDF technologies. You can learn more about Adobe eLearning Suite and get a 30 day free trial from their site.
Adobe eLearning Suite integrates softwares for rapid eLearning, courseware authoring, simulations, and media editing. Combining the capabilities of these programs, you can create rich, interactive eLearning courses, and also add or edit video, audio, and visuals. The output files then can be deliver to the web, the desktop, mobile devices, and Learning Management Systems.
Here are some key features of the Adobe eLearning Suite:
Complete eLearning Toolbox
The Adobe eLearning Suite contains programs using which you can create rich eLearning course content that engages audiences with interactivity, video, audio, and powerful visuals.
Extended Functionality
Extended features and functionality including a SCORM Packager, the CourseBuilder Extension for Adobe Dreamweaver CS4, Learning Interactions for Adobe Flash CS4 Professional, and integration with Adobe Device Central CS4 and Adobe Bridge CS4 provide more value in these powerful programs.
Mobile Authoring
Create content for mobile phones and consumer electronic devices, preview and test your content on a broad range of devices with integrated Device Central.
Media Editing
Editing 3D images and motion-based content with Adobe Photoshop CS4. Adobe Soundbooth CS4 lets you easily create, clean up, and customize audio.
Flexible Output Formats
Support for standard formats including SWF, HTML, PDF, AVI, and SCORM enables easy delivery to the web, the desktop, mobile devices, and Learning Management Systems (LMSs).
Integration between Authoring and Asset-creation Tools
Work smoothly between Adobe Captivate 4 and Adobe media-editing tools, preserving layers in imported Photoshop (PSD) files to edit or animate them in Adobe Captivate. Send Adobe Captivate audio files to Soundbooth for cleanup or enhancement and embed Adobe Captivate movies in Adobe PDF files.
SCORM Packager
The SCORM Packager creates LMS-compliant content from Flash Professional. You can create and publish a course combining files from Flash and Adobe Captivate.
Easy Reuse of Content (Online and Offline)
Use the free Adobe AIR runtime to deliver your online courses as desktop applications, enabling easy offline learning for experiences that don't require integration with an LMS.
My contact at Adobe for this review was Anand Peter. Thank you, Anand.
Back
---
What's inside Adobe eLearning Suite
Adobe eLearning Suite comprises programs that create a powerful eLearning creation workflow:
1. Adobe Captivate 4
Author eLearning content with interactivity, software and scenario simulations, quizzes, without any programming or multimedia skills. Add templates and collaboration workflows. And deliver content virtually anywhere by publishing to Learning Management Systems and Adobe Acrobat Connect Pro software.
2. Adobe Presenter 7
A PowerPoint addin which allows you to create high-impact Adobe Flash presentations and eLearning courses from PowerPoint. In addition, you can also create high fidelity PDFs. Add narration, edit audio, add multimedia capture video, animations, interactivity, quizzes, surveys, and software simulations to eLearning courses. Output can be customized as presentations published to Flash, PDF or Adobe Connect Server.
3. Adobe Photoshop CS4 Extended
Delivers all the features in Photoshop CS4, plus new features for working with 3D imagery, motion-based content, and advanced image analysis.
4. Adobe Flash CS4 Professional
Create and deliver rich interactive content. With object-based animation, animate objects with a single click. Add motion tweens in without hand-creating keyframes or writing a line of code.
5. Adobe Soundbooth CS4
Create and edit audio. Soundbooth CS4 allows you to work on more than one mono or stereo file at a time, in addition you can customize music, add sound effects, etc.
6. Adobe Dreamweaver CS4 with CourseBuilder Extension
Design, develop, and maintain websites and applications.
7. Adobe Acrobat 9 Pro
Protect documents and accelerate information exchange with PDF.
Back
---
Working Together with PowerPoint
As is expected from a suite of programs that are so well integrated, the workflows are amazing. Plus, the added benefit of seamless PowerPoint integration takes this concept even more ahead.
Adobe Captivate projects can be dynamically linked to PowerPoint files and their included narrations. Make changes in PowerPoint files and the Captivate projects linked to those PowerPoint files are dynamically updated.
You can create high quality PDFs from PowerPoint using Adobe Acrobat 9 Pro.
Create PDFs that contain PowerPoint animation, or Flash movies easily with Adobe Presenter 7.
Back
---
Working Together Within The Suite
Here's a workflow diagram that shows how the components in the Adobe eLearning Suite work together.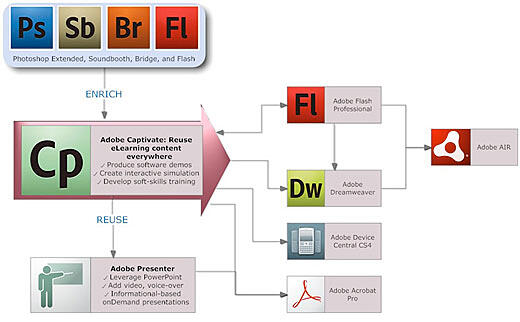 More details can be found here.
Back
---
Pricing and Support
Adobe eLearning Suite costs US$1,799, and upgrades are available from $599 upwards. Educational versions are also available at substantial cost savings.
Support options include an online knowledge base, community forums, phone support, etc.
The Adobe Captivate Blog has several resources assisting users who want to shift to the Adobe eLearning Suite from other platforms.
Also, RJ Jacquez, Adobe's senior evangelist for eLearning and technical communications maintains a stellar blog.
Back
---
Conclusion
Adobe has managed to create a well-knitted suite of programs for the eLearning market that contains applications that work closely together. They have also provided amazing PowerPoint integration options. Support options are awesome, and some blogs on the Adobe site also provide detailed migration info if you are working with a different eLearning product.
The price is right too. The fact that you get industry stalwart products like Photoshop, Dreamweaver, and Flash within the bundle is the icing on the cake.
Back
---
This is the original page. An AMP (Accelerated Mobile Page) version of this page is also available for those on mobile platforms, at Adobe eLearning Suite.