PowerPoint and Presenting News
Star Wars Style Credits Animation


The Star Wars Style Credits Animation presentation includes a sample slide in which the credits animate in the Star Wars style.




You can download this presentation and change the text in the animated text boxes as required.

Download Star Wars Style Credits Animation for just $4.99
The Art of Storytelling


Storytelling is the most important facet of effective presentations. Unfortunately, in the age of PowerPoint, many presenters rely too much on technology and forget how important stories are. To get the results you're looking for, build your presentations on a foundation of great stories—not the other way around.

Read more in this post by James Ontra.


Learn PowerPoint 2016 for Windows
Options Tab in Backstage View


Unknown to many users, there are lesser known options within PowerPoint that can change your workflow, and make you work faster. Most of these preferences are to be found within the PowerPoint Options dialog box.


---
Open and Close Options in Backstage View


When you click the File menu and access Backstage view in PowerPoint 2016, several options appear. On this page, we explore two of those options: Open and Close.


Learn PowerPoint 2016 for Mac
Applying Theme Colors and Theme Fonts


Applying a Theme in PowerPoint applies Theme Colors, Theme Fonts, Theme Effects, Theme Backdrops, and much more. However there are scenarios in which you really don't require such a complete makeover or metamorphosis. In that case, you can still apply Theme Colors and Theme Fonts and leave all other Theme attributes unchanged.


---
Inserting New Placeholders in Slide Layouts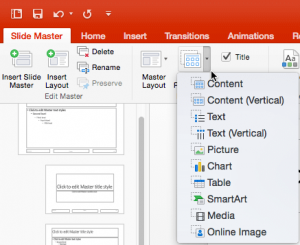 In PowerPoint, a placeholder is a container that you can use to fill in with some content. When you launch PowerPoint, you will see distinctive boxes that invite you to add some content. Haven't you noticed the "Click to add title," "Click to add text," or "Click to add picture" suggestions? All these boxes are placeholders. Each of the default layouts comprises a collection of various placeholders. If none of the available layouts work for you, you can create your own layout with custom placeholders in PowerPoint 2016 for Mac.


Learn PowerPoint 2013 for Windows
New Tab Options in Backstage View


When you launch PowerPoint 2013, it always provides you with an option to open a new blank presentation. Further, if you are already working on an open presentation, and want to create a new presentation at that point, you can do so using the New option within the Backstage View.