---
Spreading Beyond Academia
I saw what we had built and trekked off into the brave, cold world, firmly believing I was about to change humankind overnight. Surely everyone would want to know how we do this magic, navigating smoothly within a power collection of slides, finding anything we need within seconds. Think about all the potential benefits to learning, sales, and audience engagement I thought. Alas, my efforts over the past few years can be described best as attempting to pull teeth out of alligators. Only recently has the world finished a complacent yawn and begun to open eyes widely.
Now those eyes are getting wider daily because reality is sinking in that this stuff works. So, I asked June to share a few of her experiences and lessons learned, with the hope that her thoughts might help you ease into interactive PowerPoint presentation and avoid mistakes we made along the way.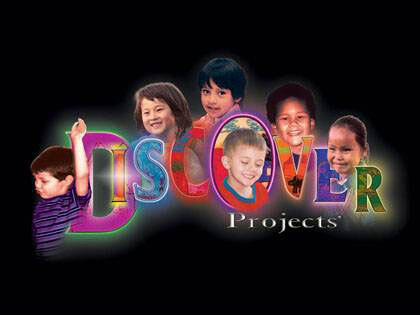 Figure 5: Spreading Beyond Academia
(Maker) "One speaking event in England was a real eye-opening milestone for me. We were traveling around the country, speaking to a different group of primary school teachers each day. On this particular day, I set up my equipment as usual and launched into what was to be a full-day seminar for a group of 50 teachers, discussing elements of the DISCOVER assessment. About 10 minutes into the program, I got a rude awakening. To my shock, I realized that the group before me was not 50 primary school teachers, but 50 secondary school teachers! Apparently, a scheduling glitch had occurred and I was talking to the wrong group on a wrong day. That meant almost everything I was about to share with them for the next 8 hours was irrelevant to their teaching environments.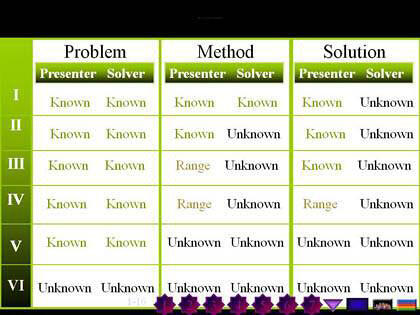 Figure 6: Table that doubles as a switchboard
The day could have been a disaster, but as it turns out, I simply shifted gears and carried on as though nothing was wrong at all. I could do so because in the weeks preceding this trip, we had integrated parallel tracks into my training materials. In other words, switchboards gave me immediate access to teaching materials and examples relevant to both groups.
Figure 6, for example, is a table that doubles as a switchboard. I click different sections of the table to reveal examples of students' work (Figure 7). When developing the separate presentation tracks, we placed identical tables like this one in both, but adjusted examples accordingly (grade group k-2 or 6-8). While speaking to a particular audience, I could select material relevant to their interests—and on another day address a whole different context. It wasn't a big deal then, in this case, to reorient my thoughts and simply take off down the paths my secondary teacher viewers needed to see. I doubt if any of them realized that within a few seconds, I was able to completely re-engineer the entire day's talk, right before their eyes. You have no idea what a relief it is having that kind of freedom. I've worked around many awkward situations over the years by making timely adjustments to the planned agendas, usually without the audience even knowing."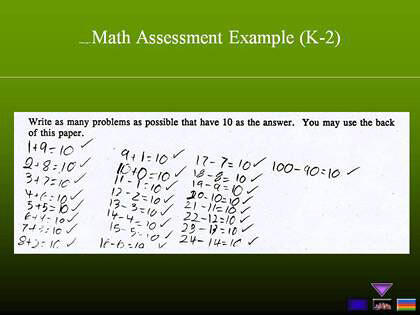 Figure 7: Math Assessment Example
(Lane) "What other lessons have you learned since then that act as guiding principles?"