Archived Content
Content on this page is not recent and has been retained for historical reasons.
This article originally appeared in the April 2005 issue of Presentations magazine.
Same Company, Different OS
1. The Basics
2. Fonts and Text Placement
---
Moving PowerPoint presentations between Windows and Macintosh platforms can be done if you know where the trouble spots are.
About 30 million PowerPoint presentations are created each day, and it's fair to say more are made using Windows versions of the software than Mac. Microsoft and Apple have always had a testy relationship, though, so it's no surprise that an unusually large proportion of PowerPoint problems stem from cross-platform issues.
Cross-platform hiccups happen for several reasons. A company may use both Windows and Mac machines, or there might be a sales presentation that needs to be compatible with whatever platform a client has, or a designer hired to create a presentation might use a Mac when the presenter is using a Windows machine. Regardless, the differences between the Windows and Mac versions of PowerPoint have been giving presenters headaches for years with such aggravations as transitions that don't work, disappearing text, substituting fonts and animations that no longer animate—just to name a few.
---
Did You Know?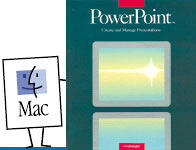 The first-ever version of PowerPoint, released in 1987, was created for the Mac. The second version was also a Mac-only product until Microsoft released a Windows version. Until version 4, both products had the same features. After that, both products were tied to platform-specific features and individual development cycles. This is when compatibility issues started cropping up.
---
Same Company, Different OS
Many wonder why issues between Windows and Mac PowerPoint versions are so pronounced. After all, other software products developed in both Windows and Macintosh versions, by companies such as Adobe and Macromedia often have the same user interface and minimal feature differences. However, Microsoft differs from its competitors by making software programs more integrated with the host operating system (OS). Thus the Mac versions of PowerPoint can output movies in the QuickTime format from presentations using Mac OS native capabilities. The Windows version uses unique features within the Windows OS to offer Windows Media Player integration and CD-burning. Understandably, these functions create differences in the way PowerPoint functions on both platforms.
But there are other factors, the main one being that Apple and Microsoft are competitors on the OS level, battling for the hearts and keyboards of every personal computer user. Apple has also fanned the flames by offering Keynote 2, a slideshow-creation competitor to PowerPoint 2004 for Mac. (The fiery QuickTime vs. Windows Media debate has never completely cooled down, either.) Regardless of politics, Microsoft employs a Mac Office development staff, and for several years alternate releases from the Windows Office team and the Mac team have been the norm. According to lead program manager of PowerPoint for the Mac, Vitaliy Kuznetsov, Microsoft is absolutely committed to the Mac platform. We have been making software for the Mac for 20 years. In fact, the teams in Redmond [Wash.] and Mountain View [Calif.] are already hard at work planning the next version of Office based on our customers' needs .
While each platform has impressive OS-related features, people who need to work with PowerPoint on both platforms must cope with the differences. The good news is, besides some specific features, most objects within PowerPoint transfer between the platforms remarkably well. And the Windows and Mac Office teams have worked hard to share their ideas and minimize compatibility issues with each new release. It's less of a hassle than you may think.
If you must move a Mac-created PowerPoint file onto a Windows computer, or vice versa, what areas should you be concerned with? We have developed a checklist, categorized by feature, of what you need to consider.
---
1. The Basics
Whether you use a Windows or Macintosh version of PowerPoint, keep in mind that versions 97 through 2004 use the same PPT file format. So if you save PowerPoint file, make sure the file has a PPT file extension.
Stop thinking presentations and start thinking folders. Whichever platform you use, create an empty folder for every presentation you create. Then copy all linked content into that folder, including image, sound and movie files. Also, do so even before the item is inserted as a link within the PowerPoint slideshow.
Regularly check Microsoft's Download sites for PowerPoint to ensure your version of PowerPoint is up-to-date. Several compatibility issues are resolved in these updates.
Consider moving up to a more current version of PowerPoint. Versions 2002 and up (both Mac and Windows) have fewer compatibility issues than previous versions.
While many PowerPoint presentation creators try to keep cross-platform presentations simple to avoid compatibility issues, keep in mind that this approach isn't as restrictive as it sounds. Newer versions of PowerPoint on both platforms may not allow the editing of certain features, but will allow these features to be viewed in slideshow mode.
If you use PowerPoint 2004 for Mac, you can use a new feature called the Compatibility Report that identifies cross-platform and version-specific problem areas for the last eight PowerPoint versions on Mac and Windows. See PowerPoint 2004's Compatibility Report, on Page 4.
---
2. Fonts and Text Placement
Use common fonts that traditionally ship with Microsoft Office and avoid using Mac- or Windows-specific fonts. Safe fonts for both platforms include:
Arial
Comic Sans
Courier
Courier New
Georgia
Helvetica
Tahoma
Times
Times New Roman
Trebuchet MS
Verdana
When designing with text, leave a little extra space in the placeholders. Due to font rendering differences between the two platforms, text may wrap differently.
Windows versions of PowerPoint can embed TrueType fonts within a presentation. However, these embedded fonts cannot be seen by Mac versions of PowerPoint.
Some OpenType fonts, particularly from Adobe's Pro font collection, will show without problems in both PowerPoint for Windows and PowerPoint 2001 (X) for Mac. However, these OpenType fonts don't work within PowerPoint 2004 for Mac.
---