OneDrive (earlier known as SkyDrive) may seem to be like an online file storage device but there's so much more to it. Yes, it is free, and works very snappy – files load fast and you can also integrate it almost seamlessly with Windows devices. And most importantly, all OneDrive users get access to free Office applications such as Word, Excel, and PowerPoint that work entirely in your web browser.
Beyond storing and viewing files, you can create, edit and collaborate with them—it doesn't matter which browser or Operating System you may use. Even better, you can change OneDrive's interface language in a snap. You don't need any foreign language packs nor do you need to pay any extra money to get these niceties.
Switch Languages in OneDrive
Microsoft recently updated OneDrive to work with 100+ languages. This means that you can now choose to work with any preferred language. It's so easy to change interface languages temporarily, and then revert to your original language. For example, let's assume that you have a visiting colleague who understands French better than English and that he or she quickly wants to make some small edits to a PowerPoint presentation.
Follow these steps to change the interface language in OneDrive:
Sign in SkyDrive using your Microsoft Account (Hotmail, Live etc.) within the SkyDrive Home Screen as shown in Figure 1, below.

Figure 1: SkyDrive Home Screen
Once logged in, locate the interface language being currently used within the Status bar area (typically at the bottom end of the SkyDrive web page). Click on the language option, as shown highlighted in

red

within Figure 2, below.

Figure 2: Language Option
The Language menu appears, as shown in Figure 3, below.

Figure 3: Language menu
Now, select your desired language. First, click on the dropdown arrow -- a pop up menu containing available interface languages appears. Scroll up or down until you find your desired language, then click on it. For this demonstration, we chose French, as shown in Figure 4, below.



Figure 4: Pop up menu with language options
After your selection is done, click the Save button, as shown in Figure 5, below.

Figure 5: Save
Now your SkyDrive will do an automatic refresh. Thereafter, you will find the interface using the switched language. This change also gets applied to interface within the Office web applications, as shown Figure 6, below representing the Ribbons in Word, Excel, and PowerPoint.




Figure 6: Ribbons in Word, Excel, and PowerPoint reflecting the changed interface language
Figure 7, below shows how the PowerPoint Web App appears when the interface turns into French.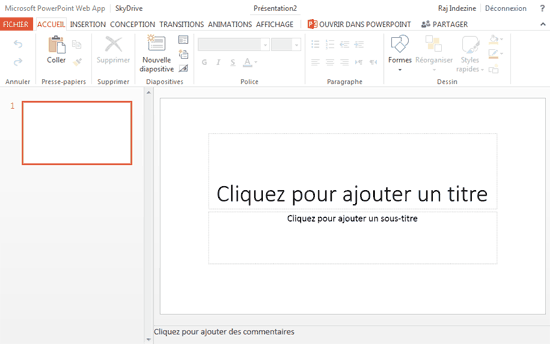 Figure 7: PowerPoint web App when the interface turns into French
Once you are done working within the interface sporting the changed language, you may want to revert back to your original language within SkyDrive using the same steps.
---
This is the original page. An AMP (Accelerated Mobile Page) version of this page is also available for those on mobile platforms, at Change Interface Language in OneDrive.