What if you want to add new PowerPoint shapes with the same formatting as the existing ones? To some effect, you can duplicate slide objects in PowerPoint. You select a shape and press the Cmd + D keyboard shortcut. However, such duplication copies everything: the shape, its text content, and its format attributes, such as all fills, outlines, and effects, as can be seen in the sample shown on upper half in Figure 1, below. However, you may only want to use those fill, outline, and effect attributes for other shapes you create. In other words, you do not want to copy the shape itself or the text it contains. Such a sample can be seen in the lower half of Figure 1.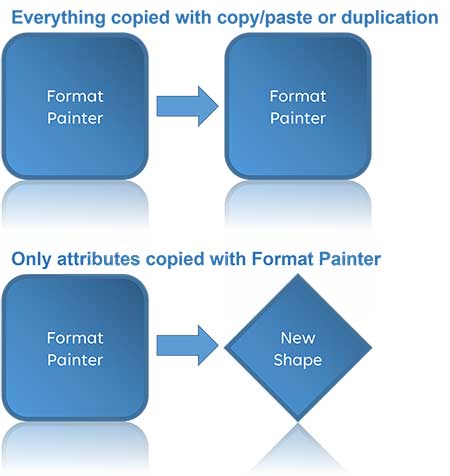 Figure 1: Duplicate vs. Format Painter
As in our example shown in Figure 1, above, let us imagine that you have a rounded rectangle that is colored blue, has a darker blue outline and contains a reflection effect. Now, you draw a diamond shape on your slide, and it has completely different attributes. How can you make sure that it matches the attributes of the rounded rectangle? You can spend some time and apply those attributes to the diamond shape manually, but if you need to do that for ten or fifteen more shapes, that may result in a few hours of repetitive work. Fortunately, the Format Painter command can rescue you from this monotonous task very easily. So, what does the Format Painter command do? Here are some answers:
Format Painter copies attributes from one shape to other shapes on the same slide, the same presentation, or across presentations.
Format Painter works beyond the shapes on any other slide object. You can use it to copy the look of text placeholders, tables, pictures, charts, etc.
Follow these steps to use the Format Painter in PowerPoint 365 for Mac:
Select the shape whose attributes you want to copy, as shown in Figure 2, below.

Figure 2:

Select shape to copy attributes

Now, access the Home tab of the Ribbon, and click the Format button, as shown highlighted in

red

within Figure 3, below. You can also press the

Cmd

+

Shift

+

C

keyboard shortcut to copy object attributes.

Figure 3:

Format Painter button

PowerPoint Keyboard Shortcuts

Do you want more keyboard shortcuts?

Explore our PowerPoint Keyboard Shortcuts and Sequences Ebook that is updated for all PowerPoint versions.

Clicking the Format button will change the cursor to a paintbrush icon, as shown in Figure 4, below. Do note that the cursor will not change if you used the

Cmd

+

Shift

+

C

keyboard shortcut.

Figure 4:

Cursor changes to a paintbrush

Now, click on the shape to which you want all attributes of the original shape to be copied, as shown in Figure 5, below. If you used the keyboard shortcut to copy attributes, you can now click on the new shape and press the

Cmd

+

Shift

+

V

keyboard shortcut to paste object attributes.

Figure 5:

Shape attributes changed

Format Painter with Multiple Shapes

If you have more than one shape on the slide and you want to apply the same attributes to all the shapes, you can double-click the Format button rather than single-clicking. Doing so allows the cursor to become "sticky," and you can click on any other shapes you want. These other shapes need not be on the same slide. In fact, they need not be on the same presentation. It's important though that all those slides must be open.
Then, click the Format button again to deselect it or press the

Esc

key. Figure 6, below, shows the attributes of the original shape applied to several other shapes.

Figure 6:

Attributes copied to multiple shapes with Format Painter

Save your presentation often.
This is the original page. An AMP (Accelerated Mobile Page) version of this page is also available for those on mobile platforms, at Format Painter in PowerPoint 365 for Mac.